How to Make a Beanie Baby Quilt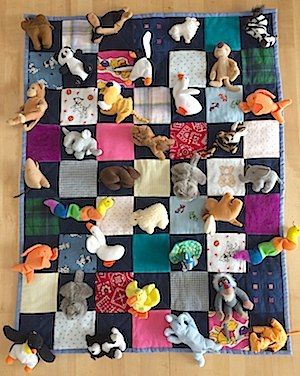 Do you have a pile of Beanie Babies that are just sitting there? My daughter did and being a quilter, I made a quilt with them.
This is a very simple quilt for any quilter to make. It's even a great one to make if you are a novice quilter because it will give you a lot of experience making perfect four corners.
The Quilt
The quilt itself is a simple square block pattern in which I alternated a navy blue block with the colorful blocks. The navy blue was a piece of purchased lightweight denim. The colorful blocks are pieces from my daughter's clothing. I used two blocks from each piece of clothing.
It is important in a quilt with highly visible four corners to make those corners perfect. There are a number of things you can do to make this easier to do. First, cut all the blocks with the same template. I would suggest using a rotary cutter and a Plexiglas template. Second, use a quilting ¼ inch foot on your sewing machine because it will help you make straight and perfect seams.
Pro Tip – How to do this with out pinning.
First, sew your columns. Don't iron. Next sew the columns together. As you sew down your column and are about 2" from your intersection, lay your bottom seam up and your top seam down. The two seams you are about to sew over will then nest. You can feel this with your fingers. If they are not nesting, there will be a bump. Pull down on the top layer until the bump goes away. When they nest, they will feel the same height. If they are too far apart, there will be a little divot. In that case, loosen the top fabric until that divot is no longer there. Finally, pinch down on the intersection with your left index finger and sew over the seam. Practice a few times on scrap material unit you get the feel.
The Quilting
This quilt was quilted very simply on a home sewing machine. I just sewed from corner to corner on the navy blocks. This gave each navy block an X. This intersection is important later.
The Beanie Babies
When I was planning this quilt, I counted the number of Beanies I had to make sure I had enough to fill each navy block. If I had had more, the quilt would have been larger and if I had had few of them, the quilt would have been smaller.

Snaps – The female side of a snap was sewn to each beanie by hand. This is a great project to do while sitting in front of the TV.
Then machine stitched the male part of the snap at the intersection of each X on the navy fabric. You use a button stitch. Each snap was sewn down in the orientation. This made for a nice flower or cross pattern on the back of the quilt.
The quilted X helped make this part of the quilt stronger for when each Beanie is pulled off.
Binding
I used just a simple binding on this quilt. You can use the binding of your choice.
Uses For the Quilt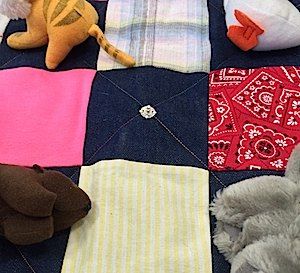 This quilt was hung up on the wall by my daughter's bed when she was little. She was able to choose an animal each night to sleep with. And when she didn't want to go to bed, she spent that time rearranging the Beanies.
Variations
You could do any number of variations on this quilt. You could use actual regular size Beanie's on your quilt. They would need larger blocks and probably two snaps a piece. Snaps allow you to add things onto a quilt that are then removable when the quilt needs washing.
Don't Sew?
Too Cool T-shirt Quilts would be more than happy to make a quilt like this for you. Feel free to call or e-mail us any questions you have.
Read more about other types of baby quilts here.