Can You Use a Ripped T-shirt in a T-shirt Quilt?
May 17th, 2021
By Andrea Funk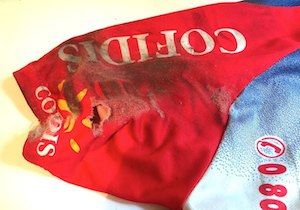 Yes you can, and should!
Rips and other lived-in imperfections that are in our clothing are part of your story. Here's my story about rips.
I married a bicyclist. My husband David is a bicycler and loves all things bicycling. He races, he tours and he collects bikes. It took some learning to become a bicyclist myself. I have grown to like biking, as long as I don't have to steer. As long as I am on the back of a tandem, I can deal with it. I am not always happy while biking, but I do enjoy the athletic high I get after I get off the bike.
What I don't like is crashing.
Crashes scares me. They say that there are two types of bikers – those who have crashed and those who will crash. Not very good odds!
The Most Recent Crashes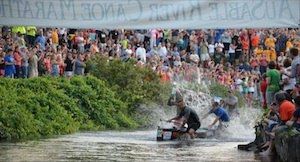 David raced in Black Bear Tour here in the northern lower peninsula of Michigan. The race is 100 miles from Grayling to Oscoda Michigan following the Au Sable River. The bicycle race began as a challenge between biker and the canoe racer competing in the Au Sable River Canoe Marathon. According to their web site, this canoe race is "America's toughest, richest canoe race." The best canoe racers in the world participate in the race.
You might think that racing bikes against canoes is like comparing apples and oranges. And you would be correct. But they do it anyway.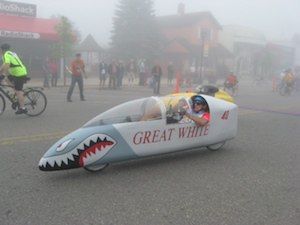 The canoe race start at 9 pm the night before the bike race. The start of the canoe race is a blast to watch. The race start is a LeMans-style start. This is kind of like the start of a 5K running race. The canoe racers and the canoes are lined up on dry land. The gun goes off, the teams pick up their canoes and run to the river. There are over 80 teams participating in the race and it is a mass start. The entry point into the river, well it's only about 20 yards wide. It's insane. (Photo from the Au Sable River Canoe Marathon website)
The bikers start at 8:30 the next morning, and it can be a close race with the canoes. The first year that the bikers raced the canoe racers, my husband David, riding his streamliner bike called "Great White" won the bike race and beat the canoe races by just a few minutes. It was a lot of fun for David and the ride organizer.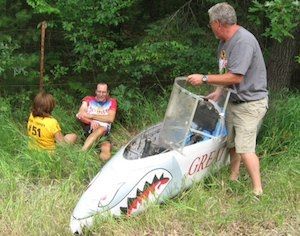 The last time he raced was not a good year. He crashed twice. The first time was only 2 miles into the race. A car hit him. But that didn't stop him; he just lost 20 minutes dealing with it. An of course was bruised and shaken up.
10 miles from the finish a car again took him out. The car did not hit him directly, it just passed way too close and took the air off the bike – (it happens in auto racing) and caused the bike to crash. This was a much worse crash resulting in bodily injury, an ambulance ride, and an ER visit. David is ok, but he left a lot of skin on the road.
And, I won't let him race again. I know, I am a mean wife. But enough is enough.
So what does a bike crash have to do with T-shirt quilts?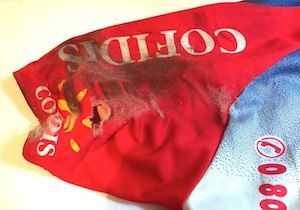 I think it's important to keep those torn up bike jerseys and use them in a quilt. They have important memories and should not be thrown away. David has had other crashes and torn up other jerseys and they have been used in quilts. It's one of those pieces that people comment on over and over when they see the quilt.
We have had customers that have had injuries who saved the clothing items they were wearing when they were injured to put into their quilt. It's like paint stains and other lived-in imperfections that are in our clothing – it's part of the story.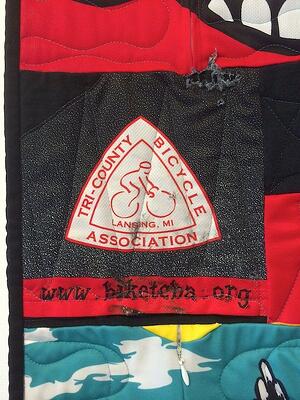 .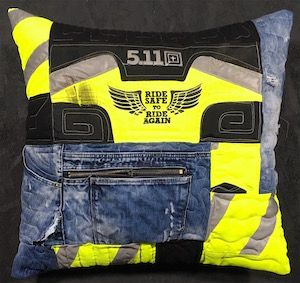 ---
To learn more about having a quilt made from your T-shirts, download our free T-shirt Quilt Buyer's Guide.
It's a great place to learn about the different styles and quality of T-shirt quilt.

---
Andrea Funk is the inventor of T-shirt quilts made with multiple blocks sizes. The modern method of making T-shirt quilts. In 1992 she founded Too Cool T-shirt Quilts. Her life has been immersed in T-shirt quilts ever since.