A Woot T-shirt Quilt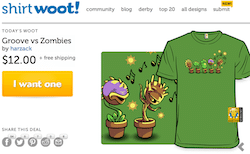 One of my favorite T-shirt of the day websites is shirt.woot.com – AKA Woot Shirts. Everyday I get an e-mail from the company showing me the new T-shirt of the day. If I like it, I click over to their website and purchase it. Some days the T-shirt is for myself and other days its for friends, family or even my employees.
For over 3 years my daughter Milie and I have been getting Woot T-shirts and wearing them for a while and then we retire them for a quilt. This summer we finally had enough T-shirts to make a Woot quilt. And now that it's finished, we are fighting over who gets it. So right now it's hanging in the Charlotte Michigan shop so everyone can enjoy it.
Our Favorite T-shirt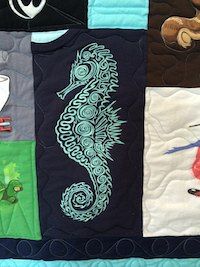 Our favorite T-shirt is the teal sea horse with a navy blue black ground. We loved the sea horse design because it is a continually drawn line. We also liked the contrast of the navy and teal. Normally, we only get one of any T-shirt. But this one was so loved that we bought two of them.
Color Scheme
This T-shirt was the inspiration of the colors of the backing, binding, border and thread. We used the navy for the inner border because it's darkness framed the T-shirts so well. We used the teal for the outer border and binding because it was bright and draws you to the quilt. Sticking with the color scheme, we used navy for the backing fabric. Then to top it off, we used a teal color thread for the quilting. This lighter color just pops on the back of the quilt.
The Quilting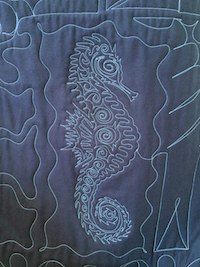 On the back of any Too Cool T-shirt Quilt you will see the wonderful quilting that our artist draw with the long-arm quilting machine. A long-arm quilting machine moves over the top of three layers of the quilt stitching or "quilting" them together. Without this quilting, you would only have a blanket.
Each block in one of our quilts is individually quilted with a different design. We also look for designs on the different T-shirt blocks to trace. When we trace a design on the face of a quilt, you will see mirror image of the same design on the back of the quilt. It takes a lot of time to do this tracing, but when you flip your quilt over and see the design on the back you just say wow. Even now after years and years of making T-shirt quilts, I still love looking at the backs of our quilt.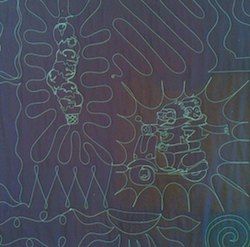 This Woot T-shirt quilt had so many fun designs that we were able to trace. Milie did the long-arm quilting on this quilt. She traced the sea horse and it looks awesome. An over-all quilting pattern with this teal thread on navy would have "popped" and looked awesome. But the tracing, this elevates this quilt to the top level of T-shirt quilt making. There is not much more we could have done to make this quilt even better.
Your T-shirt, Your Quilt
We spent considerable time and money collecting and saving these T-shirts for our Woot quilt and are delighted with the quilt we made ourselves. If you have been collecting and saving your T-shirts for a quilt, we hope that you have a quilt made that you are also crazy about.
We suggest that you take time to learn about the different styles and quality of T-shirt quilts available on the market. Make sure that you know what you want your quilt to look like and don't settle for anything less. Read about and look at T-shirt quilts. If you have a specific question, use the Search The Blog tool at the top of this page. We have written articles on 100's of topics relating to T-shirt quilts.
We have also written a T-shirt quilt buyers guide that is a stepping off point for your T-shirt quilt journey. You can download that guide below. You are always welcome to e-mail or call us with any questions.