A Hacker's T-shirt Quilt
This was written and shared with you by Space Rogue about his Too Cool T-shirt Quilt.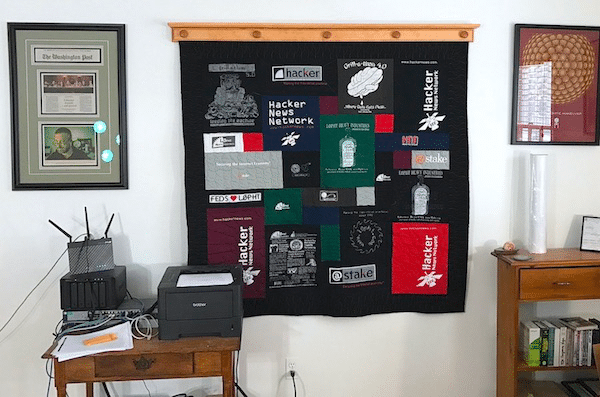 It is hard to work in Infosec [Information Security] for very long and not amass a huge number of T-shirts. Vendors give them away like candy thinking that somehow a free T-shirt is going to make you spend thousands of dollars on their blinky light solution versus their competitor's blinky light solution.
However, some T-shirts tend to have a greater value than others. Those T-shirts emblazoned with logos from projects or companies that you actually worked with tend to have the most value. Then, the question becomes, what do you do with them?
For me, for the last twenty years or so, my most valuable T-shirts lived in a plastic box under my bed. I never wore them, because, well, I don't wear T-shirts much and these were a little too valuable to me to risk them fading due to over use. And so, they stayed in the box, seldom seen.
A few years ago, I ran across a company offering to make a quilt out of old T-shirts. I thought this was a great idea! And the price was pretty inexpensive too. I almost sent my shirts in immediately but for some reason I hesitated. (Learn more about what goes into the pricing of a T-shirt quilt here.)
I started Googling and found there is more than one company making quilts out of T-shirts and way more than one way to do it. I knew nothing about fabric design or quilting, backing material, batting, stitch length, binding, etc..
Evidently there is a quite a bit that goes into a quilt and I only had one copy of many of my T-shirts. I didn't want to risk going with a low-cost option simply because it was low cost.
In the end, I chose Too Cool T-shirt Quilts. I boxed up my shirts and sent them in. They emailed me as soon as they got the box and asked me what sort of options I waned, how big of a border, any designs in the quilting, special positioning of certain shirts, etc.. 2 weeks later they sent me these photos.
I was pretty impressed. It looked great, especially the quilting design that showed through the back. My whole purpose for getting the quilt though was to hang it on the wall in my office at home. I ordered a custom quilt hanger from Robinson's Wood Crafts. This allows you to hang a quilt on the wall without putting holes in the quilt itself.
If you have a box of valuable T-shirts taking up space under your bed you might consider getting a quilt made, but do your own research, the cheapest option may not be the best one for you and your T-shirts.
This entry was posted in L0pht by Space Rogue.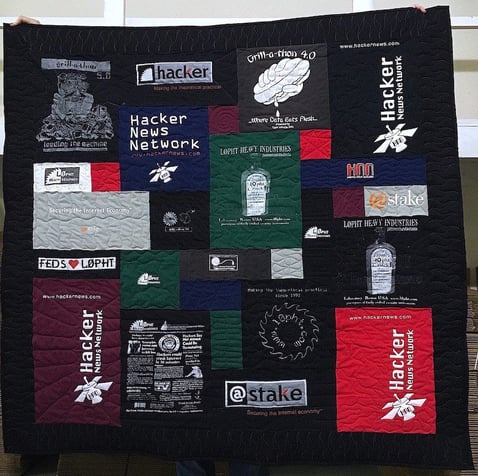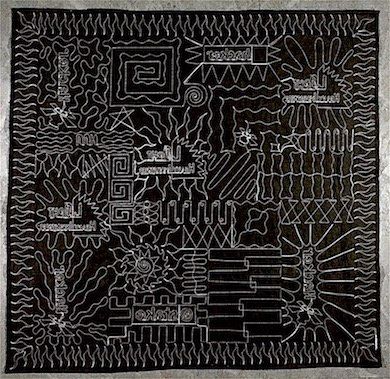 About Space Rogue
Space Rogue is widely sought after by journalists and industry analysts for his unique views and perceptions of the information security industry. He has been called to testify before the Senate Committee on Governmental Affairs and has been quoted in numerous magazine and newspaper articles as well as appeared on such TV shows as News Hour with Jim Lehrer, CNN Nightly News, ABC News Online with Sam Donaldson, and others. A recognized name within the industry, Space Rogue has written articles that are often quoted or referred to by other major media outlets. He has spoken before numerous audiences including the Digital Messaging Association, Defcon, Pumpcon, HOPE, H2K, and others. As a former member of L0pht Heavy Industries, Space Rogue ran the widely popular Hacker News Network which quickly became a major resource on the Internet for daily information security news. Before HNN he ran the The Whacked Mac Archives, which at the time, was the largest and the most popular Macintosh security site on the net. Currently Space Rogue does consulting for various companies.
Here's a starting place for researching how to have a quilt made from your T-shirts.
Our buying guide is a great place to start you search because it will help you learn what questions to ask.