2 Wedding Gift Ideas That Will Be at the Top of the Gift Pile
March 18th, 2019
By Andrea Funk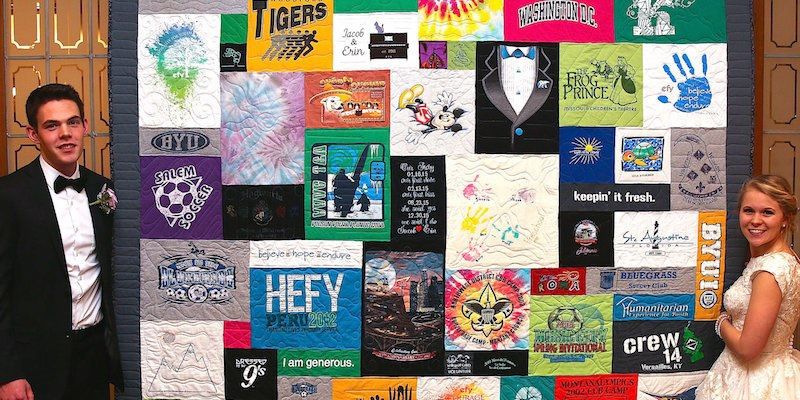 Here are two wedding gift ideas to consider.
Wedding Guest Signature Quilt
Wedding Guest Signature Quilt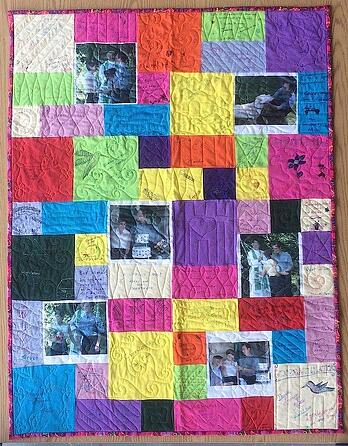 Here is a practical alternative to an impractical guest book at a wedding! Consider having a guest signature quilt made. It's a great way for your guest to leave you messages and drawings. Mix the signatures with photos and fabric from the wedding attire, and you have a quilt that you can enjoy for a life time.
What Is A Guest Signature Quilt?
This is a quilt that is comprised of good wishes, notes and drawings from your guests. Your guests will each stop by a table and write a note to the two of you on a piece of fabric. After the wedding, these notes are sewn together into a quilt.
What Else Can Be Added to the Quilt?
One Major Issue with Signature Quilts with an Easy Fix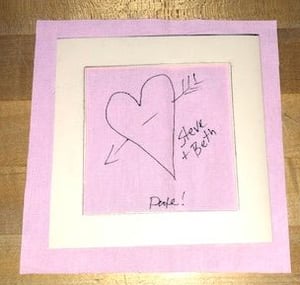 Your guest won't know where to stop writing. This is because you can't write over the entire service of the fabric. When you sew, there is a ¼" seam allowance. If your guest writes in that area, that part will be cut off in the seam. They need to stay inside the box.
Below are directions for making templates for your guest to use. This way they won't write outside the box!
As you know, there are some people who can't or won't follow directions. You need to anticipate this and be ok with either pulling their block from the quilt or accepting that part of the message may get cut off. If you choose a qualified quilt maker, she might be able to figure out how to keep the entire message.
How to Prepare for a Wedding Signature Quilt
Cut cotton fabric into blocks. Fabric sizes below.
Cut a number of templates with windows cut out of them. I used plastic from plastic file folders. They don't have to be perfect - you just want to give your guest a spot to write. Your guest will take a template and lay it over a piece of T-shirt material and write inside the window. If you cut the fabric a little larger than the template, the guest should be able to keep the template on the fabric and not on the edge.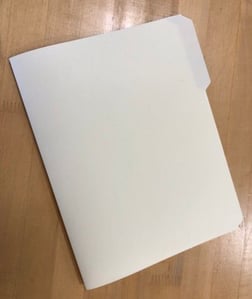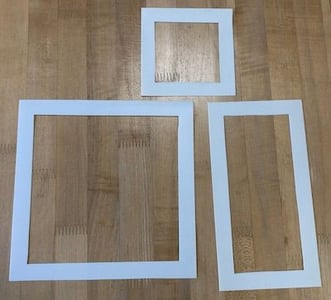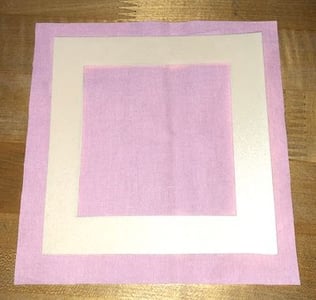 Cut your templates. Here are the inside/outside measurements. The numbers in green are the size of the individual pieces of fabric that would be used with each template.
Inside: 3½ x 3½ Outside: 5 x 5 Fabric Size: 6 x 6
Inside: 3½ x 7½ Outside: 5 x 9 Fabric Size: 6 x 10 (this can be used horizontal or vertically)
Inside: 7½ x 7½ Outside: 9 x 9 Fabric Size: 10 x 10
Inside: 7½ x 11½ Outside: 9 x 13 Fabric Size: 10 x 14 (this can be used horizontal or vertically)

The pieces of fabric should be in different sizes to encourage your guest to choose the size they want. Some people will love a big piece and others not so much.
Write out directions for your guest. Below is a sample you can start with and then make your own.
Directions for Guest
The text of these directions are below. You are welcome to copy and make it your own!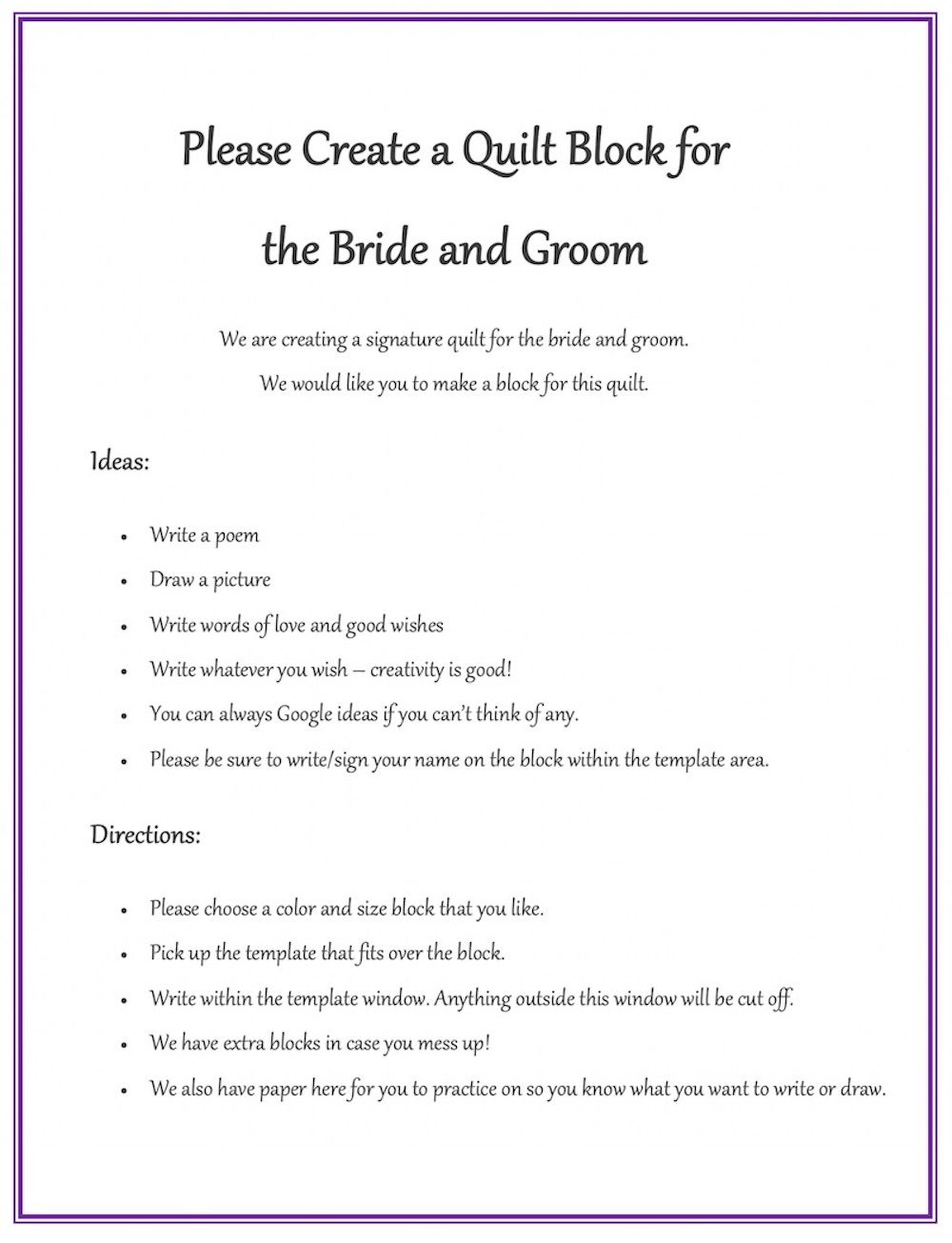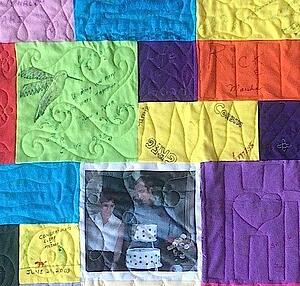 Please create a quilt block for the bride and groom.
We are creating a signature quilt for the bride and groom. We would like you to make a block for this quilt.
Ideas:
Write a poem

Draw a picture

Write words of love and good wishes

Write whatever you wish – creativity is good!

You can always Google ideas if you can't think of any.
Please be sure to write/sign your name on the block within the template area.
Directions:
Please choose a color and size block that you like.

Pick up the template that fits over the block.

Write within the template window. Anything outside this window will be cut off.

We have extra blocks in case you mess up!

We also have paper here for you to practice on so you know what you want to write or draw.
What Pens Should I Use?
I use Sharpies. They come in great colors and seem to stay put. You could also check at a craft store to see what other options there are available.
Or you could do an experiment. Get a number of pens and test fabric. Write on the fabric with each pen. I would write down the name of the pen as the test. Then, wash the fabric over and over - in every load of wash you do. See what works best!
If you would like to talk with us about a wedding signature quilt, please feel free to call [517-541-8225] or e-mail us.
---
To learn more about the different types, styles and qualities of T-shirts, download our T-shirt Quilt Buyer's Guide.
It's a great place to begin your journey to finding a quilt maker.

---
---
A Joint T-shirt Quilt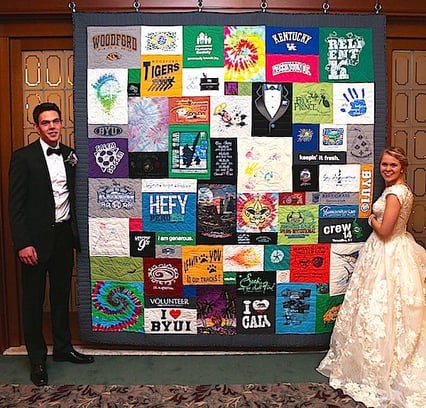 Why is a T-shirt quilt a perfect wedding gift?
If you are looking for a wedding gift that perfectly symbolizes the union of a bride and groom, you can't get much better than a joint T-shirt quilt. Half the T-shirts come from the bride and half from the groom. The quilt would have T-shirts telling the story of each of their lives before they met one another as well as T-shirts telling the story of their courtship.
A T-shirt quilt could be given as a gift for the newly engaged couple before their wedding or as a wedding gift.
Possible giver:
Maid of Honor and/or a Best Man
Siblings of the bride or groom
Parents of the bride or groom
Collecting Ideas
Having two people work on the quilt is ideal. One from the bride's side and one from the groom's side. Try to get shirts that reflect the bride and groom's interest and lives. Then, also collect T-shirts that tie them together. For example, a T-shirt that represents where they first met.
Why a person from each side of the aisle is helpful. If you're the mother of the groom, collecting may be both easier and more difficult. Getting your sons T-shirts shouldn't be that much of a problem. But getting hold of his fiancé's T-shirts might be more difficult. Consider enlisting the help of her family members such as her siblings and mother.
When to Give the Quilt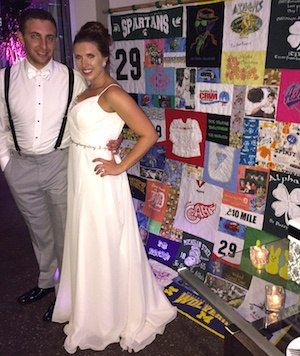 Many times, a T-shirt quilt is given to the couple at a shower. This is a more intimate setting than perhaps at the wedding. Since a shower is given for those closest to the couple, the people who get to see the quilt will have more interest in the stories of the T-shirts.
If the quilt is given before the wedding, it can be hung up at the wedding. The quilt is so cool that it will draw the guest around it and then story time begins. "Remember when's" abound. Guests at weddings have down times between the ceremony and when the couple arrives at the reception. Having something as simple as a T-shirt quilt on display will give guest, who maybe strangers, a point of commonality to talk about.
Planning Time Frame:
To figure out when you need to start working on the quilt, begin with the date you plan to give the quilt to the couple and work back. If at all possible, plan to give Too Cool T-shirt Quilts eight weeks to make your quilt. This is especially important if you have a spring wedding. Then figure 6 weeks to collect the T-shirts. If you are relying on many different people to gather the T-shirts for you and if they live all over the country, give yourself more time. So, you need 3 to 5 months.
If your wedding is approaching, and you have less than 3 months, call Too Cool T-shirt Quilts to see what time frame we have. If at all possible, we will work with you. We love the quilts we make and we will do everything we can to ensure you have a quilt when you need it.
---
To learn more about the different types, styles and qualities of T-shirts, download our T-shirt Quilt Buyer's Guide.
It's a great place to begin your journey to finding a quilt maker.

---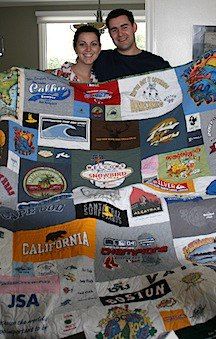 Andrea Funk is the inventor of T-shirt quilts made with multiple blocks sizes. The modern method of making T-shirt quilts. In 1992 she founded Too Cool T-shirt Quilts. Her life has been immersed in T-shirt quilts ever since.