12 Ways To Spoil a T-shirt Quilt
November 16th, 2020
By Andrea Funk

Mistakes You Want to Avoid in Your T-shirt Quilt
1. Have a blanket rather than a quilt made.
2. Have a novice make your quilt.
3. Use cheap fabric on the back of your quilt.
4. Use the wrong batting in the middle of your quilt.
5. Have all the blocks cut the same size.
6. Choose a layout of rows and columns.
7. Include the wrong T-shirt in your quilt.
... And so many other ways.
If you are new to the world T-shirt quilts, it might seem that one T-shirt quilt is just same as another T-shirt quilt. You might think that anyone with a sewing machine can successfully make a T-shirt quilt. But, neither is true.
There are so many ways to make T-shirt quilts. And not all are successful! There are a lot of ways I have seen T-shirt quilts screwed up. Here are the 3 major problems any T-shirt quilt must solve.
Based on having made over 10,000 quilts and having remade so many others, my advice is to have your quilt made right the first time.
Here are 12 mistakes to avoid.
1. Having a blanket rather than a quilt made.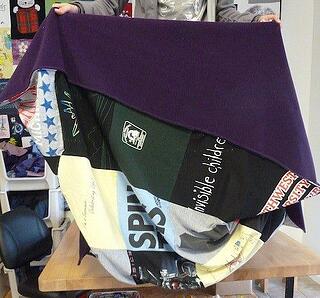 There is a difference between a quilt and a blanket. A blanket has two layers and no quilting, whereas a quilt has three layers held together by quilting.
Before you hire someone to make a quilt, double check they are actually going to make you a quilt! Don't just ask, "Do you make quilts?" Some people making T-shirt blankets actually think they are making quilts. (A sure sign of inexperience!)
A better question is, "Do you long-arm quilt your quilts?" This gets to one of the major differences between a quilt and a blanket - the quilting. If the answer is a no, then they are not making quilts.
Read about 10 questions to ask a quilt maker here.
2. Having a novice make your quilt.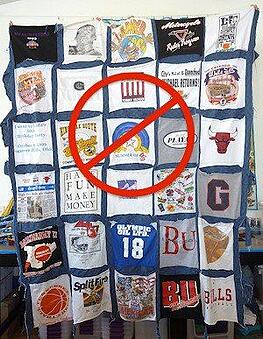 Not all novice quilt makers will screw up a T-shirt quilt on their first attempt. I look at my first attempt and cringe.
If someone hasn't made a T-shirt quilt, they don't have a track record proving that they can be successful. Ask to see a quilter's work before you have them to take your favorite T-shirts and make a quilt. Read about the different experience levels of quilt makers.
There are so many T-shirt quilt makers to choose from that you don't have to ask someone without experience to make you a quilt.
---
Planning a T-shirt quilt?
Here are step-by-step directions for ordering your Too Cool T-shirt quilt.
---
3. Using cheap fabric on the back of your quilt.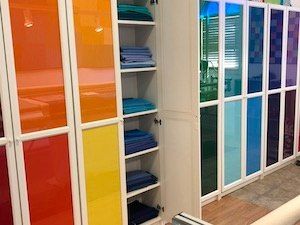 Quilting materials come in a wide range of quality. There are fabrics that are cheap crap and there are fabrics that are wonderful and will have a great longevity.
You can't tell from a photograph what type of fabric is being used. You will need to ask what's being used. You want to hear that they are using a high quality 100% cotton quilting material. For example, a great fabric is Robert Kaufman Kona Cotton solids. This is what we have been using for years.
A quick hint: the cheaper a quilt is, the more likely lower quality material will be used. This is because when quilt makers price their quilts based on being the least expensive, they have to make up their profit somewhere. And an easy way to for any business to more a better profit is by cutting their cost. A high quality fabric can cost 5 to 10 times as much as junk fabric.
4. Using 100% polyester batting.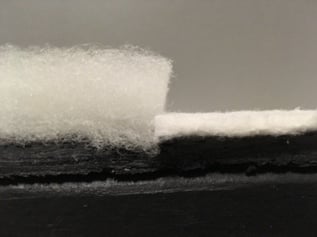 There are many different types of batting that can be used in a quilt. The worst type is 100% polyester for a number of reasons.
First, if the quilting is spaced too far apart, the batting will wad up during subsequent washings. Second, this type of batting will also poke out the back of the quilt through the fibers of the backing material. You can actually pull out fiber.
A fluffy batting is not the correct batting for a T-shirt quilt. In the photo here, the batting on the right is the correct batting to use. The fluffy batting on the left is 100% polyester and basically garbage. Avoid 100% polyester battings.
Look for quilt makers using 80% cotton/20% polyester batting. This is the best. A 100% cotton battings is also a good choice. Read more about batting here.
5. Having all the blocks in the quilt cut the same size.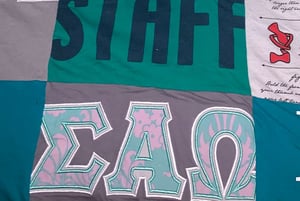 Uniform block size results in cropped-off images. Traditional style T-shirt quilts use a single block size to cut all the blocks.
Using one block size in a quilt is great if all the T-shirts have the same size designs on them. But 999 out of 1000 stacks of T-shirts will have many different sized designs within the stack.
The problem with a one-size-fits-all block size is that some of the designs on your T-shirts will be too large for the block. Those designs will have to be cropped to fit the block size. This can break your heart if it's your favorite T-shirt.
In the grouping of photo here you can see the difference.
In the first photo, it shows what the design looked like on the T-shirt.
In the middle photo, this is how the block should be cut. None of the graphic was cropped off.
The third photo is the same T-shirt used in a traditional style T-shirt blanket that used one block size. Compare that back to the original T-shirt. This is what you have to expect from a quilt made with one size block.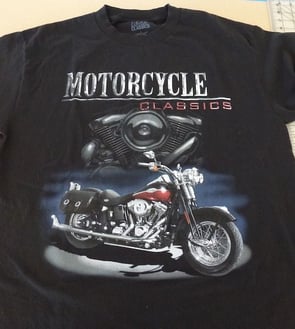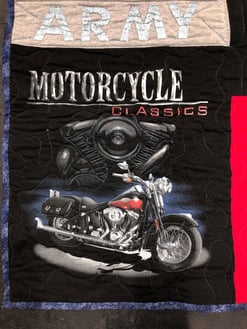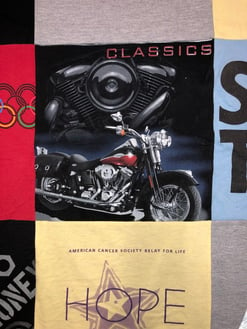 Other designs on your T-shirts may be much smaller than the block. Those designs will be left with too much margin around it.
Look for quilt makers using many different block sizes.
Read more traditional style T-shirt quilts that use one block size here.
Read more about variable style T-shirt quilts here.
---
What to learn more about T-shirt quilts? Visit our Learning Center.
We have over 200 articles about all aspects of T-shirt quilts.
---
6. Having a layout of rows and columns.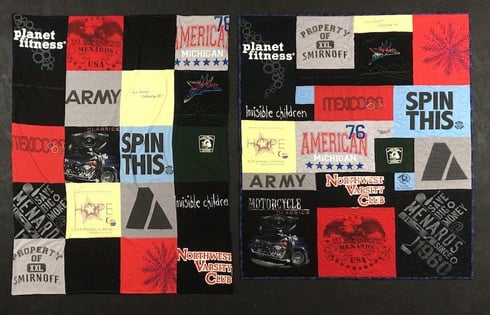 You will find two major types of T-shirt quilts being made. The first is a traditional style quilt design that lays out the T-shirt blocks in rows and columns.
This is a fast and cheap way to make a T-shirt quilt. I find this is boring, lazy and it just makes your quilt look like a checkerboard.
A puzzle style quilt with different size blocks is much more interesting to look at. Think about what will hold your interest over the years of looking at your T-shirt quilt.
In the photo here, the traditional style T-shirt blanket laid out in rows and columns is on the left. The puzzle style or Too Cool style we made is on the right. Which style do you like better?
(A quick note, I invented of the puzzle style T-shirt quilt in 1992. That's why I also refer to it as the Too Cool style.)
Read more about different quilt styles here.
7. Having an awful color on the back of your quilt.

Choosing the right color for the back of your T-shirt quilt is important. But explaining that color to your quilt maker can be tricky. So, how do you explain the color you want for the back of your quilt?
If you choose a company with just a few color choices, you will have to take what they have. But be careful, there are some companies that may call a color maroon, while in actuality, it might be fuchsia. Think how disastrous this would be if the quilt had been made for someone not into pink.
Choose a company with has access to hundreds of colors. Then send a swatch of the color you like. Read more about backing colors here.
8. Having the wrong T-shirt included in your quilt.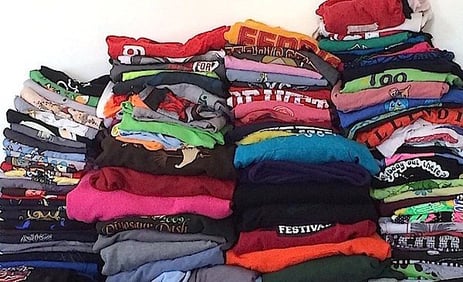 This is on you! Look carefully at the T-shirts you choose to send. If there is a part of a T-shirt you would die if it got into to quilt, cut that part out and don't even send it. I would suggest going through your T-shirts a number of times to make sure you have the T-shirt you want.
We see the wrong T-shirt getting into a quilt when someone is having a quilt made for someone else. For example when a mom is making a quilt for their son or daughter when they are graduating from high school. They just didn't know not to send a particular shirt.
Once a T-shirt is in the quilt, it can't come out. Choose carefully.
Read more about how to you mark T-shirts for use in your quilt.
9. Trying to micro manage the making of your quilt.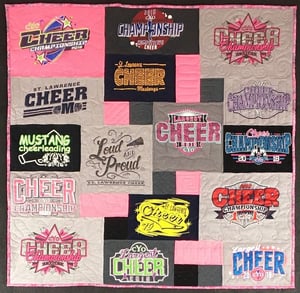 We have found that the customers who give us free-reign with their quilt end up with totally awesome quilts. It's when someone wants to micro-manage his or her quilt that it ends up being less than wonderful.

For example, if you want 10 of 20 T-shirts all in the center, then your design becomes stilted and the colors blotchy. If you want one or two shirts centered, that's cool. Too many after that just muddies the process and the end product.
If you want to make all the decisions, I would suggest that you make your own quilt top. Read about that here.
10. Using a company that does not prewash their backing fabric.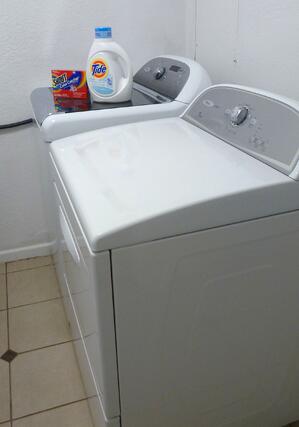 The backing fabric is the material used on the back of your quilt.
To save time (and time is money), some companies will not prewash their backing material. This is a bad practice. Quilters prewash backing fabric to make sure that all the loose dye is out and that it's been shrunk.
If your quilt comes without the backing material prewashed, be prepared. When you wash your quilt, your quilt may turn the color of your backing fabric and the material may shrink. Neither of these is good for your quilt.
If a company advises you to dry-clean your quilt, be very wary. They tell you to dry-clean your quilt to cover their liability (read "butt") because they know when you wash it in the washing machine, your quilt will be toast. Pink toast with a shriveled up backing.
Ask any potential quilt maker if they prewash their backing fabric. If they don't avoid using their services.
11. Asking a quilt maker or company to make something they don't make.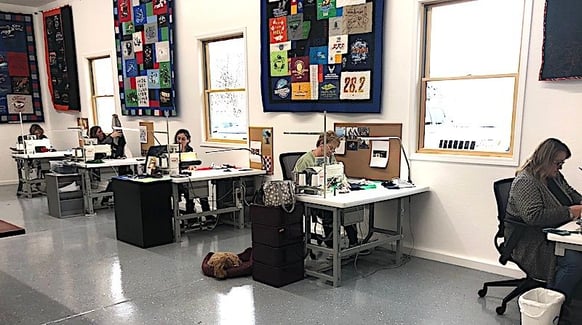 For example, say you want a quilt made in a style your quilt maker has never made. Many quilt makers don't want to turn away a paying job so they will accept the job not knowing how to make what you want.
This goes back to having a novice make your quilt. The first time anyone makes something, she or he is essentially a novice.
If you want something that your quilt maker does not make, find someone else who is an expert at what you want made.
12. Trying to make a T-shirt quilt yourself, without directions and a sewing machine.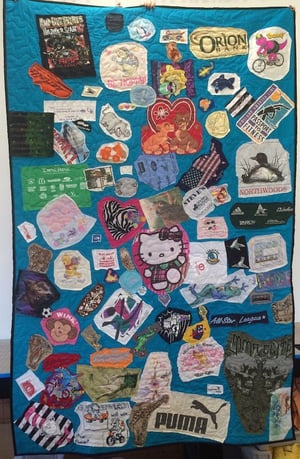 Making a T-shirt quilt does take a sewing machine. And if you are not a clever seamstress or quilter, you should consider different patterns and methods before you begin cutting your T-shirts. Here's a link to the directions on how to make a Too Cool style T-shirt quilt.
The most messed up T-shirts we have had to remake are those where someone began trying to make the quilt. They then realized after they cut their blocks that they had no idea of what to do next.
But if this is you, we can help you finish your quilt. Read more here.
The quilt in the photo here is mess up!
---
Planning a T-shirt quilt?
Here are step-by-step directions for ordering your Too Cool T-shirt quilt.
---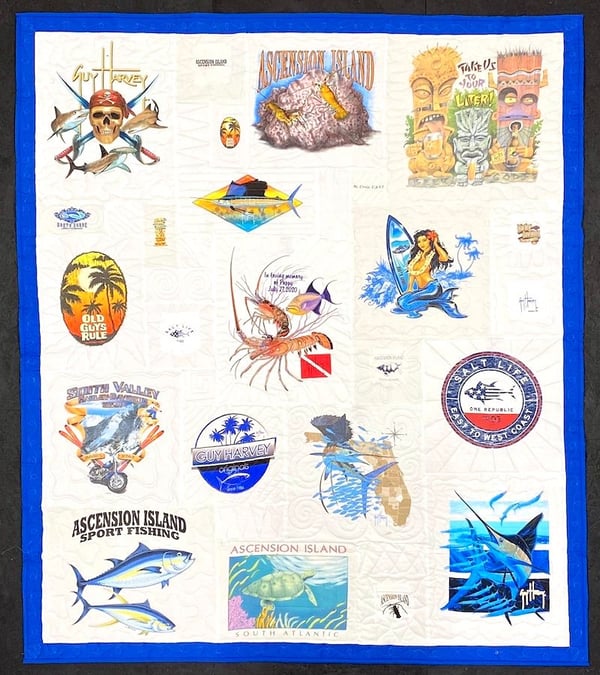 Andrea Funk is the inventor of T-shirt quilts made with multiple blocks sizes. The modern method of making T-shirt quilts. In 1992 she founded Too Cool T-shirt Quilts. Her life has been immersed in T-shirt quilts ever since.