Using a T-shirt Quilt for an Office Wall Hanging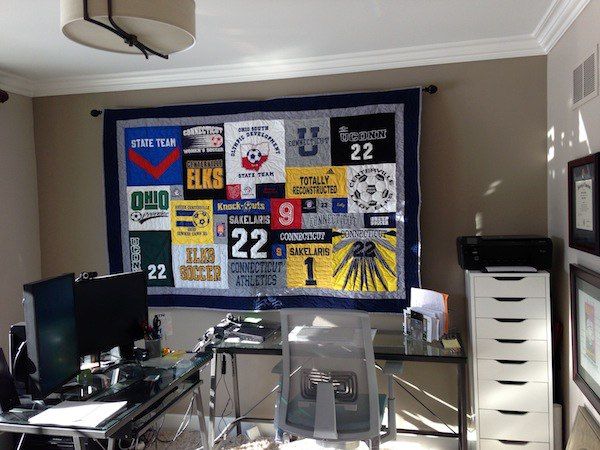 When you think of a quilt, your first thought might be – blanket or something in which to snuggle with. But there are other ways to enjoy and use a T-shirt quilt. Hanging your quilt on your office wall is a wonderful way to enjoy your quilt everyday.
Sometimes we make T-shirt quilts specifically for a particular office wall and other times they just find their way there organically. When you are sitting at your desk, here are some considerations for making a T-shirt quilt explicitly for your office.
Which Office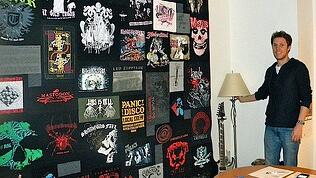 Business Office This takes some consideration. Here are a few things to ponder…
Is there somewhere to hang it without damaging the wall?
Would it be appropriate to hang anything on the wall?
Would you need permission?
What types of T-shirts would be acceptable?
What size wall is available?
How would people visiting your office respond to the quilt and its T-shirts?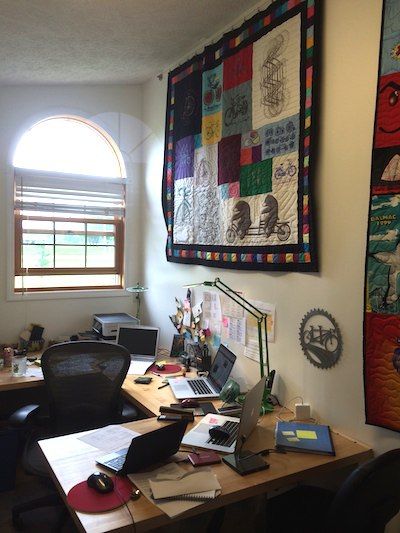 We know of a number of Too Cool T-shirt Quilts hanging in offices. Many are made from T-shirts from company events. Some of these quilts have been commissioned by us to hang in common areas or hallways. These quilts were made from T-shirts the company used for promotions and company picnics.
Home Office Here you have more free range of what you can do. But there are still a few things to think about before beginning a T-shirt quilt wall hanging…
Who will see the quilt? If you have a home office just for home business, probably no one would judge you based on your quilt.
Do you have customers, clients or other outside people in your home office? If so, how will they react to your quilt?
Which Wall
Next, for which wall should you plan your quilt? Look for a large wall without anything on it. Here are some obstacles you many have to contend with:
Windows

Doors

Light switches and plugs
Heating and cooling vents
Built-in shelves
Once you have found your wall, measure it. Find the total width and total height of the space. Typically, you would want to leave some margin around the quilt rather than having run ceiling to floor and side to side. It would depend on the size of the wall how much space you would want to leave around it. If you are uncomfortable figuring or envisioning this, we can help. With a photo of the space and the measurements, we can assist you to determine the right size quilt.
Which T-shirts?
The T-shirts you choose will depend on your situation. If you work in a conservative environment with many visitors, your quilt needs to reflect you and your job position. A more liberal work setting may allow for more self-expression. A home office would allow you the most flexibility in the theme of your quilt.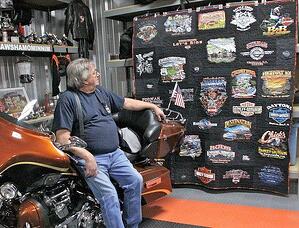 Some peoples offices may not be the type of office you may expect. Charlie's office chair is a Harley! (left) Read more about Harley Davidson Quilts.
Life After the Office
I'm sure that some day you hope to retire or perhaps move to a better job. This means that the office this quilt once hung in will be yours no more. Will this quilt fit well into your next office? So think about how you could use your quilt after it's no longer hanging in your office.
Basically, is your quilt's shape one that you could use for a blanket or that could hang in some future office that may have a different configuration? A less odd the shape of the quilt the more useable it will be in the future.
Any sort of textile hung in a space with hard surfaces will dampen the sounds and give the area a warm feeling. Can you imagine a T-shirt quilt in your office? If not, don't worry, you can still have one made for your bed or for in front of the TV.
Here, we are all for T-shirt quilts in an office space because it is a great place to show off our quilts.
If you would like to learn more about having a T-shirt quilt made from your T-shirts, consider downloading our T-shirt quilt buyer's guide. It's a great information to help begin your search for your perfect T-shirt shirt.