Using a Flag or Banner on the Back of a T-shirt Quilt
Styles & Types of T-shirt Quilts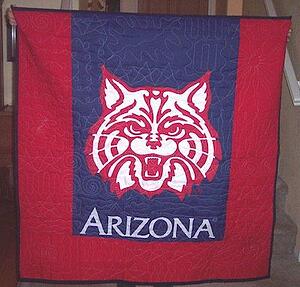 Flags and banners are ubiquitous and universal. Look around and you will see them everywhere! US and state flags, flags for sports teams, Olympic flags, welcome banners and racing flags. They are all around us.
Do you have a flag or do you have a banner you want saved?
The terms can be interchangeable, but there is a difference. A flag is typically wider than it is tall, has grommets on the left side and hangs horizontally off a vertical flagpole. A banner can vary in shape and is typically hung with a sleeve from a wooden pole. A flag carry representative symbols or colors whereas a banner typically carries a written or visual message.
Now you can put your flag or banner on the back of or in your T-shirt quilt! Here are 4 examples:
1. A flag or banner to represent something of importance
When Bruce's wife had this quilt made, she had his favorite running T-shirts, but she did not have anything that represented Michigan State University. Bruce's favorite team? Michigan State University. She and I bounced around ways to represent MSU in the quilt. The green backing and white thread were a given. Rather than just putting a random MSU T-shirt into the mix of running T-shirts, we decided to look into the cost of a college flag to put on the back of the quilt. The cost of the flag was less than $40. Very doable!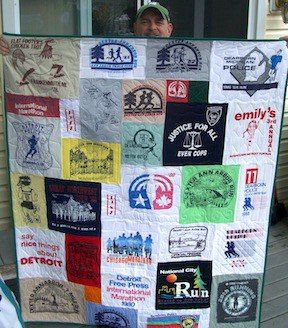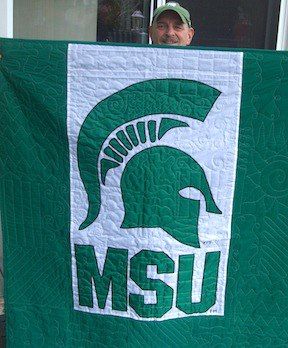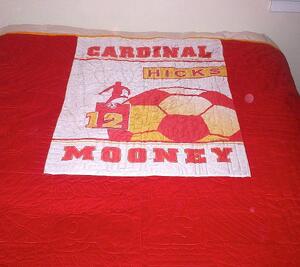 2. A flag or banner that is no longer being used
This banner was made for a soccer player at Cardinal Mooney High School. The banner was hung outside the family's home and was taken to soccer games. Upon graduation, the banner was no longer used. The banner is an important part of the story of the student's high school time period.
We put this banner on the back of his graduation T-shirt quilt. We choose a red backing material to coordinate with his high school team colors.
3. A flag or banner to remember an event
The flag we put on the back of this quilt is from Ferrari Racing and was signed by the drivers. The importance of the flag was in the event and the signatures. Just with T-shirts, this quilt ended up being a king size. So to include the flag within the quilt, as we would a T-shirt, would have made the quilt way too big. So we put in on the back of the quilt.
---
To learn more about the different types, styles and qualities of T-shirts, download our T-shirt Quilt Buyer's Guide.
It's a great place to begin your journey to finding a quilt maker.
---
4. A flag or banner within a T-shirt quilt
If you don't have enough T-shirts to make a quilt that size you would like, a banner or flag can make the quilt larger. We were way to short on T-shirts for a queen size for this quilt. We made the quilt larger by adding a border and by centering her university banner.
There are no additional charges to use a flag within your quilt like a T-shirt. If you would like to put a flag on the back of your quilt, there is a $45* charge for the additional labor. *Prices effective until 12/31/2020
Note: it is not appropriate to use an American flag on the back of or in a quilt.