Quilting Designs Used on a T-shirt Quilt
The quilting designs you see on the back of a Too Cool T-shirt quilt are not only fun, they are one of the things that set a Too Cool T-shirt quilt apart from other T-shirt quilts.
Some of the features of our quilting include:
We typically us a contrasting thread on a solid material so the quilting can be seen.
Each block is quilted differently from the other blocks.
Some blocks receive an over all pattern.
On other blocks, a design or word on the T-shirt block is trace.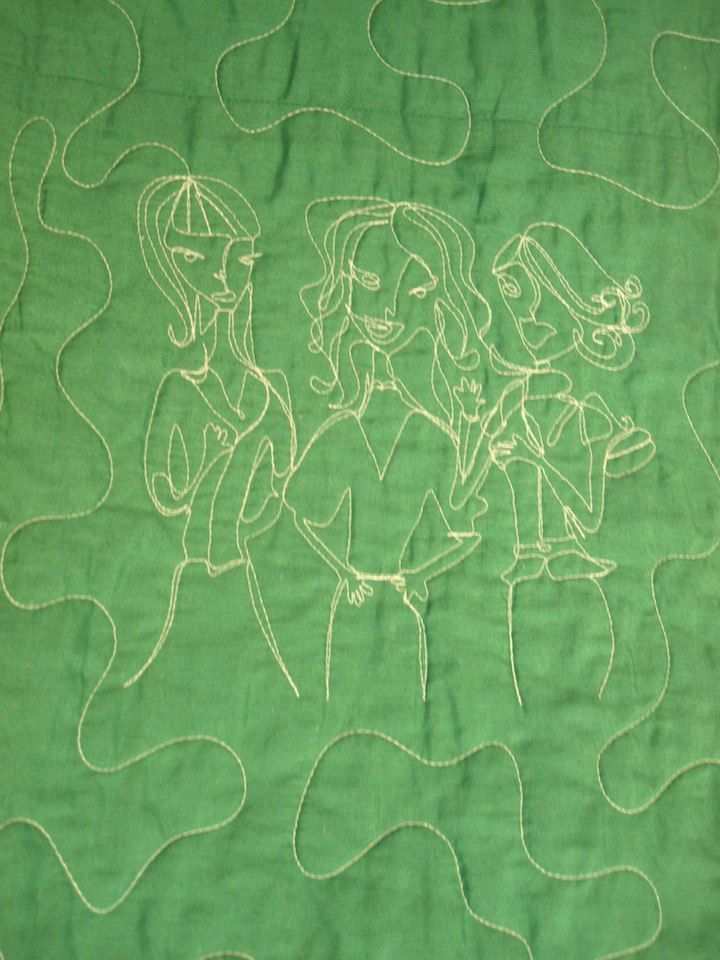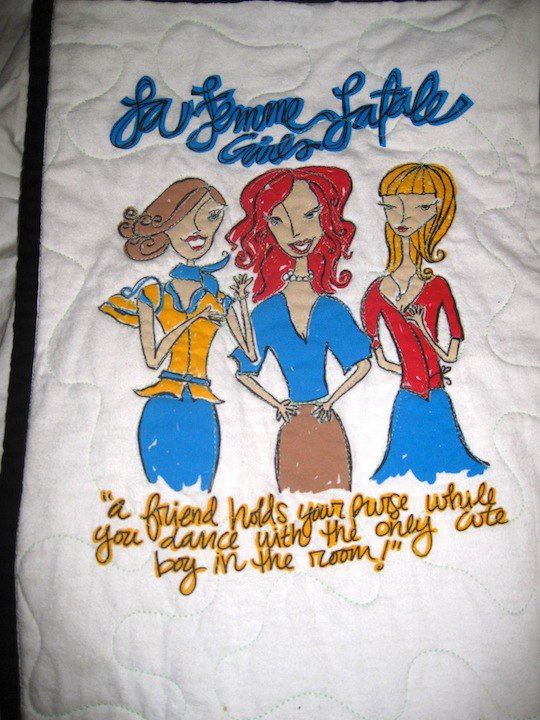 MORE PHOTOS AT THE BOTTOM!
Q & A about the quilting designs on the back of our T-shirt quilts.

Can I get an overall design quilted instead of having the each block receive its own quilting design?
We can do an overall design if you would like. But understand that this is not what we excel at. T-shirt quilt companies who do overall quilting design either use a computer guided long arm quilting machine or follow a printed templates by hand with a laser pointer. Since we do art quilting on our quilts, we have very little experience with over all designs. We can do loops or stippling.

Part of what make a Too Cool T-shirt quilt so cool is the quilting. With an overall pattern, your quilt becomes more pedestrian.
What types things can be traced from the T-shirts?
We analyze the following characteristics of a design:
Size
Complexity
Line drawing vs. shading
Type of fabric
Surrounding graphics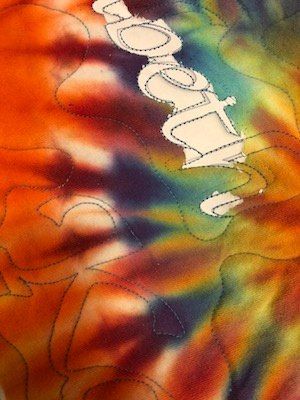 Can you only trace designs that are on that block of the T-shirt or can I provide a stencil?
Typically we trace designs on the T-shirts. The design is then seen on the back of the quilt and the back and front match. We can use paper stencils to quilt specific designs on your quilt. They work great but keep the following things in mind:
There will be an extra cost because we have to remove excess paper. This involves tweezers and picking of paper.
The design will be a mirror image of the paper stencil. So if words are used, they will be backwards unless they are printed out backwards.
We can print out your designs or you can send them with your T-shirts.
Pricing for Paper Stenciling
Tracings 1 & 2: Free
Each Tracings 3 - 6: $10* each
Each Tracings over 7: $20* each
*Prices effective until 12/31/2019
How to make a stencil for us:
Print out your word or line drawing on a piece of paper and send it to us. Or you can e-mail us your image and we can print it out for you.
Could I specify what kind of design I wanted?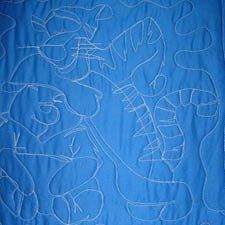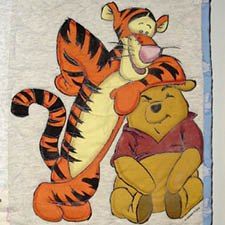 If would you like a specific image on your quilt, you can tell us what you would like stenciled on. If you would like a specific image traced from your T-shirt, put a note on the shirt noting that you would like it traced. If we can trace it, we will. The rest leave to us!
Do you have a question about a T-shirt quilt? We would be happy to answer them. Please e-mail your questions to: info@TooCoolTshirtQuilts.com
Scroll down for more photos!
---
To learn more about having a quilt made from your T-shirts, download our free T-shirt Quilt Buyer's Guide.
It's a great place to learn about the different styles and quality of T-shirt quilt.
---