Are You Cut Out for Making a T-shirt Quilt? Take This Quiz.
Finding a T-shirt Quilt Maker | Making Your Own T-shirt Quilt
Are you considering making your own T-shirt quilt? With the right directions, skills, time, experience and tool, you probably can make your own quilt. But before you begin, you need to know if you have what it takes to complete the project.
We have rescued many "would-be" T-shirt quilt makers who found themselves over their heads with the project. But the final quilt ends up costing more than it would have if a professional quilt maker had made the quilt from the get-go.
Should you make your own T-shirt quilt?
Ultimately, only you know the answer to this. To help you answer that question, here is a quiz about the skills, tools, and experience you need to have to be able to make a Too Cool style T-shirt quilt.
"Save" button = "Enter"
Other Helpful Skills: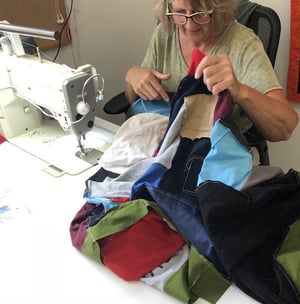 Here are some skills that will help you make a T-shirt quilt. If you are unable to do these tasks, you can hire us or someone else to do these steps for you or use an alternative method to complete the step.
Can you do puzzles easily?
A Too Cool T-shirt Quilt is designed without rows and columns. As a result, you will need to be able to puzzle together the blocks. Some people who can't do puzzles will just make their quilt in rows and columns and call it good enough. Other people will seek out someone they know who is good at puzzles to help them with this step. You can also hire Too Cool T-shirt Quilts to do this step for you.
Do you have a long-arm quilting machine?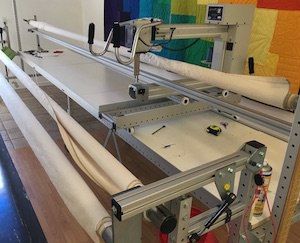 Most T-shirt quilts are long-arm machine quilted. A good machine will set you back roughly $20,000 to $30,000. Most people don't invest in one. This is a step that you can hire someone else to do. We also offer that service here.
Do you know how to bind a quilt?
If you don't know what binding is, this is probably a step that you will need to hire out. It is possible to learn how to do it. However, the the learning curve is steep, especially if you plan to make just one quilt.
If you would like to make your own T-shirt quilt with the Too Cool T-shirt Quilt method, here is where you start: How to Make a Too Cool T-shirt Quilt. The book is available in soft cover or ebook formats. We also have cutting templates, template stands, design help and long-arm quilting services to help.
Back to: Making Your Own T-shirt Quilt