Design Help for Those Using the Too Cool T-Shirt Quilt Method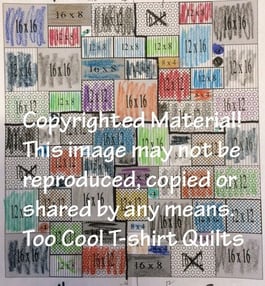 Do you need help making the map for your quilt? I would be glad to lay it for you. Note - design help is for those exclusively following the directions in our book. If you are not using the book for your directions, we cannot be of help.
Cost: $30
To have Andrea Funk design your quilt, send a check or money order and a copy of your counting chart to us.
Or
Submit the layout counting chart form which you will be redirected to upon payment after you pay using the Buy It Now choice.
Upon receipt of your request, I will either e-mail you a copy of your map or send it via the mail. Please let me know which you prefer. Be sure to include your mailing address or e-mail address with your request.