T-shirt Quilt Backing & Binding Explained
Backing Material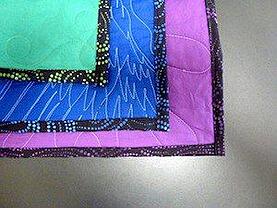 The backing is the fabric that is on the backside of the quilt. We use a solid color backing fabric so the quilting can be seen.
Backing colors - we have over 250 colors to choose from. If you want something beyond a standard generally accepted colors, please send a swatch. For example navy, hunter green, red, orange, etc. are colors that are, what they are. But a color like teal or sage - there is more interpretation to these colors. So if you would send a swatch of color that would be helpful. You can get a swatch from a paint chip, from one of your T-shirts, a color crayon scribble on a piece of white paper or out of a magazine (circle the color). Click here to read more about Backing & Binding Color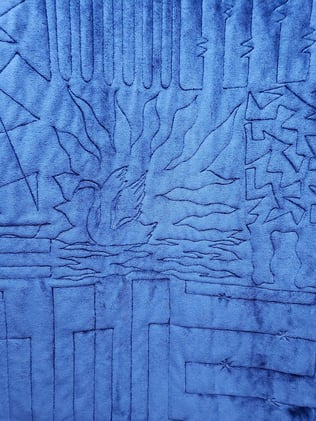 Minky Fabric Option
Minky is a very soft and cuddly fabric. It's possible you have seen it with raised dots on it, but we use the regular Minky to give the quilting the full effect. Michelle in our Austin, Tx location is the only Too Cool quilter experienced using Minky. Minky will not show the quilting as much as a cotton fabric. Rather, you will see more of an embossed look where the quilting is, rather than a definite line. The Minky comes in a variety of colors, creates a "softer" quilt, and holds up great overtime. Minky is a premium fabric and would include an additional charge based on the size of the quilt; it is more difficult and messy to work with than the cotton. Contact Michelle for more information. Austin@toocooltshirtquilts.com If you are ready to order, click here for Michelle's order form.
Binding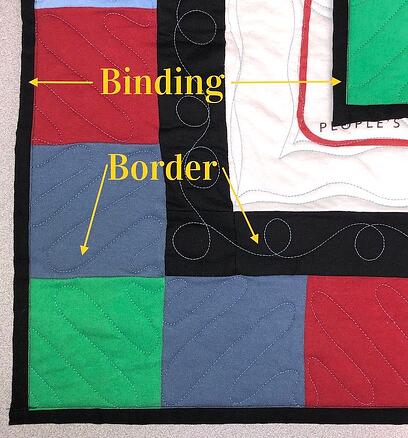 The binding is the material that goes around the outside of the quilt. It finishes off the quilt so the raw edges of the quilt top, the batting and the backing are all hidden.
The binding can be the same color as the backing or it can be a contrasting color. For example, if the quilt is for a high school graduate, you can use the darker of the two school colors as the backing and the other school color as the binding. We also have print and batik batting - so your quilt can be a unique as you.
The binding is different than a border. Read more about borders here.