What Condition Does a T-shirt Need to be in for a Quilt?
Everyday we get questions from people getting their T-shirts ready for a quilt questioning the condition of a T-shirts and if they can still be used in a quilt. Here are a number of questions and our answers. But generally the answer will be "yes, we can use it!"
"Can you use a T-shirt that has a hole in it?"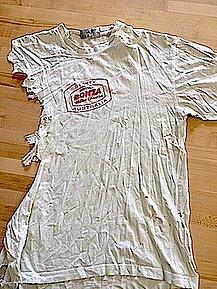 Holes should not be a concern when you are deciding if you want to use a particular T-shirt in your quilt. We have seen T-shirts with everything from pinholes to gaping holes. These blocks are repaired before we put them in your quilt. The blocks with small pinholes are backed with another piece of T-shirt material and the hole is glued with special fabric glue. Larger holes are backed with another piece of T-shirt material, sewn shut and glued.
So we repair the holes, but that does not mean that they go away. They are just repaired. So do you want to use such a T-shirt in your quilt? That is solely up to you. If it were a favorite shirt with great memories, I would say to use it. Ask yourself, "Does the shirt mean more than the holes in the shirt?" If so, go ahead and use it.
"My T-shirts are old and thin – can you still use them?"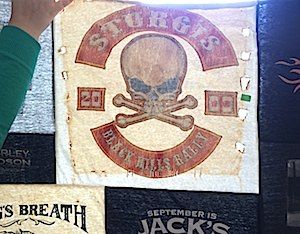 Some of the best T-shirts are old and thin! That's because we love them so much. And yes, we can use them in your quilt.
We take these T-shirts and put a piece of new T-shirt material behind them. This keeps the quilt soft while giving the thin T-shirt a little extra stability. You most likely won't be able to tell that there is another piece of T-shirt material behind the block. But if at some point the thin T-shirt wears even thinner or develops a hole, there will be another piece of material you will see and not the batting. Should you use you thin T-shirts? Yes.
"The text on the T-shirt is faded, can you still use it?"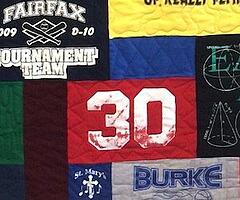 Of course you can still use it in your quilt. But as with holes, putting the faded block in the quilt will not magically make the faded T-shirt not be faded. It will remain faded and will continue to fade over time. But generally T-shirt quilts are not washed as often as you may have washed that favorite T-shirt.
Should you use the faded T-shirt? Yes, if it tells part of the story you are putting into your quilt. No, if you can't remember what it said and it was not an important T-shirt.
"Letters on my T-shirt are falling off. Can that T-shirt still be used?"
This happens mostly when a name has been added to a T-shirt. Yes, we can use that T-shirt in your quilt. But the letters will continue to fall off. If you know if the letters were iron on letters, try to iron the letters back on. If that fails to work, then when we quilt that block, we will either trace the letters so when they totally fall off, you will still be able to read it. Other times we will trace through the letter so it is sewn down.
If this shirt is very important, I would encourage you to include it in your quilt. If something else in your stack of shirts says the same thing, I would leave it off.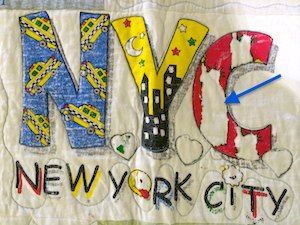 "The design on my T-shirt is peeling off. Should I use it in my quilt?"
I have found that paint on some cheap tourist T-shirts falls off. I have some T-shirts that you can no longer even tell what was on the T-shirt. If the paint is falling off now, it will continue to fall off. And there isn't much we can do here to fix it. Unless it is a very important T-shirt, my suggestion would to be to leave it out.
I hope this helps you determine if you can or should use a T-shirt in your quilt.