The Best T-shirt Quilts of 2020 - Part 2
T-shirt Quilt Details | The Best of
Each December I go through photos of the T-shirt quilts we made in the past 12 months. It's so difficult to choose which quilts to include or exclude. This year I have chosen 24 quilts to share with you.
24 quilts is overwhelming to look at all at once. So, I will break this into 4 parts. Here are the second 6 awesome quilts we made in 2020.
This examination will include the size, which border, if any, and why I like the quilt. The quilts are here in no particular order.
Rolling Stones
T-shirt Quilt
Style: Standard Too Cool Style
Border: 4" pieced
Size: 80" x 92" Full size range
About:
This is an awesome T-shirt quilt.
The Rolling Stones have been around for a long time! In this quilt is a shirt that celebrates the 58th anniversary of the Stones. They have stood the test of time!
Between the body of the quilt and the red 4" border is a thin line of light gray piping. This give the entire quilt a pop! It also helps separate all the different reds in the quilt from the red of the border.
Pop or Soda Logo T-shirt Quilt
Style: Standard Too Cool Style
Border: None
Size: 48" x 48" - Lap size
About:
There are only 12 T-shirts in this quilt. By using small blocks of color from the T-shirts through out the quilt, we were able to make the quilt larger.
These blocks also make the quilt colorful and fun.
These T-shirts were what a young man mostly wore throughout high school. So this was his high school graduation quilt!
Guy Harvey T-shirt Quilt
Style: Standard Too Cool Style
Border: 2" solid
Size: 64" x 76" - Multi use size range
About:
This quilt stood out to me because all the T-shirts used in the quilt were white.
Despite only using white T-shirts, the quilt is very colorful. The royal blue 2" solid border frames the quilt and adds to the colorful feel.
I also like the theme. Quilts with a theme tend to be more appealing to others. I would take this quilt if they didn't want it.
Read more about all white T-shirt quilts here.
Dog's T-shirt Quilt
Style: Standard Too Cool Style
Border: none
Size: 40" x 40" - Dog bed size? Smaller than a lap size.
About:
This quilt was made for these two cute dogs.
The theme is about dogs, which is logical.
My hope is that they don't eat the quilt. They look too well behaved for that... but with dogs, you never know!
Read more about dogs eating quilts here.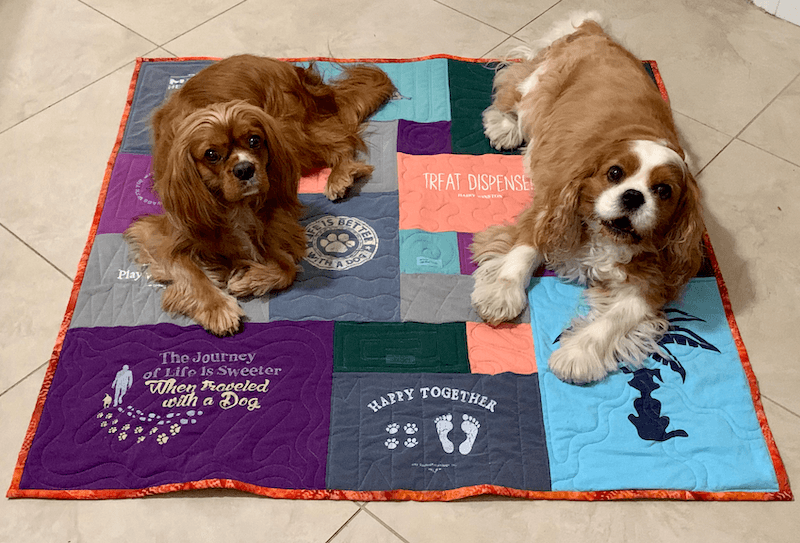 Dogs and More Dogs T-shirt Quilt
Style: Standard Too Cool Style
Border: 4" pieced solid border
Size: 84" x 92" - Full size
About:
Another dog quilt! Our dogs are what got us through 2020 without going totally mad!
This quilt is for a guy who loves his golden-doodle. I too have a golden-doodle, so I know where he is coming from. They are the best dogs.
The border is an Ombre Rainbow or ROY G. BIV border.
Here's more about some of the cool border we can do on your T-shirt quilt.
Check of The Best T-shirt Quilts of 2020 - Part 1
Watch for part 3 of this series!
---
To learn more about having a quilt made from your T-shirts, we invite you to download our T-shirt Quilt Buyer's Guide.
It's a great place to begin your research about T-shirts quilts.
---