The Best T-shirt Quilts of 2020 - Part 1
T-shirt Quilt Details | The Best of
Each December I go through photos of the T-shirt quilts we made in the past 12 months. It's so difficult to choose which quilts to include or exclude. This year I have chosen 24 quilts to share with you.
24 quilts is overwhelming to look at all at once. So, I will break this into 4 parts. Here are the first 6 awesome quilts we made in 2020.
This examination will include the size, which border (if any), and why I like the quilt. The quilts are here in no particular order.
Roots & Wings Annual Run/Walk
T-shirt Quilt
Style: Stained Glass, Navy leading
Border: 4" pieced
Size: 64" x 80" Twin size range
About:
This quilt actually only has three colored T-shirts -- gray, orange, and teal. The rest of the T-shirts are white, yet this quilt is still so colorful.
The colored border and the blank colored blocks are what makes it so colorful.
The other thing I like is that all the T-shirts are from the same run -- The Roots and Wings run.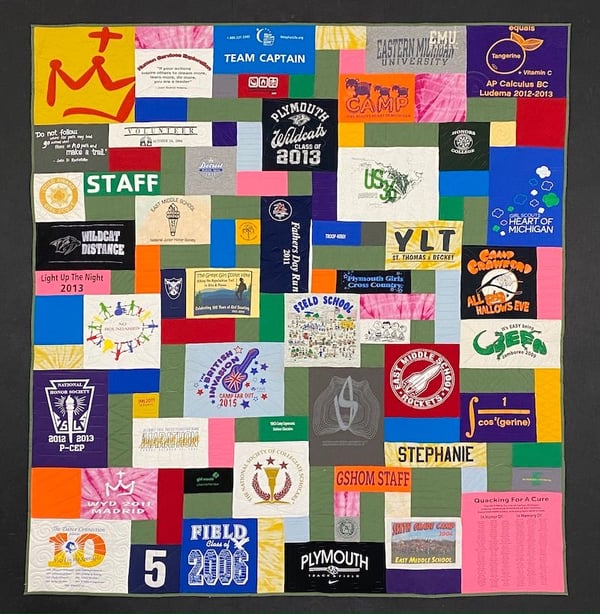 High School Graduation
Quilt
Style: Standard Too Cool Style
Border: None
Size: 84" x 92" - Full size
About:
The muted army green you see in this quilt was this young woman's favorite color. However, there wasn't any of that color in her T-shirts, and she didn't have enough T-shirts to make a full size quilt.
So, we used filler blocks of this green and other blocks from her T-shirts to include her favorite color and make her quilt larger without having to add more T-shirts.
Read more about how to make a T-shirt quilt larger without adding more T-shirts here.
Memorial Clothing Quilt
Style: Standard Too Cool Style
Border: None
Size: 52" x 64" - Large lap size
About:
This is one of 27 quilts and pillows we made a family from their Husbands/ Dad/ or Granddad's clothing.
Each family member received a quilt. The family matriarch went through all the clothing and divided it up so each person would get a quilt that reflected them and their relationship to their loved one who died.
These quilts were gifted this Christmas to tear, sorrow and joy.
Click here to read more about having a memory quilt made from your loved one's clothing.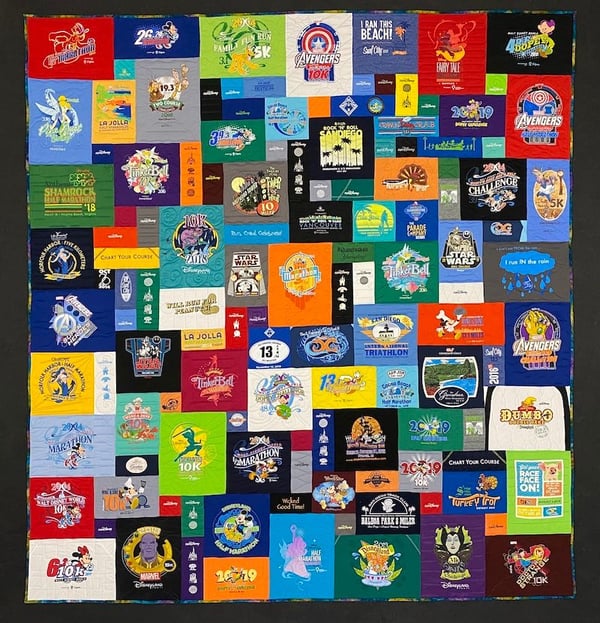 runDisney T-shirt Quilt
Style: Standard Too Cool Style
Border: None
Size: 100" x 112" - King size
About:
runDisney is a series of races put on by Disney. They take place at the theme parks.
This quilt might seem like it has T-shirts from a million different races. But there's not as many as you might expect. You can go to one race series and walk away with 5 T-shirts! So, they can add up fast.
The runDisney T-shirts are also mostly tech fabric. The bonus of tech fabric is that the colors never fade. So the quilts are bright and vibrant and stay that way.
Read about using Tech fabrics in your quilt here.
East Central High School T-shirt Quilt
Style: Standard Too Cool Style
Border: 4" pieced + 2" solid border
Size: 68" x 84" - Wider than a twin size
About:
I like the color theme going on with this quilt. I don't have a lot of connection with the T-shirts, but I still love the quilt.
This is because the quilt's colors are uniform - red, black and gray. This makes for a cohesive feeling quilt.
The border is also striking.
Read more about monochromatic quilts here.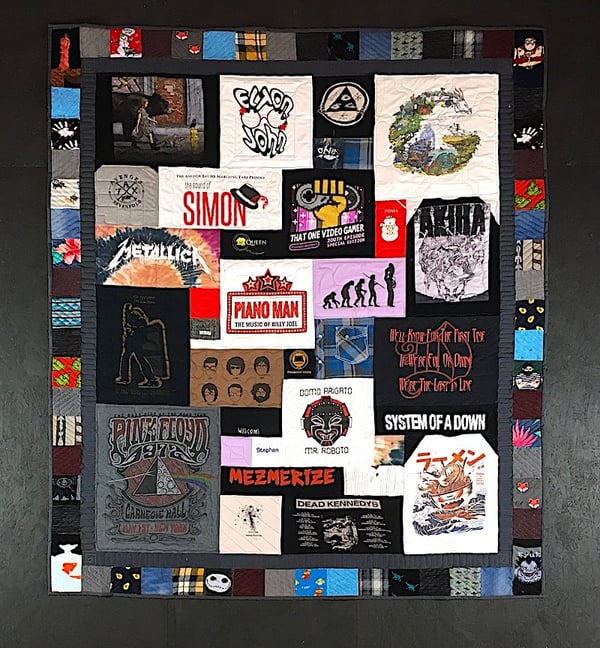 T-shirt Quilt With Novelty Fabric Pieced Border
Style: Standard Too Cool Style
Border: 4" pieced + 2" solid border
Size: 64" x 76" - Larger than a multi use size
About:
The 4" pieced border on this quilt is made from novelty fabrics that the quilt owner had collected.
Although we don't know the story, each piece of fabric tells a story for the quilt owner.
The fabrics also give this quilt a different feel and looking from other quilts we make.
Watch for part 2 of this series!
---
To learn more about having a quilt made from your T-shirts, we invite you to download our T-shirt Quilt Buyer's Guide.
It's a great place to begin your research about T-shirts quilts.
---