T-shirt Quilts: Adding Bling
Bling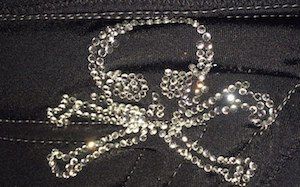 According to Wikipedia: Bling (or bling-bling) is a slang term popularized in hip hop culture, referring to flashy, ostentatious, or elaborate jewelry and ornamented accessories that are carried, worn, or installed, such as cell phones or tooth caps.
Wikipedia reports that bling came into the popular culture around 1997. It lost its appeal to those on the cutting edges of pop culture when grandmothers and politicians began using it. Bling was added to the Merriam Webster dictionary in 2006.
The BeDazzler™
The website for the famous BeDazzler™ says,
"Turn any outfit from dull to fabulous in minutes with the BeDazzler™! Decorate your sweaters, hats, dresses, slacks, jeans, handbags and more. Plus, the BeDazzler™ is portable so you can take it with you anywhere. This retro-fabulous machine is fun for everyone. Make your own favorite fashion anytime!"
Bling and T-shirt Quilts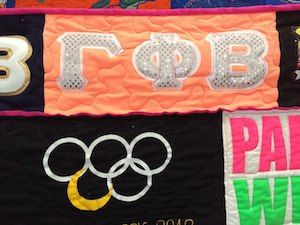 Here at Too Cool T-shirt Quilts, we have been seeing bling on T-shirts for years. Most of the bling is probably being added to T-shirts with the BeDazzler™. We have been using T-shirts that have been BeDazzled very successfully. The added rhinestones and studs only cause problems if they are hit by a needle or run over with a rotary cutter. But we have figured out how to avoid this and how to remove the bling if it is in a bad spot for us.
How to Add Bling to Your T-shirt Quilt
Rather than adding bling to your quilt, add it to your T-shirts before they're made into the quilt. This way, the backs of the studs or rhinestones are hidden inside the quilt. The only thing we ask is that the rhinestones or studs are not overly dense. This is because we are unable to quilt through them. We have to go around. If you Bedazzle on a design or graphic that we could trace, this will preclude us from tracing it. Read more about what we can trace here.
How Does Bling Look In a T-shirt Quilt?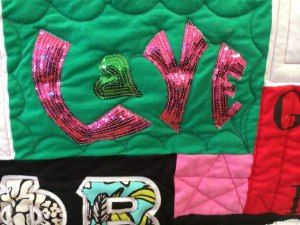 If you like bling, it'll look great in your T-shirt quilt. But be forewarned – the rhinestones or studs could come off over time. This may leave a little hole in your quilt. If this happens, we can suggest using a product called FrayCheck. This is a liquid plastic that can be applied to the hole to keep the hole from expanding. We use this on our quilts when we find a hole.
Removing Bling from a T-shirt
If there is existing bling on your T-shirts, we suggest you not remove it. Removing bling will leave a hole in your T-shirt. If you have a T-shirt with bling that you hate, we can remove it for you and repair the hole.
Bling on Baby Quilts
If you are planning a quilt for a baby, we would suggest not using T-shirts with bling. This is because babies like to chew just about anything they can get into their mouths. The rhinestone or stud may become unattached and could pose a choking hazard.
Little Girls Love Bling
Little girls love bling. If you're considering having a T-shirt quilt made for a young girl you might consider adding some bling to it. The BeDazzler™ is a great tool for this. Try not to go overboard and keep the application classy.
To learn more about having a T-shirt quilt made with your T-shirts, consider downloading our T-shirt Quilt Buyer's Guide. This guide has information about the different types of T-shirt quilts that are being made, the different methods that are being used, and the types and quality of materials that can be used. It's a great place to begin your research about T-shirt quilts so you can have an awesome quilt made for you.