Shipping Your T-shirts - Where to Get a Box
March 7th, 2022
By Andrea Funk

So you are ready to ship your T-shirts to Too Cool T-shirt Quilts. Then you stumble… "I don't have a box!
Since I began making T-shirt quilts in the early 1990's, I have received T-shirts for quilts in just about every box imaginable. Here are some ideas for you. I have broken them down into two categories; Found or Free and Boxes for Purchase
Found or Free
Printer Paper Boxes
Look at schools, work or other places with copiers! The boxes that reams of paper come in are prefect!
Amazon, Chewy or Other Boxes Received in the Mail
When you purchase something from Amazon or other mail order companies, save the box.
Small Appliance Boxes
We have received toaster, radio, kitchen mixer and a myriad of other small appliance boxes.
Diaper Boxes
Do you know someone with a baby? They might have a diaper box you could use.
Computer boxes
Did you just get a new computer? That box will work.
Grocery Store
Most grocery stores recycle their boxes, ask if they have any available – they are happy to give them away.
Liquor Stores
Beer, wine and spirits are heavy and are shipped in heavy-duty boxes – perfect for shipping T-shirts.
Bookstores
Books also come in heavy boxes. Ask your local bookstore for a box.
CraigslistMany people give away their boxes after unpacking from their move.
Ikea
The ultimate store with boxes! Either ask for a box or buy something fun, put it together and then use the box to ship your T-shirts.
Free-cycle
Free-cycle is a "nonprofit movement of people who are giving (and getting) stuff for free in their own towns."
McDonald's Fry Boxes
Here is a good excuse to go to McDonald's! French Fry boxes are strong. Since the fries are shipped frozen, grease is not an issue.
U-Haul Box Exchange
This is a place to find used moving boxes.
Wal-Mart or Big Box Stores like Sam's Club and Costco
These types of stores are always recycling boxes from shipments. They will give them to you if you ask.
Computer Stores
Computer stores or other companies that sell large monitors may have boxes to give away.

Boxes for Purchase
The Post Office
One-rate or flat rate shipping boxes can hold quite a few T-shirts especially if you use a space bag or fold them very compactly. Shipping cost is the same price no matter how heavy the contents.
UPS store
One stop! They will sell you a box; let you fill it right there and ship it for you.
Staples or Office Depot
You can purchase a single box at these or other type of office supply stores.
Lowe's, Menards, Ace Hardware or Home Depot will all happily sell you a box.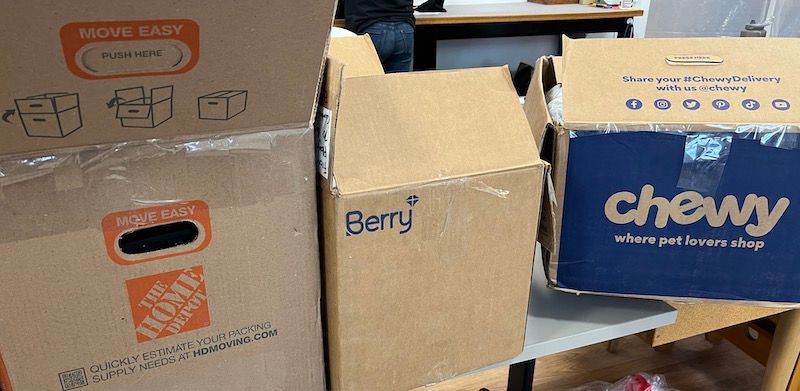 What Else?
What else will you need to ship your T-shirts? Packing tape, a pen or marker and your order form! Any box will do, but we do suggest you put your T-shirts in a plastic bag first. Two reasons for the bag; first, if the box gets wet, your T-shirts are protected. Second if the box is broken open during shipping, the T-shirts will be confined in the bag and won't get separated from the box.
For more information on packing up your T-shirts for shipping, check out this article: How to Package Your T-shirts to Ship to Too Cool T-shirt Quilts.
Andrea Funk is the inventor of T-shirt quilts made with multiple blocks sizes. The modern method of making T-shirt quilts. In 1992 she founded Too Cool T-shirt Quilts. Her life has been immersed in T-shirt quilts ever since.