How to Make a T-shirt Quilt Larger Without Adding Additional T-shirts
Here's your situation: you want your quilt larger than your T-shirts will make. For example, you want a queen size quilt for your bed, but only have enough to make a quilt that is between a twin and a full size. What are your options?
Accept the quilt at the size that your T-shirts will make.
If you don't like the look of blank blocks or a border and do not have more T-shirts that you could add, you can just have us make your quilt the size the T-shirts allow. Remember, we can make your quilt in between standard sizes.
Add Blank Blocks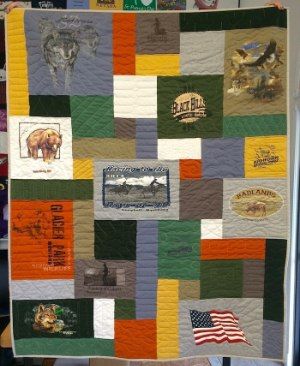 Adding blank blocks of T-shirt material to your T-shirts can easily increase the size of the quilt. A blank block is nothing more than a piece of T-shirt material cut to fit a spot in your quilt.
The advantage of using blank blocks is that it won't add an additional cost to your quilt that a border would. So if you only have enough T-shirts for a twin size, but you want a full size, we will add blocks and make your quilt a full size. You will be charged the price of a full size quilt.
When we add blank blocks to a quilt, we try to make the blocks from the blank areas on your own T-shirts. If there is not enough fabric from your T-shirts, we can add in matching fabric from our stash of T-shirt material.
If your T-shirts are dull, we can add in different colors to brighten up your quilt.
Add a Border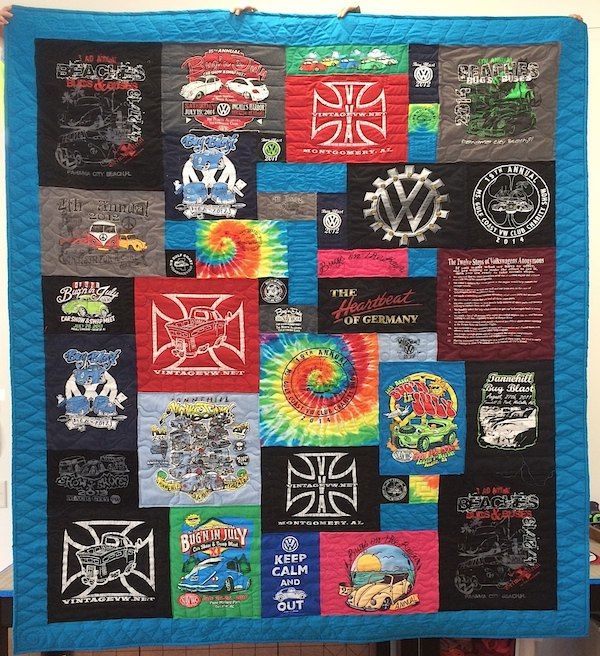 Another option to increasing the size of your quilt is to add a border. A very narrow border can add just 4 inches to the width and length of your quilt. We can add up to a 12-inch border that can add 24 inches to the width and the length of your quilt. Basically, the wider the border, the larger it will make your quilt.
The wider your border, the more expensive your quilt will be. This increase in cost is for two reasons. First, the larger the quilt the more expensive the quilt is. Second, the wider the border and/or the more complex the border, this will increase the cost of your quilt. Here is a link to the pricing page.
Here is a link to our borders page. The borders page has photographs of the various styles of borders we use. If you want a border for your quilt that is not on that page, it's not a problem. We will work with you to make your border what you want.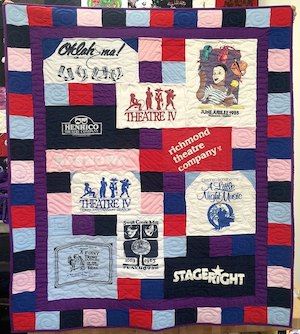 A Combination of Blank Blocks and a Border
Another option is to use a combination of blank blocks in conjunction with a border. If we use this method we would work backwards to figure out your quilt. First, we would begin with the size quilt you want. Then we would subtract out the size of the border you want. From there, we would then subtract out the square inches of T-shirt blocks you have. The balance would be the number of square inches we would use in blank blocks.
This method does not keep the cost down as much as the blank block only method, but it does allow you more control over the cost of your quilt.
Which Method Looks Best?
Obviously, that is subjective and will be something you need to decide for yourself. Whatever method you choose, we will make that quilt look awesome.
What Can You Do Ahead of Time?
If you feel that you won't have enough T-shirts for a quilt the size you want, please tell us on your order form to cut your T-shirts big. This means that we will leave a larger margin around the graphic on the T-shirt.
How do you know that you may not have enough T-shirts for the quilt size you want? Begin on our How Many T-shirts page. Here, we give a high and low estimate of the number of T-shirts needed for a particular quilt size. If you have fewer T-shirts than the number of estimated T-shirts, or if your T-shirts don't have large or numerous graphics we can use, then ask us to cut your T-shirts big. If the quilt gets too large, we can always go back and cut the blocks smaller.
---
Are you ready to have a quilt made from your T-shirts? If so, here are directions for preparing your T-shirts for a quilt.
---