Border Ideas That Will Make your T-shirt Quilt Awesome
February 4th, 2019
By Andrea Funk

We have not always added borders to our T-shirt quilts. As a matter of fact, we only stared offering borders 6 years ago.
In 2018 we added borders to about half our quilts. Below are some of the unique borders we made. How would a border look on your quilt? Here's more about having a border added to your quilt.
Ombré T-shirt Quilt Borders

Size: 100 x 112 (First Photo)
4" Pieced Ombré Border
Size: 88 x 100 (Second Photo)
4" Pieced Ombré Border
According to Wikipedia, "Ombré is the gradual blending of one color hue to another, usually moving tints and shades from light to dark." The Ombré effect has been applied to everything from hair and nails to cooking and decorating.
These two quilts aren't the first Ombré bordered quilts that we have made. We decided to share these two quilts because they are so different, yet so similar. If you study them, you will see that the larger quilt has a few more colored blocks added to make the quilt larger.
We have this grouping of colors saved so when we make other Ombré colored quilt borders we don't have to figure it out again. If you want an Ombré border added to your quilt, we can do it!
Printed Border
Size: 72 x 80
Border: 2" + 4" Solid Border
We had this quilt from a set of sheets and pillowcase that this young woman loved. The corner blocks and fillers were made from the pillowcase. The 4" solid border was made from the sheet. We highlighted this with a 2" solid blue inner border that matched the thin lines in the sheet.
We love how this looks.
So, why do I say that the border is solid and not a print? There are two different terminologies referred to here. The solid is what we refer to as the type of border. It's made up on just one color of fabric and not pieced together with different colors of fabric. So this solid piece of fabric is actually a printed piece of fabric.
Note: We don't typically use printed fabric for a border. But if you have a fabric that you love that tells your story, we can use it. This example works so well because of that 2" blue inner border. It separated the print from the body of the quilt. Without this 2" inner border, I don't think the border would have been as successful.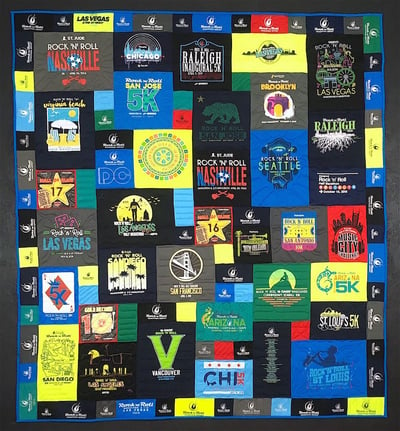 Rock'n'Roll Marathon Border
Size 76 x 84
Border: 4" Pieced
This runner has run a ton of the Rock'n'Roll Marathon races. So many that we had enough of the chest and arm logos to use for the border.
Normally, we just include these pieces within the body of the quilt. We had enough in this quilt to also include some within the body.
We love how this border tells the story of the sheer number of Rock'n'Roll Marathon races that they ran.
Memorial Quilt with Dress Shirts Border
Size: 60 x 72
Border: 2" solid + 4" pieced + 2" solid
This is a memorial quilt made from the dress shirts worn by the man who passed away. We used the dress shirts for the body of the quilt. We also used them for the 4" piece portion of the border. The border not only frames the quilt, it is tied to the quilt with the pieced part of the border.
We love how this just took the quilt to the next level of fun. Who says that when someone dies that you have to always be sad when you remember them? I would rather my loved ones remember me with a smile on their face than sad all the time.
Tie-Dye Borders
Size: 72 x 84 (First Photo)
Border: 4" pieced
Size: 100 x 112 (Second Photo)
Border: 4" pieced
These two quilts both incorporate tie-dye blocks into their borders.
The first quilt alternates blocks of tie-dye with solid blocks. All the tie-dye material came from one T-shirts. Additional blocks of this material were also included in the body of the quilt. We like how the solid blocks alternating with the tie-dye help the tie-dye material stand out.
This second quilt had a lot more tie-dye material to work with. We were able to make the entire border out of tie-dye fabric. But since there were so many different colors of tie-dye, we were able to alternate the different colors of material in the border. We also used the tie-dye for the fillers.
If you look closely, all the tie-dye shirts were from summer camp T-shirts. The use of the tie-dye fabric throughout the quilt ties the entire quilt together.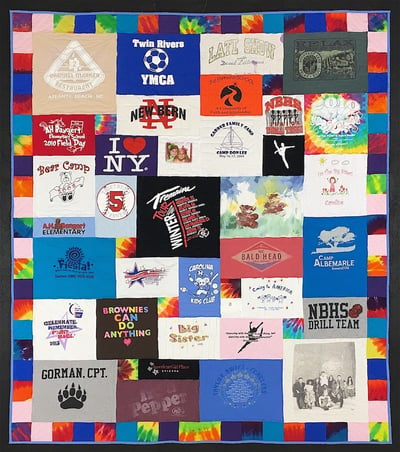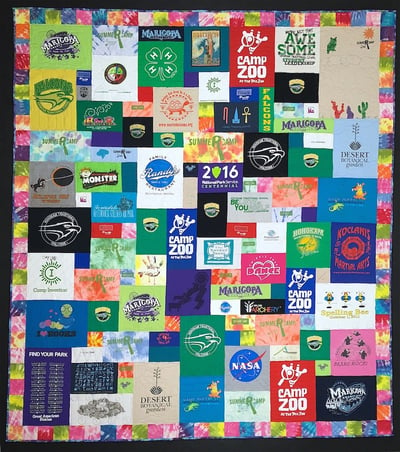 USA Rowing
Size: 52 x 64
Border: Top and Bottom Solid
Take a close look at the dates on this quilt – 1977 - 1980! This quilt was made from some long treasured T-shirts, jerseys, warm-ups and patches. Many of the items were from the 1980 Olympic team. Sadly, that was the year USA did not go to the Olympics. We were boycotting it because of geopolitical differences with the USSR.
The border – we added a border to the top and bottom of this quilt made from the legs of warm-ups. If you were an athletic during this time, you will know exactly what those polyester warm-ups feel like. As soon as I touched the material, I was right back in the day on the swim team.
The pinstripes on the warm-ups help tell the story of this athlete. We incorporated them throughout the entire quilt. We would have like to have used them on the sides of the quilt, but there just wasn't enough.
Hybrid Memorial Quilt
Size 82 x 92
Border: 4" pieced + 2" solid
This is a quilt combines T-shirts from a young man with some clothing items from his father who had died. The border was made entirely from dress shirts and other clothing items from dad. The 2" solid inner black border helps the pieced border from blending in with the body of the quilt.
We love how this quilt combines two people's lives into one story.
Elmo Border
Size: 56 x 68
Border: 4" pieced
This quilt was a high school graduation quilt. It included T-shirts and other clothing that was important to this young woman. A very important piece was a pair of Elmo PJ's. We included blocks of the PJ's with solid color blocks to create this border. We picked the red, pink and orange to match the colors in the PJ's. This border tells a nice part of this young woman's story.
Blue Jean Border
Size 60 x 76
Border: 4" Solid
I don't know anything more natural than blue jeans and a T-shirt! It's what I wear all the time! This person dresses the same. To incorporate the blue jeans into the quilt, we made the border from jeans. The four corners and some of the fillers were made from a favorite Hawaiian type dress shirt. We used a number of pairs of jeans to make the border. This is why there is different colors of jean throughout the border.
If you look close at the quilt, you can learn a lot about what this person loves to do!
---
To learn more about the different types, styles and qualities of T-shirts, download our T-shirt Quilt Buyer's Guide.
It's a great place to begin your journey to finding a quilt maker.

---
BDU Border
Size: 56 x 68
Border: 4" solid
If you are not familiar with the military, BDU is short for Battle Dress Uniforms. This is the day-to-day uniform for Soldiers and Marines.
With this quilt, it's clear that the quilt was made for an Army Soldier. The T-shirts are from the Army Ten Miler run. We added the BDU border to frame the all white quilt. It also enhances the story of this person's love and career.
Baby Clothes Quilt with Border
Size: 84 x 94
Border: 4" Pieced
This quilt was made for a Mom from her six children's baby clothes and blankets. There were 5 boys and one girl. We added a border to the quilt just because.
What is fun about the border is how interactive it can make the quilt. All the pieces in the border are also in the quilt. You can choose a piece from the border and look for that same fabric in the quilt. While you are looking for that one specific fabric, you will see so many other details.
We love how it turned out. We had to be sure to add in enough pink and more other fabrics from the one girls clothing to balance out her brother's clothes.
Soccer Player's Quilt
Size: 92 x 100
Border: 4" pieced
This was an interesting quilt to make. The border is made out of chest logos, arm logos, uniform stripes and small numbers.
When the customer first floated the idea of doing this I was a lot skeptical. How were we going to ever get enough pieces to make a border? I though, I doubt it. I said, "Let try!"
Well, this Mom was right, they had plenty of material to make this border work. The young woman had so many soccer uniforms; we did not even try to use them all. But we did use the chest logo from a lot of them! We didn't have enough, but we were able to add in some uniform stripes to mix.
This border tells a great story that goes beyond the story of the body of the quilt.
Plaid Borders
Size: 56 x 68
Border: 2" Solid + 4" Pieced (First Quilt)
My Wife Knows Everything
Size: 72 x 84
Border 4" pieced (Second Quilt)
These are two of a group of three memorial quilts we made for a family.
Two were made with T-shirts and each had one plaid shirt that was very important. On these quilts, we used a piece of plaid in the body of the quilt. We also made every block in the border this same plaid. We love how the colored blocks pulled in the colors of the quilt. They also made the plaid in the border stand out. The plaid shirt was important! These two quilts were made for the two children of the man who died.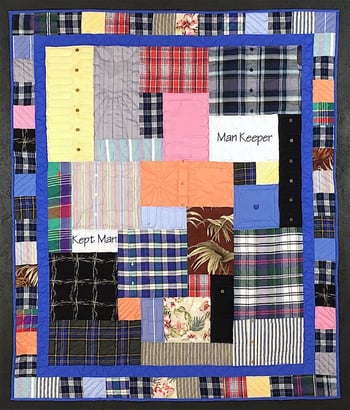 The second quilt – the Man Keeper quilt – was made for his wife. This quilt is the opposite of the two more traditional T-shirt quilts. This quilt was all plaid and dress shirts with just one T-shirt. We used the same plaid for the 4" pieced border. We did have a number of solid color dress shirts we mixed in with the plaid. That helps give your eye a resting place when studying the quilt.
The 2" solid blue inner border made this quilt! It is a clear dividing line between the body of the quilt and the border. This particular color blue was used because it worked so well with so many of the different colors in the quilt. We experimented with a number of colors. But when we saw how this blue worked with the rest of the blocks, we knew.
If you are planning a T-shirt quilt, consider adding a border to your quilt. As you can see, they can take a quilt to that next level of cool! Read more about adding a border to your quilt here.
---
To learn more about the different types, styles and qualities of T-shirts, download our T-shirt Quilt Buyer's Guide.
It's a great place to begin your journey to finding a quilt maker.

---
Andrea Funk is the inventor of T-shirt quilts made with multiple blocks sizes. The modern method of making T-shirt quilts. In 1992 she founded Too Cool T-shirt Quilts. Her life has been immersed in T-shirt quilts ever since.