Beyond the T-shirt | Materials Used In T-shirt Quilts | The Best of
Each year we make a number of quilts using the Too Cool method that end up different. In most of them, you can see our underlying methodology. But the end result is different than a normal Too Cool T-shirt Quilt. We are sharing those quilts from 2018 that are different here.
Planning a T-shirt Quilt | The Best of
We have not always added borders to our T-shirt quilts. As a matter of fact, we only stared offering borders 6 years ago.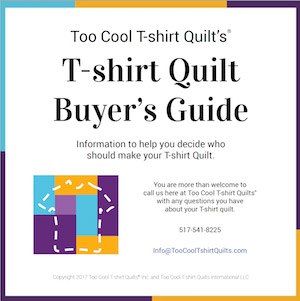 T-Shirt Quilt Buying Guide
If you are in the process of finding someone to make your T-shirt quilt, you may not have all the information you need to make an informed decision. Our T-shirt Quilt Buying Guide has the information you need to fill in any knowledge gaps.
Each year we make 30 to 40 baby clothes quilts. Baby clothes quilts come in two varieties – simple and complex. A complex baby clothes quilt is exactly what the name says; it's complex. We use all of the adorable parts of your baby's clothes. We've used complete onesies, footie pajamas, bibs, hats, dresses, overalls, shoes and much more! The result is a quilt that reflects the personality of each clothing item.
Photographs of T-shirt Quilts | The Best of
We sort through over 1000 photographs to bring to you the 10 best quilts we made in 2018. This is not an easy process. We love all the quilts we make!