T-shirt Quilt Details | The Best of
The Best T-shirt Quilt I Ever Made Each December I go through photos of the T-shirt quilts we made in the past 12-month. I usually showcase 10 photos of the most awesome quilt we made in the previous year. This year I am doing things differently because one quilt stands above every other quilt we made this year. And perhaps ever.
Beyond the T-shirt | Materials Used In T-shirt Quilts | The Best of
Each year we make a number of quilts using the Too Cool method that end up different. In most of them, you can see our underlying methodology. But the end result is different than a normal Too Cool T-shirt Quilt. We are sharing those quilts from 2018 that are different here.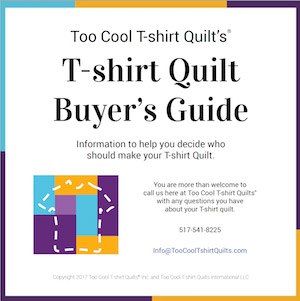 T-Shirt Quilt Buying Guide
If you are in the process of finding someone to make your T-shirt quilt, you may not have all the information you need to make an informed decision. Our T-shirt Quilt Buying Guide has the information you need to fill in any knowledge gaps.
Planning a T-shirt Quilt | The Best of
We have not always added borders to our T-shirt quilts. As a matter of fact, we only stared offering borders 6 years ago.
Each year we make 30 to 40 baby clothes quilts. Baby clothes quilts come in two varieties – simple and complex. A complex baby clothes quilt is exactly what the name says; it's complex. We use all of the adorable parts of your baby's clothes. We've used complete onesies, footie pajamas, bibs, hats, dresses, overalls, shoes and much more! The result is a quilt that reflects the personality of each clothing item.