Six Details That Make a T-shirt Quilt Look Extraordinary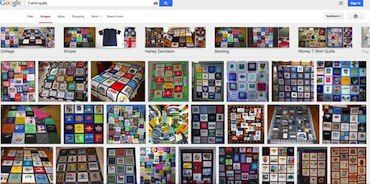 On the Internet, there are thousands of photographs of T-shirt quilts. You've probably seen them yourself. Anyone can make a T-shirt quilt, but very few can make an extraordinary T-shirt quilt. Your T-shirts are important! So when you are looking to have a T-shirt quilt made, don't trust your T-shirt to just anyone who says they can make a T-shirt quilt. Look at lots of pictures and pick out the little details that set an awesome T-shirt quilt apart from an ordinary or awful quilt.
Here are 6 details to look for in a T-shirt quilt:
1. No Iron-On Backing is Used
Many quilters use iron-on backing to stiffen T-shirt material to make it easier to work with. Iron on backing is not necessary and will just make your quilt heavy. If someone claims that they can't make a T-shirt quilt without iron-on backing, they probably can't. But T-shirt quilts can and should be made without iron-on backing.
2. Blocks Fit the Designs on the T-shirts
Look carefully at each block on a T-shirt quilt – do the blocks fit the designs from the T-shirt? If part of a design is cut off, or if a small design is floating around in a block that is way too large, like the block to the right, this is a detail that takes away from the look of a quilt. The block size chosen for a particular T-shirt needs to fit the design. A T-shirt quilt made with one block size just doesn't cut it.
3. Designs Are Centered on the Block
Are the designs centered on the block? For example, if there is 3" of space on one side of the design and 1" on the other side, the design has been cut off-center. This might seem like a small detail, but it's little details like this that should be looked at when considering a T-shirt quilt maker.
4. No Part of the Design on the T-shirt is Cut Off
You should have the entire design on your T-shirt in your quilt. Don't accept an explanation of: "if the design on the T-shirt does not fit into a standard block size, it will be cut off." This is one of those details that will standout and looks poor. And you should not accept having your design cut off! Poor Goofy in the photo to the right had to be cut off to fit a standard block size.
5. The Blocks Are Different Sizes
Designs on T-shirts come in all shapes and sizes. Thus, a T-shirt quilt must have blocks of all shapes and sizes. This is a detail that is quickly seen. Just say "no thank you" to a T-shirt quilt made from one size square blocks.
6. No Rows and Columns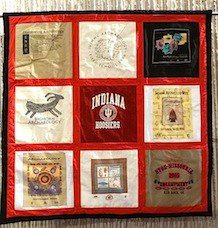 Like the T-shirt quilt to the left, T-shirt blocks lined up in rows and columns are boring. More than that, it makes the quilt very easy to glance at and not hold your attention. Your brain can easily discern the pattern and it does not need to re-examine the quilt.
Your T-shirt quilt should be dynamic and interesting. It should be able to grab someone's attention and hold it. Rows and columns just don't do that. If you have not seen thousands of T-shirt quilts, you might need to look carefully at photos to see the rows and columns – it's one of those details that might not be quickly discerned, but it's very important. Also, just because a T-shirt quilt has different size blocks does not necessarily mean that it does not have rows or columns. Read more about styles of T-shirt quilts here.
Your quilt will probably look awesome to you no matter how it's made – because they are your T-shirts. The real test of T-shirt quilt's awesomeness is if someone else thinks it's so outstanding that they say to you, "I'll take it if you don't want it."
---
To learn more about having a quilt made from your T-shirts, download our free T-shirt Quilt Buyer's Guide.
It's a great place to learn about the different styles and quality of T-shirt quilt.
---