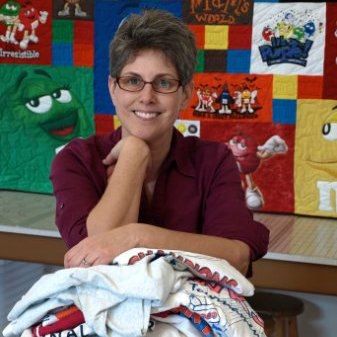 Choosing T-shirt to put into your T-shirt quilt
Styles & Types of T-shirt Quilts
Choosing which T-shirts to put into your T-shirt quilt is as important as choosing the best company to make your T-shirt quilt.
Which T-shirts should you put into your quilt? This is a very important to think about for a number of reason:
Once a T-shirt is in your quilt, it's not coming out!
Some T-shirts might not belong with the rest of the T-shirts.
If you are making a quilt for someone else, there may be a T-shirt in the group of T-shirts she may hate.
Here are a number of items to think about when choosing T-shirts for your T-shirts:
Color of T-shirts – There are two major instances when the color of your T-shirts needs to be thought about.
When all the T-shirts but one or two are the same color.
For instance we worked on a quilt last week where all the T-shirts were navy except one. It was black. Despite all the T-shirts begin dark, the black shirt stuck out. It was so bad that I asked the customer if we could remove it.
If you were making a Monochromatic quilt and you have one T-shirt that is not in the color scheme. This will also stick out.



Topic – Every quilt has a topic, even if it is just "my life." Other quilts have a very specific topic and any T-shirt, which is not that topic, should be removed. For example if you are making a Harley Davidson T-shirt Quilt and have one Hard Rock Café T-shirt, you need to think carefully about that one T-shirt. Mostly it will lower the value of the Harley Davidson quilt for future owners.
Story – T-shirt quilts tell a story. Look at the T-shirts and see if they all are part of that story. If a T-shirt is not part of the story, you should consider removing it from the pile of T-shirts you send us. For example, if you have T-shirts from your child's life and in that stack of T-shirts is a shirt that belongs to someone else in the family, this shirt should be removed. Always double check that the T-shirts you are sending to us to have a quilt made to see if all the T-shirts belong to the story and the character of the story.
Types of race or events – If you are a runner and want a T-shirt quilt made from your running T-shirts make sure that all the T-shirts are from running events. If you have 30 T-shirts from 5ks and one from a baseball team, the T-shirt from the baseball team just doesn't belong and should be removed from that grouping of T-shirts.
T-shirt Age – All your T-shirts are from 80 rock and roll bands except for one T-shirt that is from a 2005 folk fest. You might consider removing it from the grouping of T-shirts. It just does not belong. Note: we can use very old T-shirts - so don't let the actual age of a T-shirts keep you from using it in your quilt.
Non T-shirt items – Not all your T-shirts need to be T-shirts. Things that can be used in a T-shirt quilt are anything that can be washed in a washing machine. For examples, sweatshirts, jerserys and nylon coats.
Who is best company to make your quilt? That's easy – Too Cool T-shirt Quilts.
Cool looking quilts because the blocks are different sizes
High Quality Materials
Expert sewers and artist working on your quilt
Awesome quilting
Over 20 years of experience
Proven track record
If you have any questions about the T-shirts you have slated for your quilt, please give us a call. We have made 1000's T-shirts quilts and have experience to help you make good choices. 517-541-8225 or e-mail Info@toocooltshirtquilts.com
Are you ready to have Too Cool T-shirt Quilts make a quilt for you? Here is the order form.