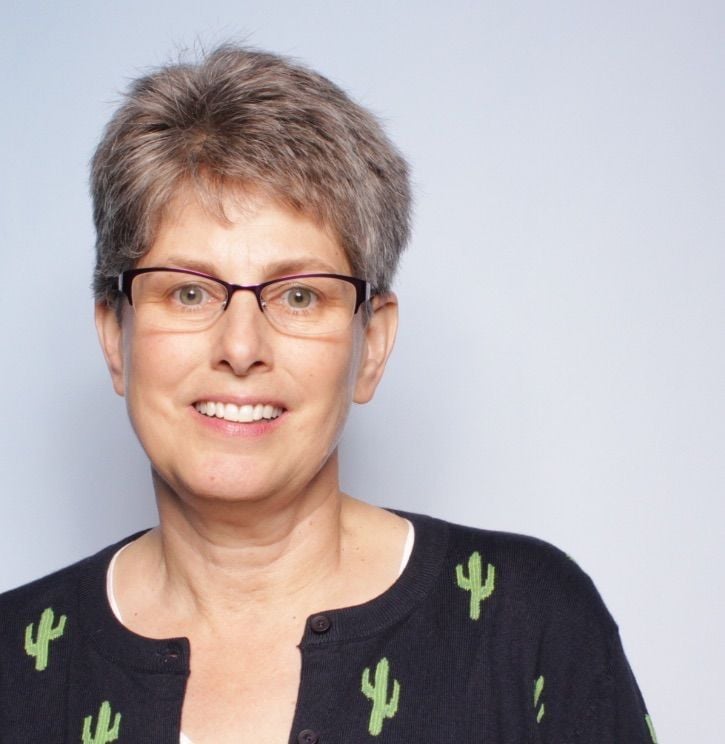 Planning My Son's Graduation T-shirt Quilt Real World Experience
Styles & Types of T-shirt Quilts | Graduation T-shirt Quilts
Too Cool T-shirt Quilt customer Sonya Ash shares her experience with her son's T-shirt quilt.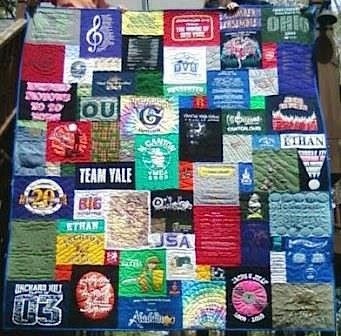 Years ago when my children were small, I was at a graduation party and saw a graduate receive a beautiful gift. Her grandmother made her a quilt from the t-shirts she had worn in high school. From that point on, I knew that I wanted to create a very special gift to give to my children when each of them graduated from high school.
I had always saved articles of clothing in their "special box," so that is where I started to begin my t-shirt collection for the quilt.
I spent a great deal of time researching t-shirt quilts as my son's graduation drew closer. I wanted something very special. Many quilters would only accept a certain number of shirts and would only use one set shape. We had so many shirts for the quilt! We had so many different sizes to incorporate!
I finally came upon Too Cool T-Shirt Quilts online. Andrea was great to answer my many questions. Her product was perfect for me since she would make the quilt from any number of shirts that could be of any size or shape. Her design was beautiful! She was so creative with the placement of each shirt and the stitching used in the quilt. One shirt in particular was my son's "lucky shirt." I told her that we didn't care what size or shape came out of the "lucky shirt." She chose a zippered pocket from the front of the shirt, so the quilt actually has a zippered pocket on it from the famous "lucky shirt."
Soon, my perceptive daughter found out about my secret plan for my son. Her first question was "where are my shirts?" So as I was preparing my son's box of shirts to be mailed, we went through her box of shirts for her quilt that seemed to be on the distant horizon. She has actively helped to prepare the shirts for her quilt ever since.
My task got much trickier as graduation drew near. His choir was travelling to New York in the spring, but during part of the trip they had to wear their choir shirts. Andrea said that it wasn't a problem for me to mail that shirt a bit later than the rest of the shirts. I still remember shipping the box of shirts. The clerk asked if I wanted to insure the box. It was simply a box of old clothing, but yet it was priceless to me!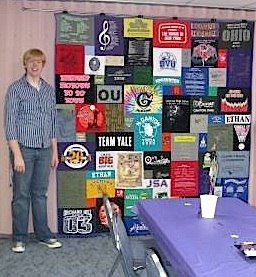 When our finished quilt arrived, I was so excited that I couldn't keep it a secret any longer. I had to show my son. He had been wondering why some of his shirts had gone missing! Now he knew! My husband cleverly arranged a way to hang the quilt on one of the walls of the social room at church for my son's graduation party. It was a wonderful addition to the party since it literally showed the history of my son's life from his appliqued baby bib to the National Honor Society!
When college time rolled around, he told me that he didn't want to take his quilt. He was very concerned that something might happen to it. We decided to put it on his bed at home, which is great for me since I can reminisce over the years and the milestones of his life each time I clean his room!
Now we're only days away from sending off another box of shirts and special garments. Andrea's quilts are a beautiful way to preserve a lifetime of memories in a very special one-of-a-kind way for your child!