When is the best time to have a Graduation T-shirt Quilt Made?
When in the life of a high school graduate should you have their T-shirt quilt made?
Yes, the spring they graduated is the most logical time. But don't get stuck on that time. There may be are other times in their lives that work just as well or better for your child.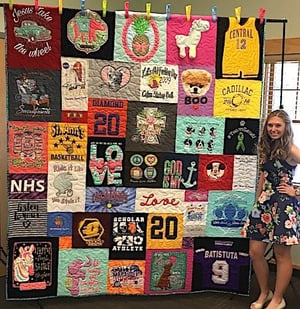 Everyone graduating from high school should have a quilt made from their T-shirts. Most high school graduates would agree with us. They also think they should have a quilt made from their T-shirts!
But for many parents, the question becomes: when? Not when as in March or April. But, when in the life of their graduate.
There are a number of factors that will dictate when you should have that quilt made. Factors range from when you have all the T-shirts to when your child will let go of all their T-shirts.
Here are a number of situations we have run into. Included is the "when to have it made" solution we have seen work the best.
What: All the T-shirts are collected and ready to go.
When: January or February of their senior year.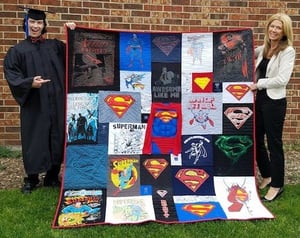 Do you have all the T-shirts ready to go? If so, don't wait until spring to have the quilt made. You might run into a supply and demand issue. April and May are the busiest time of year for any T-shirt quilt maker.
Getting your T-shirts to your quilt maker early in the year will be helpful. You might have to hide the quilt for 3 months. But isn't that better than not having a quilt at all?
What: Waiting for that one last T-shirt.
When: Send in what you have now.
Many parents find themselves waiting for one more T-shirts. For example, you want to put a prom T-shirt in the quilt. But, you have to wait until it's printed.
We would prefer getting everything else you have now. This way we can get a head start on your quilt when it's not so crazy. This head start will also save your spot in line. When we get your last T-shirt(s), we can then pull your quilt towards the head of the line.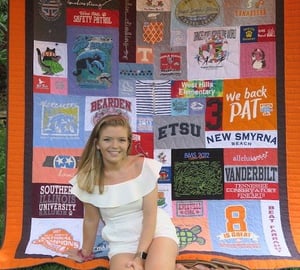 Let your quilt maker know two things.
When you send your initial box of T-shirts, put a big note in the box that there is one more T-shirt(s) coming.
Approximately when you will be sending in your last T-shirt. When you send this T-shirts, please be sure to put your name in the envelope or box. Getting one stray T-shirt in without a name is frustrating and nerve wracking!
What: Spring athlete
When: Have the quilt made in the summer to be ready for college.
Many times, spring athletes won't get their last T-shirt until after they graduate. And sometimes this is even after their open house.
If you want the quilt for the open house, you will need to decide not to put the last T-shirts into the quilt. The other option is delay your open house until later in the summer.
Many parents decide to wait and give the quilt to their child when they are on their way to college.
Although if you have a son, you might never let him take his quilt to the dorms. Read more about why so many mom's hang on to their son's quilt.
---
To learn more about the different types, styles and qualities of T-shirts, download our T-shirt Quilt Buyer's Guide.
It's a great place to begin your journey to finding a quilt maker.

---
What: They want to wear their T-shirts in college.
When: Have the quilt made in the fall for a holiday gift.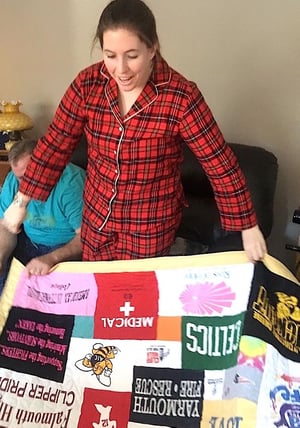 Some kids are sure that they will be wearing their high school T-shirts at college. From experience, we know that they won't. Kids get to college and realize that no one else is wearing their high school T-shirts. "That's so last year."
We have found that these kids end up bringing the T-shirts home during an early break. You can add those T-shirts to the other ones you have saved and have a quilt made for a holiday gift.
November and December are also very busy months for T-shirt quilt makers. If you can get your items to your quilter by mid-October, you will be in better shape.
What: Your child won't let go of their T-shirts.
When: Have the quilt made when they will let go of them.
Some kids just won't let go of their T-shirts and that's okay. They may not even want a T-shirt quilt right now – gasp!
We have found that sometime years later, those T-shirts will end up back in your attic or basement. This might be a better time to have a quilt made.
We have worked with many parents in this predicament. One fear is that their now adult child will not want that quilt made with those T-shirts. Don't worry. Everyone tells me that their child was happy to get their quilt.
What: It's 20-some-years later.
When: Have the quilt made for a holiday or birthday gift.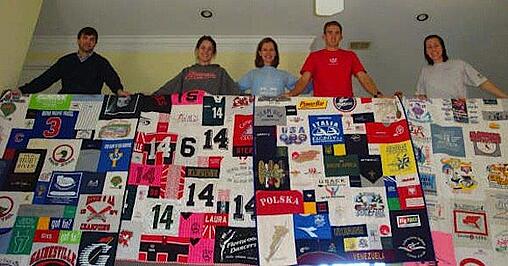 You have been sitting on your child's T-shirts for years. You knew that when you put them away, that they had a value. You just didn't know what to do with them. When you come across them now, it's not too late to have them made into a quilt.
We have made T-shirt quilts for adult children whose parents were downsizing. They were moving into a retirement community or into a motorhome. Their child may have graduated from high school over 30 years ago. But those T-shirts you held onto still tell your child's story. After all, that's why you held onto them.
Take those T-shirts and have a quilt made for your adult child now. It will be fun to remember and share the stories with your adult child and perhaps their children through the quilt.
---
To learn more about high school graduation quilts, download our Graduation Quilt Guide.
It has information to help you plan your child's graduation quilt.

---