Tools for Making a T-shirt Quilt
June 13th, 2022
By Andrea Funk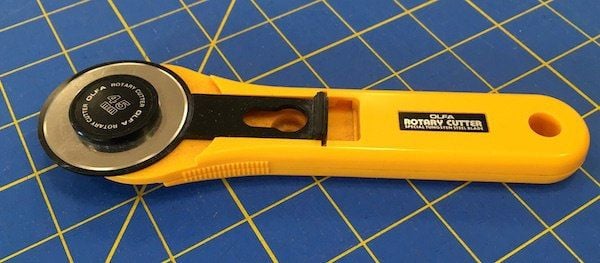 Basic Tools:
Scissors
Rotary Cutter
Rotary Cutting Mat
Templates
Rulers
Sewing Machine
Long-arm Quilting Machine
Making a T-shirt quilt sounds so easy. You simply cut your T-shirts and sew them together. What's so difficult about that? You just need a pair of scissors and a sewing machine. Well there's a little more to it! If you want to make your own quilt, read on!
It takes more tools than a pair of scissor and a sewing machine! Here are some of the tools that we use to create our T-shirt quilts.
Scissors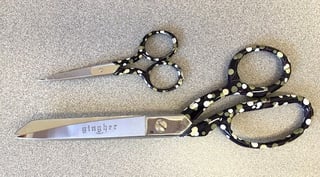 Quilters typically use two sizes of scissors. A small pair is used to cut and trim threads and other small items. A large pair of "dressmaker" scissors are used for applications that require a large cutting surface such as cutting through a number of layers of fabric.
The scissors that quilt makers use are different than scissors you find around the house. Sewing scissors are very sharp and cut easily through fabric. Most sewers will reserve their sewing scissors just for fabric. Anyone caught using my sewing scissors for cutting paper gets in trouble, because cutting paper quickly dulls scissors.
Rotary Cutter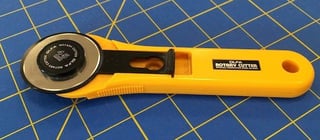 A rotary cutter is a quilting tool that looks like a pizza cutter. The replaceable circular blade is wicked sharp and does a wonderful job cutting different types of materials. Rotary cutters haven't totally replaced scissors, but they are close!
We use rotary cutters at many different points in our quilt making:
Cutting out the T-shirts.
Cutting the excess backing and batting from the quilt after it's quilted.
Cutting the binding strips.
Rotary Cutting Mat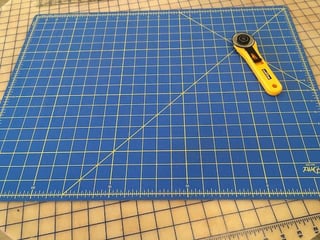 Rotary cutters not only cut through material, they will cut any surface under the material. A work surface need protection. We use a large mat to protect our work surfaces. Many of our work surfaces have a cutting mat glued directly to the surface.
We also use smaller cutting mats. These mats are placed onto the larger mats to protect these large mats from excessive wear. We also use the smaller cutting mats when we cut out T-shirts. The small mat can slip into the T-shirt and protect the side of the T-shirt we are not cutting.
Templates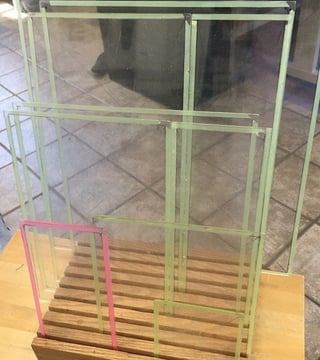 Plexiglas templates are used to cut T-shirts to a specific size. They are clear so we can see through the template to the T-shirt. This lets us line up the T-shirt perfectly. We have over 20 different size templates that we use.
We cut around the templates with our rotary cutters.
Rulers

Rulers, like our templates, are made from clear Plexiglas. Other than being clear, they look like other rulers with incremental markings. We use rulers to cut our quilts out after they have been quilted and to cut the fabric we use to bind our quilts.

Sewing Machine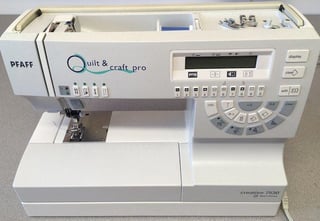 Not all sewing machines are created equal! A $50 machine from a discount store will not sew as well as a $3000 sewing machine. When sewing T-shirt quilt material, a higher quality sewing machine will make sewing easier and leave the front of the quilt looking better.
We use sewing machines with dual walking feet. Basically this makes it so you have feed dogs on the top and the bottom of your fabric. This lets both pieces of fabric feed into the needle evenly.
Sewing Machine Presser Feet

We use three different presser feet on our sewing machine. The first foot we use is a ¼" quilting foot for sewing a perfect ¼" seam. We also use a general foot for zigzagging and binding. The last foot we use is a stitch in the ditch foot that makes sewing the binding easier.
Long-arm Sewing Machine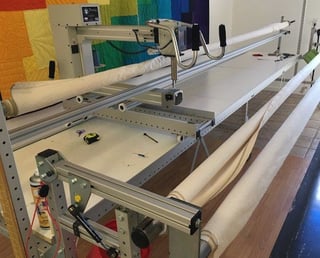 A long-arm sewing machine is used to quilt our T-shirt quilts. The quilter moves the machine over the three layers of the quilt on an X-Y axis. This allows us to "draw" on the quilt with thread.
A long-arm sewing machine is a tool that most people don't have. A new one costs about the same as a new car. Most hobbyists don't have a long-arm quilting machine. But hobbyists can rent time on a long-arm or hire someone to do this for them.
Excellent Directions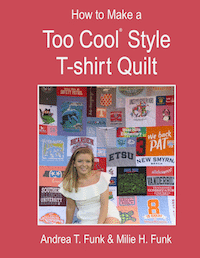 If you have never made a T-shirt quilt and are planning to making one, you might consider directions. We have written a book on how to make a Too Cool style T-shirt quilt. This book will walk you through every step in making your own T-shirt quilt. Read more here:
Conclusion
Having the right tools can make any job so much easier and more enjoyable. We love our tools and take care of them. We will replace worn or broken tools right away so we can keep ourselves safe and continue to make beautiful T-shirt quilts.
Back to: Making Your Own T-shirt Quilt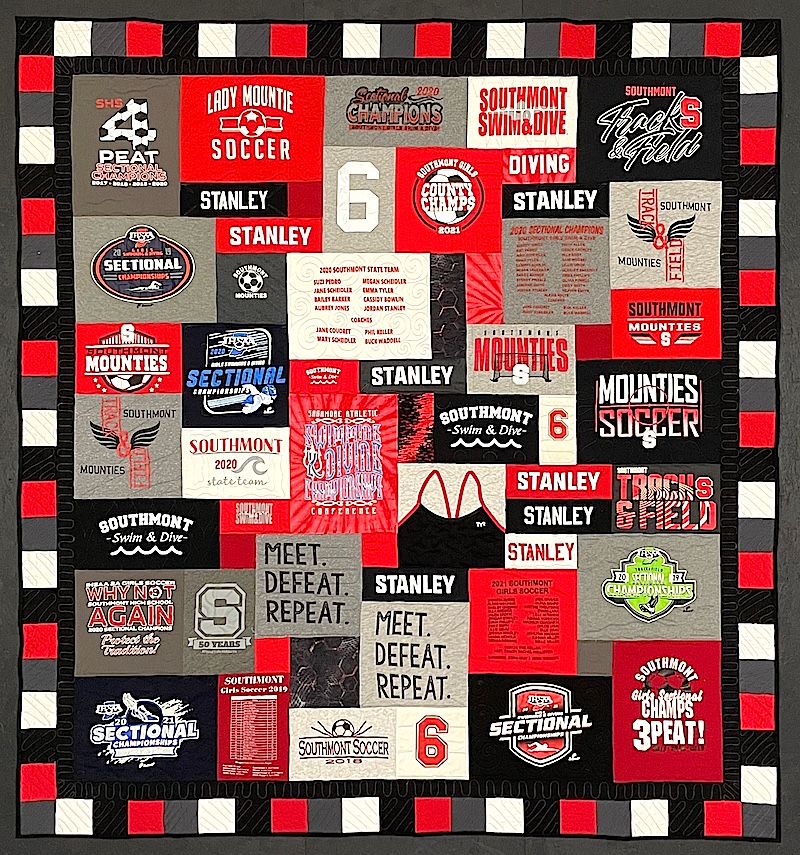 Andrea Funk is the inventor of T-shirt quilts made with multiple blocks sizes. The modern method of making T-shirt quilts. In 1992 she founded Too Cool T-shirt Quilts. Her life has been immersed in T-shirt quilts ever since.