Gifts for College Bound Students: A T-shirt Pillow
June 14th, 2021
By Andrea Funk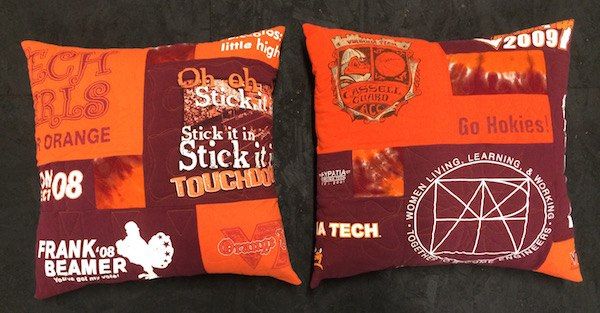 Are you looking for an interesting gift for a student headed off to college? Consider having a T-shirt pillow made from school T-shirts for her to take to college.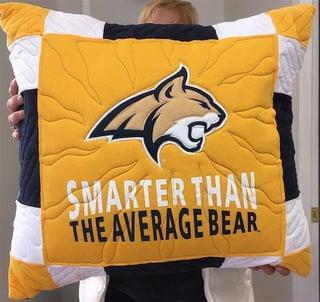 Why a T-shirt Pillow?
A pillow made from their college or university T-shirts will show their roommates and friends that they have school spirit.
A pillow can be used to prop them up in bed for when they are studying.
It is a reminder of you, and that you love them.
A Too Cool T-shirt pillow is classy and interesting.
What's needed for a T-shirt Pillow?
If you are planning on a college or university themed pillow, you will need 1 to 8 T-shirts from the school your student will be attending. When a pillow is made from just one or two T-shirts, we will add in additional school colored T-shirt material to complete the pillow. If we have too many T-shirts, we will pick and choose the T-shirts that work into the layout puzzle the best. If you have one or two T-shirts that must make it into the pillow, be sure to tell us.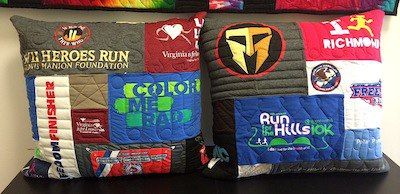 An alternative to a college themed pillow is a pillow made from 1 to 8 T-shirts from the student's collection of T-shirts.
When you send us the T-shirts, if there are specific T-shirts that have to make it in the pillow no matter what, be sure to mark each of those T-shirts with a blue painter's tape note.
Another way is to stack the T-shirts in order of priority with the most important one on the top. Be sure to tell us that the shirts are in order of importance.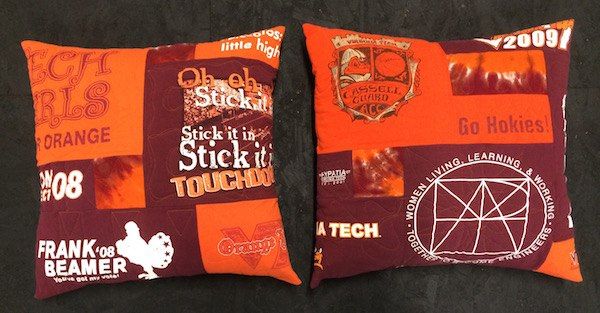 How to Get Started
Start by collecting the T-shirts. A great place to find college themed T-shirts are at second hand stores or garage sales. If you are not in the region where the university is, then you can check with the student bookstore or on eBay. If you are only able to collect just one T-shirt, we can make an awesome pillow from that one T-shirt.
Print and complete the order form. Here is a link to the order form for having a pillow made.
Pack up your T-shirts and ship them to your quilter. Since you will not be sending that many T-shirts, you might find that they can either go in a shipping envelope or a small flat rate box from the USPS.
Sit back and wait. How long it takes to have your pillow completed will depend on the time of year and when you need your pillow by. We always try to meet your due date. If there is not a date, then it will take between 1 and 4 weeks not including the shipping time.
When to Present the Pillow
Having had a student go off to college and thinking back to my first year way from home, there are many different times that it might make sense to give the pillow. Here are a few we thought about.
After you drop your student off at the dorms. This can be a very trying time. During that first 10 minutes after my parents drove away, I was terrified. It might be nice to give her the pillow right as you leave.
For some students, the first few weeks are just fine. But for some, homesickness might hit hard after the newness of school has worn off. This would be a great time for a care package to arrive from home and a pillow will be something from that package that would last a life time.
Another time would be at Christmas during any year that your child is at college. Going back to school with a soft cuddly pillow would make January a little more bearable.
Graduation is another great time to give a college themed pillow. Some kids are lucky enough to get a new car when they graduate and others get a pillow. But the kids who get the pillow will have it for the rest of their lives – not so much for the car.
If you have any questions about having a T-shirt pillow made, here is a link to the pillow page on our website. You are also more than welcome to e-mail or call us.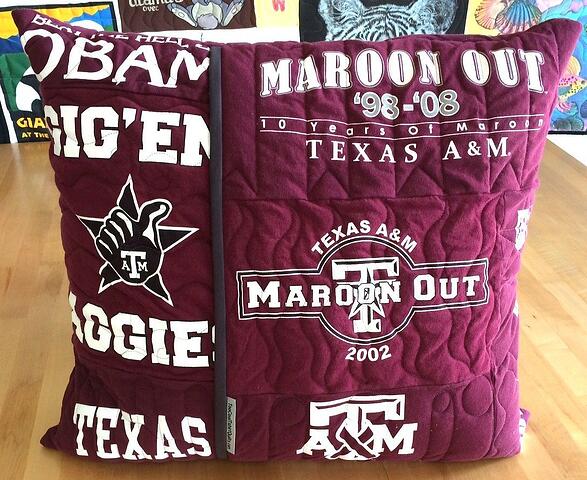 Andrea Funk is the inventor of T-shirt quilts made with multiple blocks sizes. The modern method of making T-shirt quilts. In 1992 she founded Too Cool T-shirt Quilts. Her life has been immersed in T-shirt quilts ever since.