7 Reasons to Have a T-shirt Pillow Made for Your Graduate
What is a T-shirt Pillow?
Definition: A pillow made from T-shirts, sweatshirts and other clothing items.
On the Internet, you can see many different quality levels of T-shirt pillows. These range from a T-shirt just slipped over a pillow form to a fully quilted, multi block pillow.
Too Cool T-shirt Quilt's, puzzled style layout allows you to use a variety of block sizes and many T-shirts. We long-arm quilt our T-shirt pillows. This adds texture, stability and uniqueness to our pillows.
In order to keep our pillows simple, we avoid zippers. Rather, the pillow has an overlapped opening in the back. This makes it easy to make and to get the pillow form in and out of the case.
Our pillows are machine washable. But, we suggest you don't use these pillows for your sleeping pillow. Over years of use, the pillow will wear out. T-shirt pillows are a step-up from a decorative pillow, but not an every-night sleeping pillow.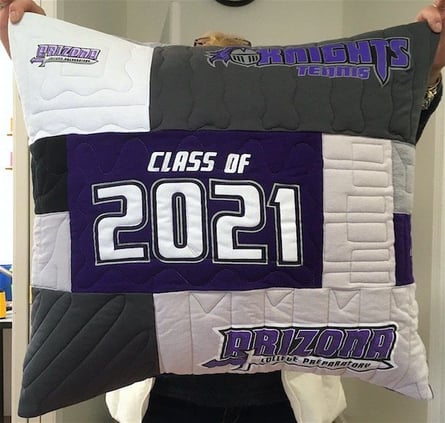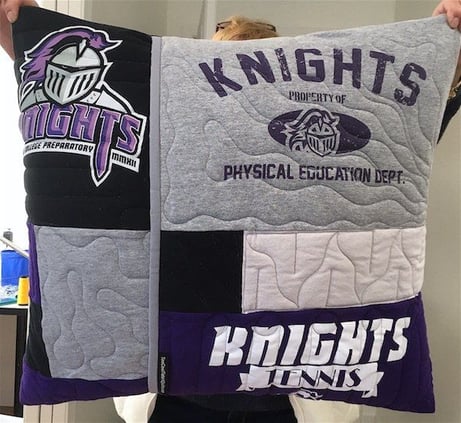 7 Situations That Might Call for a Pillow
Below are a number of possible reasons you might have a T-shirt pillow made for your graduate.
Too many T-shirts for a quilt
Some students walk out of high school with over 100 T-shirts! Busy kids. With that many T-shirts, they would have too many for a king size quilt. Other times you want a smaller, more functional quilt made and have too many T-shirts.
Putting some of these excess T-shirts into a pillow is a perfect solution. You use all the T-shirts and have the quilt the size you would like.
Not enough T-shirts for a quilt
Some students walk out of high school with just a few T-shirts. For those kids, a pillow is a way to use and celebrate these shirts.
A few odd colored shirts that would look bad in a quilt.
For example, your grouping of T-shirts is of one color theme, except for a few odd balls. These wrong colored T-shirts can create an odd-looking quilt. Read more about monochromatic quilts here. Remove those odd balls from your quilt. You will have a better-looking quilt and an awesome pillow.
Budget Constraints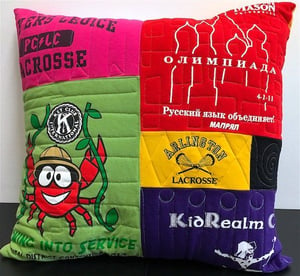 T-shirt quilts can be expensive. Read more about the cost of T-shirt quilts here. If your budget prevents you from purchasing a quilt, choose a pillow. Carefully choose T-shirts to represent each of the different activities in your child's life. Avoid duplicate topics if you have way too many T-shirts. Careful planning will help you create a pillow that is as special as a quilt.
Special Topics
T-shirt quilts tell a story. If you add T-shirts into the quilt that don't relate to the story, it's odd. Read more about that here. For example, all the T-shirts in the quilt are about high school. Except four T-shirts from 5K races run in grade school. Those four shirts don't belong in that high school quilt. Those T-shirts would be perfect candidates for a pillow.
College Related Themed Pillow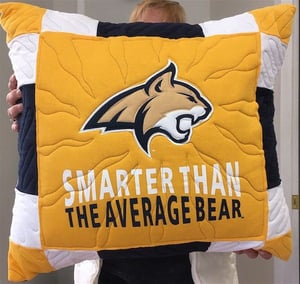 Should a T-shirt from your child's selected college go in her quilt? I would say no, but you can read both sides of the argument here. The college your child will attend is important. How can you celebrate it without adding a T-shirt from the college to her quilt? We would suggest a pillow.
Collect a number of T-shirts from her college while on site visits. Here is more on how to do that. We will take those T-shirts and make a pillow that she can use on her bed. This is a cool way for your child to express her new school spirit.
This is perfect for mom's who refuse to let their son take his quilt to the dorms. Read more about if you should let your son take his quilt to school with him. (Spoiler: 90% of mom's say no)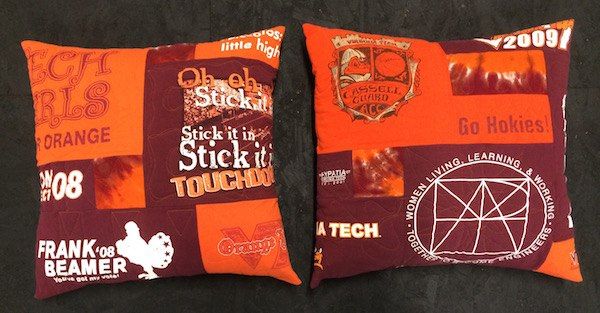 They are just fun!
Finally, T-shirt pillows are just fun. You might want to consider having a quilt and pillow made for your graduate.
---
To learn more about having a quilt made from your T-shirts, download our free T-shirt Quilt Buyer's Guide.
It's a great place to learn about the different styles and quality of T-shirt quilt.
---
How many T-shirts can you use in a pillow?
A One T-shirt Pillow
If you have one special T-shirt, consider having it transformed into a T-shirt pillow.
There isn't much to planning for a One T-shirt pillow. You simply pick your favorite T-shirt and have it made. Read more about pillows made with just one T-shirt here.
More than one up to 10
You can use perhaps up to 10 T-shirts for your pillow. It will depend what is on the T-shirts and how much from each T-shirt you use.
We suggest numbering your T-shirt's from 1 to 10. As we work with your T-shirts, we will start with number one. We then build the pillow until we run out of room. We will return any unused T-shirts with your pillow.
Other Items Non-T-shirt You Could Consider
Don't let the term "T-shirt pillow" fool you into thinking that you can only use T-shirts. We can use anything that is machine washable in a pillow. This means you can get creative and use what's important.
But!!!! Remember, your face may be on your pillow at times. So please consider how each item you include feels against your face.
Below are just some of the items have used in a quilt or a pillow.
Blue jeans
Plaid shirts
Socks
Hats
Dance outfits
Sports pendants
Dance tutus
Aprons
Football jerseys
Patches
Leotards
Shorts
Gymnastics outfits
Girl Scout sashes
Bandannas
Scarves
Bike jerseys
Backpacks
Goggles
If you need help planning a T-shirt quilt or pillow, we can help! Email us your questions at info@toocooltshirtquilts.com
---
To learn more about having a quilt made from your graduate's T-shirts, download our free Graduation T-shirt Quilt Buyer's Guide.
It's a great place to learn about what you need to do to have a T-shirt quilt made for your graduate.

---
Back to: Planning a Graduation T-shirt Quilt