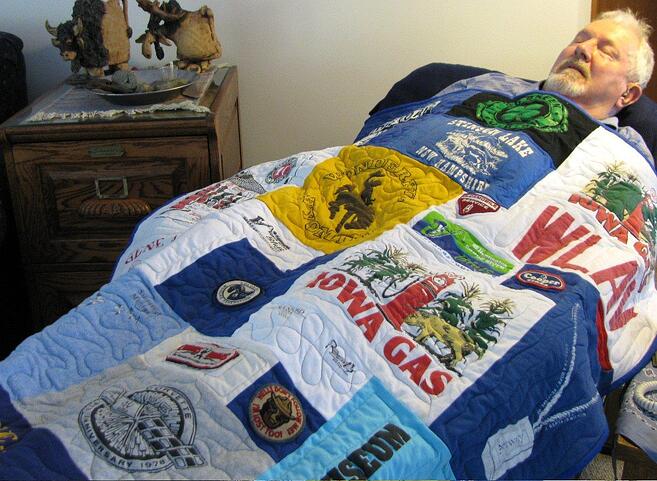 Do you have a family member or a close friend with a serious illness or that has been in debilitating accident? A T-shirt quilt is the perfect gift that says "I am thinking about you." It is also a practical gift that will bring comfort each time it is used.
Collecting suggestion:
Use his or her own T-shirts. Get them from family. Or sneak into their closet when you are visiting.
Collect T-shirts from other friends or family.
Consider making a theme quilt for them. Think of a theme that is important to them. For example – their college, favorite sports team, their favorite _________.
If you friend or loved one had been diagnosed with cancer or some other disease that has public awareness or a public events associated with it, you may consider collecting shirts from these events. To find enough of such T-shirts, you might need to network with your friends and their friends. This type of quilt will mean a lot to your friends or loved one.
---
Baby Gifts
A Quilt for a New Baby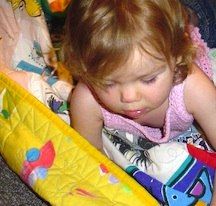 T-shirt Quilt Baby Quilt – A T-shirt baby quilt is a soft cuddly quilt that will be used and treasured as that new baby grows up. A T-shirt quilt makes an awesome shower gift or a gift from Grandmother. These quilts are made out of T-shirts. Sometimes the T-shirts are the parent's T-shirts or from friends of the parents. Other times these T-shirts are made from T-shirts themed for babies – Sesame Street, Elmo, puppies, trucks and the like. This type of quilt is an amazing gift for baby showers. The best thing about T-shirt quilts is that you can wash them over and over and they just keep getting softer.
Collecting Suggestions:
Choose T-shirts with cute designs and images that a baby and young child will enjoy looking at and touching. But since many images that children like are small or on small T-shirts, it may take more T-shirts than you would expect. If the quilt is for a shower, have each invited guest supply 2 to 6 T-shirts. This will need to be done well in advance of the shower. Garage sales or Goodwill are also great places to acquire baby themed T-shirts.
If the quilt is coming from the family, ask each family member to collect a certain number of T-shirts. Some family members may even have T-shirts from their own children.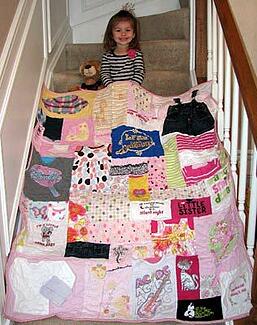 A Quilt from the Baby's First Year
Baby Clothes Quilt – These quilts are made out of baby clothes – generally from the first year of a baby's life. They are so cute! All your babies clothing from his/her first year – include onesies booties, bonnets, sock, hats, blankets, dresses, bloomers and anything else you have. A piece or two from each item or the entire outfit can be used.
Collecting Suggestions:
Save all your baby's clothes for their first year. These are great quilts for a baby's grandmother to fund since they are expensive.
---
Retirement T-shirt Quilts Gifts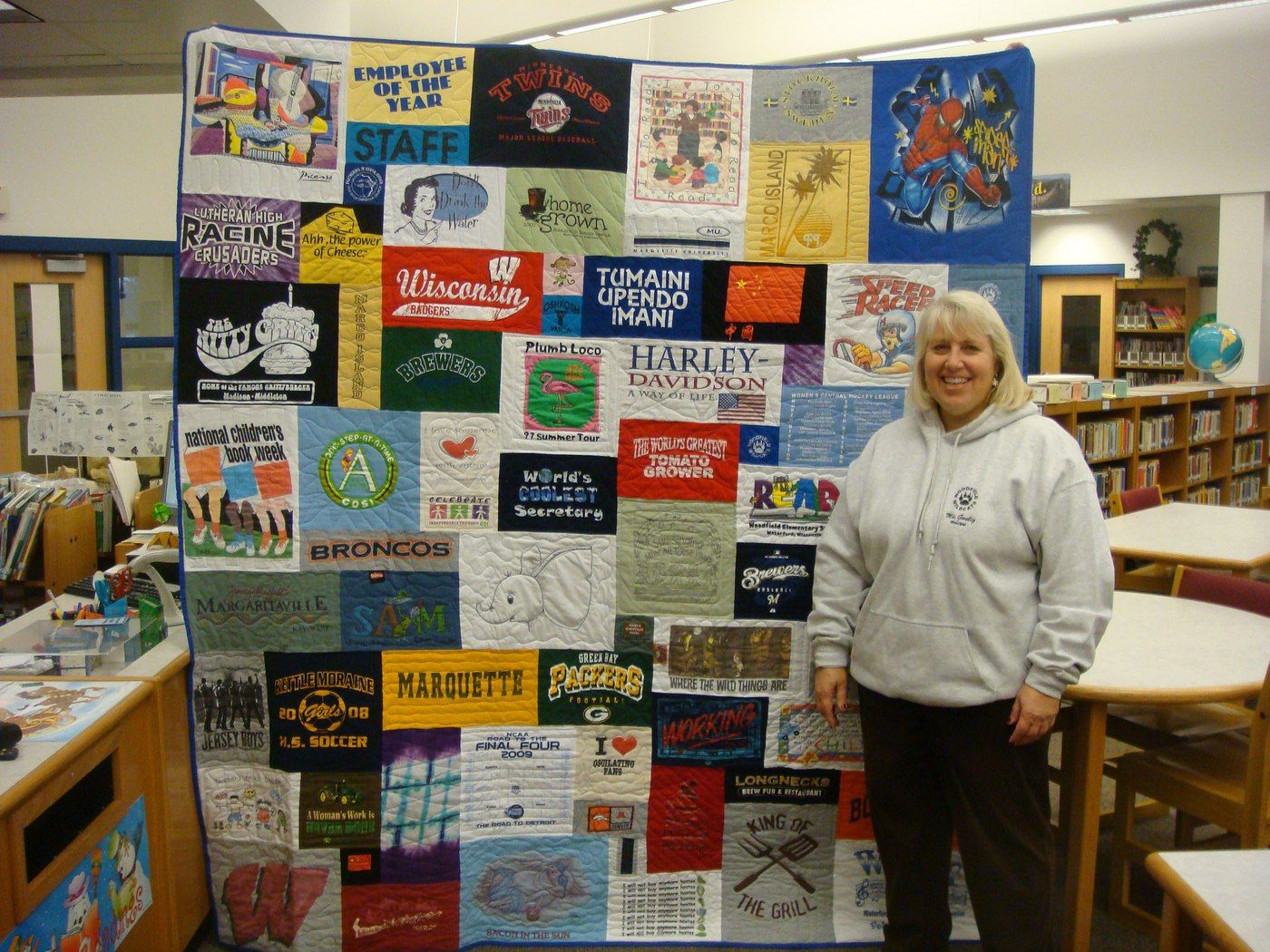 Group Gift for Retiring Boss or co-worker
Is the boss retiring? Is the President of your company celebrating a milestone? Is your company commemorating an important anniversary? Then mark the occasion with a T-shirt quilt made out of your company's T-shirts and logo-ware.
Collecting Suggestions:
Send an e-mail to everyone in the company if it is a small company (or just to your department if it is a large company) asking for company T-shirts. Be sure to put a deadline on when you want the T-shirts received. Send a follow up e-mail the day before the deadline.
You may receive duplicates of the same T-shirt, after all there are only so many company T-shirts. But it is OK to use duplicates if they are generic and not specific to just one event.
Individual Retirements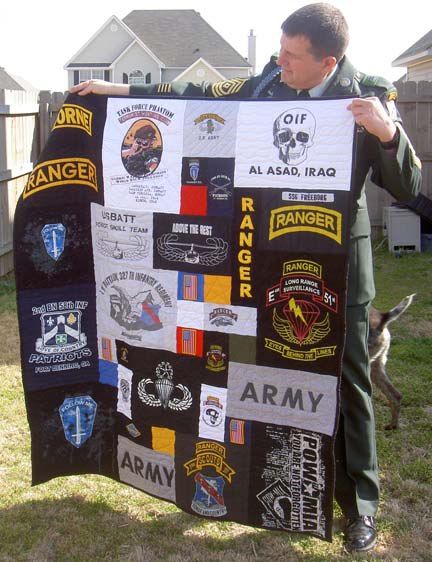 Is someone close to retiring? Perhaps your spouse or parent? A T-shirt quilt is a great gift to celebrate the end of a career and the start of the next stage in life. This is especially a good gift if the career involved a lot of T-shirts like the military.
Collecting Suggestions:
If the theme will be the company that she or he is retiring from, start collecting early! Pull shirts out of the wash and out of the drawers. If you feel like you might not having enough T-shirts, contact other people you know from the company and ask for T-shirts. You might also contact the company's personnel department to ask for T-shirts.
If the theme is personal items, collect from drawers or the laundry. Or ask friends and family to donate a T-shirt from events they have done with the retiree.
---
Graduation T-shirt Quilts Gifts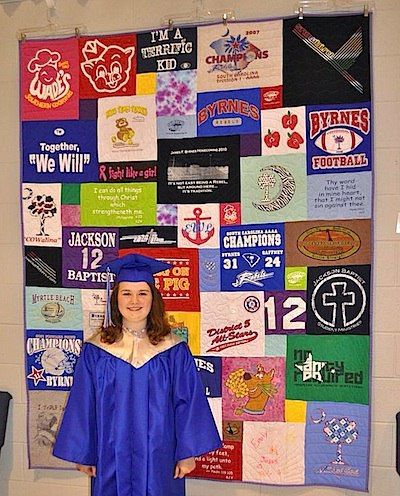 Graduation T-shirt quilts are an excellent way to use all the T-shirts collected during school that will never be worn after graduation. Graduation time is a very busy time for all T-shirt Quilters. Plan on at least 8 weeks lead-time.
Collecting Suggestions:
The parents generally collect these T-shirts. Over a number of months or years, Mom or Dad "disappear" T-shirts from the laundry for the quilt. Although it is wonderful to surprise your son or daughter with a quilt, sometimes working with the students will produce a better quilt with more of the T-shirts the student wants. Also, the student may be willing to part with more T-shirts than you could otherwise collect.
If you are short on T-shirts, considering asking aunts, uncles, cousins, grandparents and friends to donate a T-shirt that holds a memory for the student. Rest assured that the younger brother or sister will not be short on T-shirts when it is their turn to graduate. They will start saving their T-shirts the minute they see their sibling's quilt.
Should I tell my graduate about the quilt before it is made?
Yes - Reasons to talk about the quilt before sending the T-shirts:
You might get more T-shirts than you could otherwise sneaking them out of the wash.
Your graduate may have a T-shirt that he/she hates and you might not know it. And if we put that T-shirt in the quilt we might have a bad situation. Once a T-shirt is in the quilt - it is in the quilt to stay. There is no removing T-shirts after the quilt is made.
Your graduate might have color preferences for the backing other than his/her school colors.
No - Reasons not to tell your graduate about the quilt ahead of time:
Surprise factor - and it is a great surprise.
You have been collecting T-shirts from him/her for years and you have enough variety to make the quilt.
You know the color preferences of your graduate and feel confident that you know what color they would like on the back of the quilt.
Whether you choose to tell you graduate about the quilt or not, your graduate will be wowed by his/her quilt. If you would like to talk about the quilt ahead of time and still have it a surprise, you can tell your graduate that you would like to do something with his/her T-shirts and ask for his/her input about which T-shirts and what colors he/she likes. He/She still will be surprised and crazy about his/her quilt. Some parents show their kids the Too Cool T-shirt Quilt's web site and others just talk about a project in general.
---
Bar and Bat Mitzvahs Gifts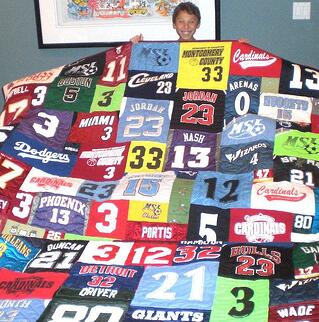 Bar Mitzvah and Bat Mitzvah are Jewish coming of age rituals. According to Jewish law, when Jewish boy turns 13, he becomes accountable for his actions and become a Bar Mitzvah. The age for girls is 12.
These quilts are traditionally made from the child's own T-shirts and his or her mother collects them. Many times the child's special clothing and T-shirts have been saved since birth.
Making a child a T-shirt quilt at age 12 or 13 is great. This quilt will have childhood memories. As the child grows up and attends high school, new T-shirts will be collected and saved for a high school graduation quilt.
Collecting Suggestion
Begin saving your child's special clothing and T-shirts when they are born.
Use T-shirts from sporting events he has participated in.
Have family members donate a T-shirt that is representative of the child's life.
---
Engagements & Wedding Gift Quilts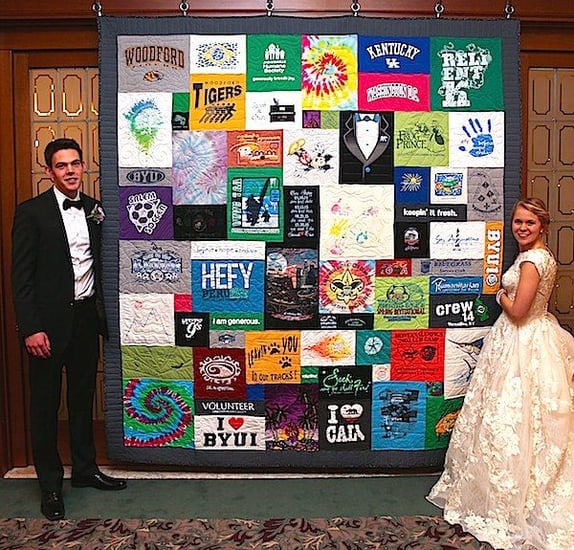 Engagements/ Wedding T-shirt Quilts Gifts – This could be the perfect gift for the newly engaged couple before their wedding or as a wedding gift.
Possible giver:
Maid of Honor or a Best Man
Bride's Maid or Grooms Man
Mother of the Groom
Collecting ideas:
Working together as the Maid of honor and the best man tends to help. One of you can get the brides shirts and the other can get the grooms. Try to get shirts that reflect the bride and groom interest and lives. Then also collect T-shirts that tie them together. For example, a shirt that represents where they first met.
If you're the mother of the groom, collecting may be both easier and more difficult. Getting your sons shirts shouldn't be that much of a problem. But getting hold of his fiancé's T-shirts might be more difficult. Enlist the help of her family members such as her siblings and mother.
---