Triangle Baby Clothes Quilt
December 16th, 2019
By Andrea Funk

Here at Too Cool T-shirt Quilts we love to do special projects. We have quilting skills that go beyond just making T-shirt quilts. Our experience combining fabrics with different stretchiness makes what we can do unique.
If you have a special project, let us know. We are happy to see if it is possible and how much it would cost.
The project described below was very expensive. But you will see that it turned out awesome. Melissa's reaction is below.
Initial Request from Melissa: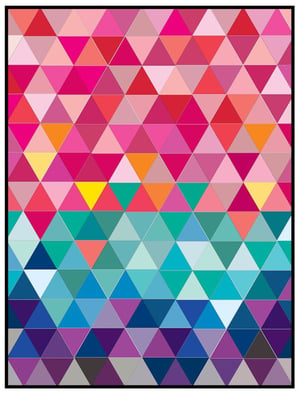 I have a little bit of a different baby quilt and I am wondering you this is something you can do and if so give an approximate price quote.
Here is what I'm thinking:
Equilateral triangle quilt. See quilt mock up file attached

No boarder

Finished size: 70" x 90"

Would mail roughly 120 pieces of baby clothes. Ideally use at least 100 pieces. See baby clothes file.

Design: Transition from pinks/red -> orange -> yellow -> green -> blue -> purple -> gray. See quilt mock up file

Just want to use the pattern of the fabrics and NOT any images, logos or "sayings".

No Iron on backing. I like how you don't use this.
Is this something you could do?

First Reply from Andrea:
Note, this has been shorted to remove a lot of the underlying math.
Interesting project. Very difficult and time intensive, but doable.
I have never worked on a project with equilateral triangles. Ah, 10th grade geometry. For full disclosure, I received a B-. It was the theorems that got me, not understanding how it all worked.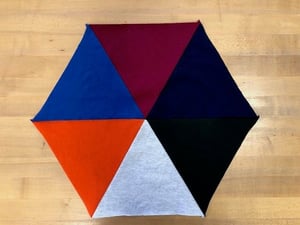 First, I made a test block to see if I could work with equilateral triangles. Difficult, but I can sew them and get the corners to match up. See photo below.
Next, lets next do some math…
You want a quilt that is 70" x 90"
I counted the number of triangles on the top row - 17 total triangles per row
I counted 13 rows in your design here. You would need 221 block. I would need to get 2 or more blocks from each clothing item. And I don't know if that possible from baby clothes.
Cost - expensive. I estimate that I would have to charge in the $$$$ range. It's that big of a project for me.
I feel that I am one of only a handful of quilt makers skilled enough to make this project without adding the iron-on backing to stiffen the blocks.
Other quilt makers might be able give it a try, but I would guess most would use iron-on backing. If you look at other quilt makers, see if they have thought out the project like I have here. That will be your first sign if they could do this well.
Second Reply from Andrea a Few Days Later:
Hi Melissa,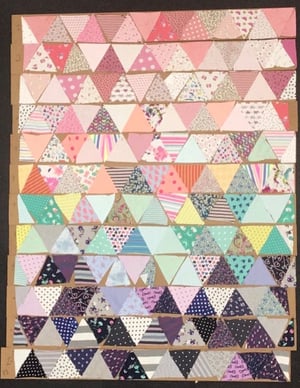 I was cutting a baby clothes quilt this morning for a customer. I have a 8" equilateral triangle that I was holding up to the clothing. Depending on the item, I think I can get between 1 and 4 blocks from each item. I would be able to get blocks with a seam running down the center of them by cutting along the seam. This is so much better than I had initially thought!
My suggestion would be that you send the clothing you have and we cut as many blocks from each items as possible. Then we line them up in the spirit of the image you sent us. Then we could show you what we designed and we could go from there.
Once I know how many blocks we end up with, we can determine the final size and cost. I do have an underlying formula under my pricing. So I would give you a final cost once we have a final size figured.
I think this is doable!
The photo here shows the triangles lined up in the sewing order. It took over 8 hours to get the blocks into this arrangement. Looks easy, but it was anything but easy!
Reply from Melissa,
Let's do it!!
The Result
Below is the final quilt on the left and the original mock up on the right. How do you think we did? We were as pleased a punch! We love it!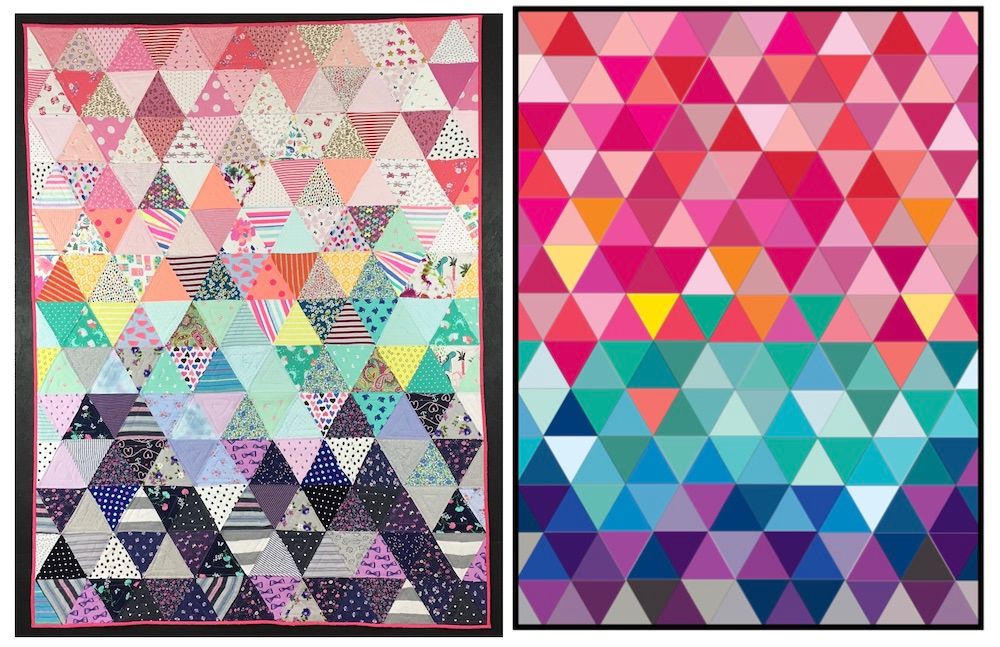 Melissa's Reaction to the Quilt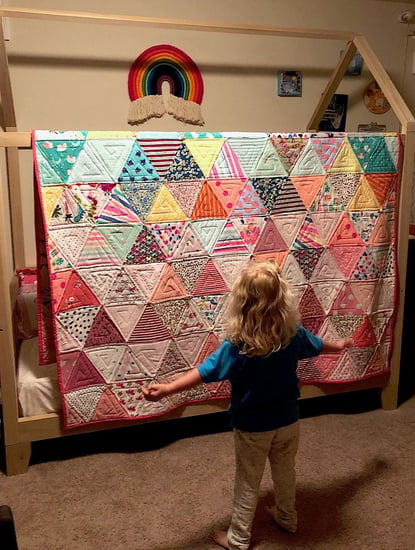 I'm so excited to share this quilt project with all of you! We had Adair's baby clothes (well, newborn through age five) made into a twin sized quilt. Isn't it just beautiful?????
I have been planning on doing something like this for a while. I was actually going to do it myself but realized my sewing skills couldn't handle the stretchy knit material - that's a whole different animal! I started looking around the internet and found Too Cool T-Shirt Quilts. They make SOFT quilts without a stiff backing – which, if you are a quilter, is basically magic.
I first emailed my ideas on 9/2 and received my physical quilt in the mail on 10/11 (so fast!). They were so nice and helpful the whole time. I emailed them a layout of what was in my head and, boy, did they nail it (see the image with the finished quilt and the mock up)!!!
This project was especially sentimental, because Adair has been through so much. Adair has had three open heart surgeries, hip surgeries, hand surgeries, neurosurgery, ear tubes, a rare genetic diagnosis, medical equipment (braces, stander & walkers), countless other procedures, doctor appointments, daily living skills, and physical/occupational/speech therapies. I had a deep desire to capture all of these memories – pictures are nice, but I needed something more tangible.
We've been renting since she's been born, been in and out of hospitals and have always felt unsettled. Nothing has felt like home and nothing captured all of those memories in one spot. That is why this quilt project was so important to us.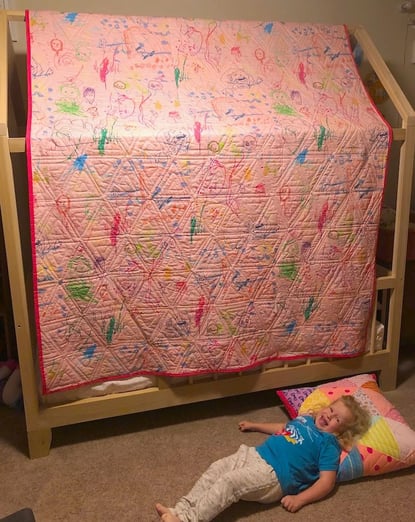 Adair has been the biggest blessing on our lives. She has strengthened our faith, pushed us to define our faith more than ever before, drawn Ryan Freund and I closer in our relationship, and has revealed God to us in ways that we never could have expected. She is a walking miracle and testament to a perfect creator and Savior. We are so incredibly thankful to be her parents! It's so special to have a quilt that reminds us of all that we have gone through together and how God has worked throughout our journey.
Oh, and did you see the back of the quilt???? These are all drawings from Adair (until age five)! I spent about six hours on a Saturday photographing, digitally converting the drawings, figuring out colors, and figuring out how to make it into a fabric that I bought on Spoonflower.
The END result is just amazing. And Adair uses it in her bed every night!
Thank you Brilliant Bee Photography LLC for capturing the end result and the spunkyness of Adair! And thank you so much Too Cool T-Shirt Quilts for making such a high quality quilt! I am forever grateful!
(PS if you decide to use Too Cool T-Shirt Quilts ever… please put me as a referral. I still need to make a T-shirt quilt for Adair! 🙂)
Andrea Funk is the inventor of T-shirt quilts made with multiple blocks sizes. The modern method of making T-shirt quilts. In 1992 she founded Too Cool T-shirt Quilts. Her life has been immersed in T-shirt quilts ever since.