Should You Look for a Free T-shirt Quilt?
Harley-Davidson T-shirt Quilts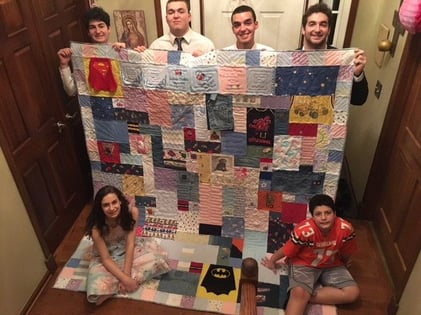 I understand why free is so attractive. Getting something for free makes you fell like a winner. But deep down inside, we all know that nothing is really free. There is always a trade off – whether you are aware of it or not.
As a quilt maker, I have made dozens of free quilts. I seem to always begrudge quilts I "have to make" for free. These seem to be a chore. They take my time and resource. But I make them because they are family.
What's the trade off for the family I make a free quilt for? They have to put up with me when I ask them to refer their friends to me.
Do I get anything out of having made them for free? Not much. I know that they are appreciated. But so are the quilts people pay me to make.
The quilts I love to make for free are the ones that aren't asked for. It's those quilts that are a surprise to the recipient that bring me the most joy. They aren't expecting anything and don't have to do anything. I don't even expect a thank you.
There's a difference between someone surprising you with a T-shirt quilt and asking someone to make you one for free.
---
Don't ask someone to make you a T-shirt quilt for you for free. It's rude.
Read more about the etiquette of asking someone to make you a quilt for free.
---
If someone offers to make you a T-shirt quilt for free, should you accept the offer?
YES
When you know for a fact that your quilter knows what she is doing and has the skills to make the style quilt you want.
When you don't care if your quilt is well-made, high quality or durable.
When you don't have a particular time frame in mind – it may take a year or more!
When you know the quilter will use high quality materials.
When someone you know wants to be a professional T-shirt quilt maker and needs a guinea pig and you want to help them learn.
When you win a free T-shirt quilt from Too Cool T-shirt Quilts! Sign up to receive our newsletter and you will automatically get entered into our biannual T-shirt quilt giveaway!
NO
You have no idea what style quilt the quilter will make. You want to make sure you know exactly what you want before parting with your shirts. Read more about different styles of T-shirt quilts here.
The quilter's work does not look professional. Make sure you see a sample of their finished product before letting them near your T-shirts! And if you don't know what a professional quilt looks like, find out so you know what to look for. Read about how to judge a quilt from a photograph here.
If the quilter is not using high quality materials. It might seem rude to ask what quality materials they are using. And it is rude. If they are making the quilt for free, you don't get any input into this.
If you know the quilter in question does NOT have the skills required to make you a professional, durable T-shirt quilt in a timely fashion.
MAYBE
If the quilt maker is closely related to you. It's hard to turn down a free quilt made by your mother. But I have had customers who have turned their mom's down.
If you're confortable telling the quilt maker what you are looking for in terms of style and quality.
If you are willing to pay for materials.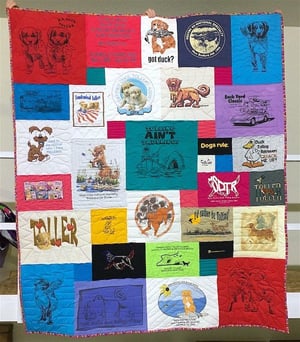 Over the years, we have heard horror stories from our customers about bad T-shirt quilts. One of our customers told us about her neighbor who offered to make her quilt. The neighbor had kept the T-shirts for over five years! Many others had received their quilt, but the finished quilt was just awful. (Uh-oh!)
Are your T-shirts important to you? My answer is YES! Do some research about T-shirt quilts before you let anyone touch your T-shirts.
Only after doing some research and surfing the Internet can you really decide whom you're going to trust to make your T-shirt quilt – be it your grandmother, your neighbor or Too Cool T-shirt Quilts.
---
To learn more about the different types, styles and qualities of T-shirts, download our T-shirt Quilt Buyer's Guide.
It's a great place to begin your journey to finding a quilt maker.
---