Quilt Made with Doll Clothes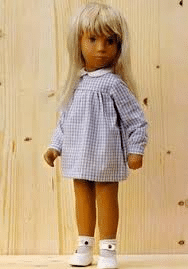 Did you grow up playing with dolls? I did! I loved my Sasha dolls. They were beautiful 16" dolls first produced in Germany in the late 1960's. Read more about Sasha dolls here. I probably played with my dolls later in childhood than most girls because I loved making clothes for my doll. My mom made clothing for the family and I imitated by making doll clothes. Honestly, it is where my love of sewing came from.
But now what? I still have my dolls and all their clothing. Sasha is on display but her clothing is doing nothing. So being in the quilt business I decided I would make a doll clothes quilt. But I wanted to test this idea out on doll clothes that were not special before I made one with my own doll's clothing.
To get the necessary doll clothing, I watched at garage sales throughout the summer and purchased enough doll clothing to make a small quilt. I was surprised at how few doll clothes I found at garage sales. I think that many women, who like me, played with dolls have kept their doll clothing. After all, a girl's dolls are their first family and you just can't give that away.
Our Approach
With this experimental quilt I first decided that I wanted it to be bright and fun! Why make it somber? Playing should be fun, so we chose fun colors. We repeated these colors throughout the border, which helped emphasize the color theme. We used pink backing and binding for this quilt because 98% of girls love pink.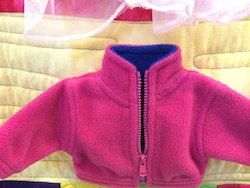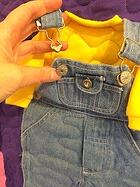 Second, I wanted the items used in the quilt to be interactive. This means I wanted zippers to zip, ties to be able to be tied, and snaps, clasps and buttons to be functional. We also left some of the skirts of the dresses free. This added texture and dimension.
Uses for a Doll Clothes Quilt
Wall Hanging
We are currently using this quilt as a wall hanging in one of our sewing rooms. The colorful quilt just wakes up the small room.
If you have this quilt made as an adult, you might choose to use it as a wall hanging. This would make a great wall cover for a girl's room.

Bed Cover
A quilt like this can easily be used on a bed. As long as the doll clothes used in the quilt are machine washable, then the entire quilt will be machine washable. I can see making a twin-size quilt from doll clothing for the bed of a young girl.
Throw
A doll clothes blanket would also make a fun throw because of all the texture and how interactive the clothes are. It would give your fingers something to absently play with while you are watching TV.
"Crawling Pad"
We are finding that more and more grandmothers want a blanket to put on the floor for a grand baby to lay and crawl on. The texture and the interactive components of this quilt make it an ideal candidate for a baby.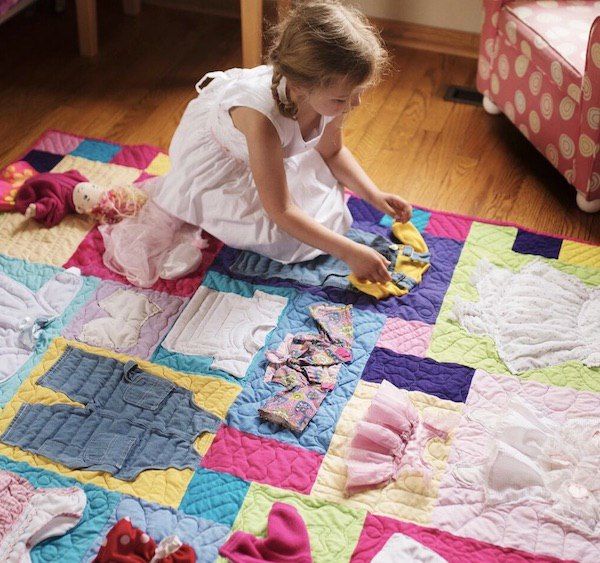 How to Have A Doll Clothes Quilt Made
Collect your old doll clothing. If you have a highly collectable doll like my Sasha Doll, I would suggest not including the outfit the doll came with. This should remain with the doll.


Wash the clothing to clean the years of handling and any mustiness from having been stored for a while.


Print out the order form. Be sure to tell us what color scheme you would like. For example, colorful, all white, all black, colors popular from the vintage of the doll or all the blocks from one color family. Have fun with this!

Note: doll clothes quilts are priced the same as a baby clothes quilts.


Box up the clothing, include the order form and ship it off. We will let you know when your items arrive.
We are more than happy to answer any questions you might have about making a doll clothes or any other type of clothing based quilt. Feel free to call 517-541-8225 or email us!
The quilt below is made from a combination of my and my daughter's doll clothes. It was so much fun to look back at all the outfits I had made for these dolls. It was a fun quilt to make.