A T-shirt Quilt Makeover That Will Wow You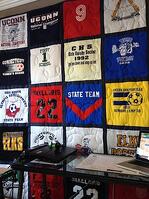 Over the years, we have been asked to take T-shirt quilts made by other T-shirt quilt companies and retro fit it into a Too Cool T-shirt Quilt. A few weeks ago we received this e-mail with the accompanying photo:
Hi, My mom had a quilt made for me out of old T-shirts but its quality is poor. I prefer the quilts that you guys make. Is it possible to reuse the squares of T-shirt from the current quilt and put them into a quilt that you guys would fashion for me? Thanks, Sally
We wrote back: We can do that!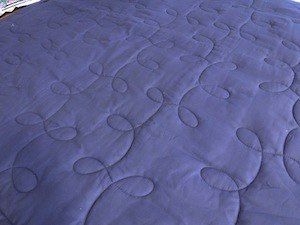 What we do is cut the T-shirt blocks out by placing one of our templates over a block on the old quilt and cut through the entire quilt. Then we would remove the stitching, batting and backing fabric. Your quilt is not stitched very close and the stitches are very long, (see photo to right) so this won't be a problem. We would cut many of the blocks smaller than they are now, so there would be even less stitching to remove. So a makeover is very doable. Did you have additional T-shirt that you want to add into the mix?
From that exchange, we transformed Sally's traditional style, low quality T-shirt quilt into this new Too Cool T-shirt Quilt. We can do this for you too! Here, in Sally's own words, is her T-shirt quilt story.
I wanted Too Cool T-shirt Quilts to remake my old quilt because:
I received the first quilt from my mom several years ago which was an amazing surprise considering I had no idea she had so thoughtfully be saving my T-shirts for me all along!!! But I had so many more T-shirts/jerseys that I would have wanted to include that were not originally. So this gave me a chance to include everything I had.

It's a one of a kind, piece of art. Rather than a regular matrix of standard sized squares - Too Cool T-shirt quilts takes only the best parts of all of one's memorabilia and highlights them. The quilt is not made to fit within a formulaic or existing static framework – it evolves as they work with the T-shirts and becomes a one of a kind quilt as they sculpt the T-shirts into place.

The very coolest part of a Too Cool T-shirt Quilt is that despite the varied nature of their constituent parts (my random assortment colors of T-shirts, jerseys, sweatshirts, jackets, etc.) at the end the quilt looks homogenous somehow?!?! The whole is really greater than the sum of its parts!!! Too Cool's strategic placement, cutting and suggestions for a border brings continuity and a cohesive, mosaic nature to the once discrete and unrelated historic T-shirts.
I hung the quilt in my home office and it not only reminds me how lucky I have been to have so many great experiences with so many fabulous people in my youth but it also provides a nice conversation piece when guests visit our home.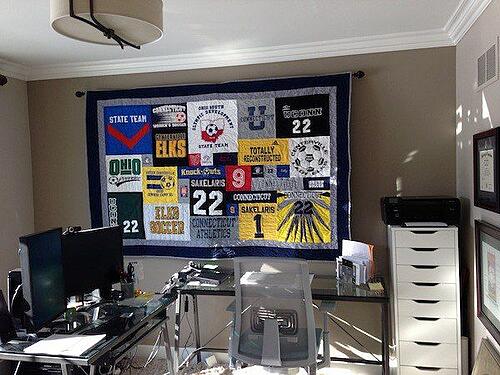 Someday, when my sons are older I can share with them all of mommy's soccer experiences by using this colorful roadmap taking them through my journey in soccer. I can't wait! So many lessons and stories to share!
---
To learn more about the different types, styles and qualities of T-shirts, download our T-shirt Quilt Buyer's Guide.
It's a great place to begin your journey to finding a quilt maker.
---
When we cut apart Sally's original T-shirt quilt, which had been made by the most popular T-shirt quilt company on the internet, we found the following:
A very thick, very cheap 100% polyester batting. This batting would have bunched-up once the quilt had been washed. The fibers of the batting were already pushing through the backing material – this is called bearding. It leaves the back of the quilt scratchy and fuzzy.

Unwashed backing material. When washed, this material would have bleed onto the T-shirts. The material would have shrunk causing the batting to bunch up. (We actually washed an unused section of old quilt and that is what happened.)

The quilting stitches were 5½ stitches per inch. The industry standard is 10 to 12 stitches per inch.

5½ is a basting stitch which is a stitch that is very easy to remove.

The quilting thread was very cheap and just shredded when we pulled out the quilting.
Sally was correct; the quilt her mom had this company make for her was low quality.
If you have an old T-shirt quilt that you would like remade into a Too Cool T-shirt Quilt, e-mail us a photo of you quilt and we can let you know if we can remake. This is also a great opportunity to add additional T-shirts to the T-shirts that were in the original quilt.
Many people see a Too Cool T-shirt Quilt and then look at their own traditional style T-shirt quilt and feel a little disappointed that they had not found us before they had another company make their quilt. Now, you can do something about it!
As you saw above, Sally wanted her quilt to fit the wall above here desk - this is why the quilt is wider than it is long. It's a wall hanging, not a bed quilt.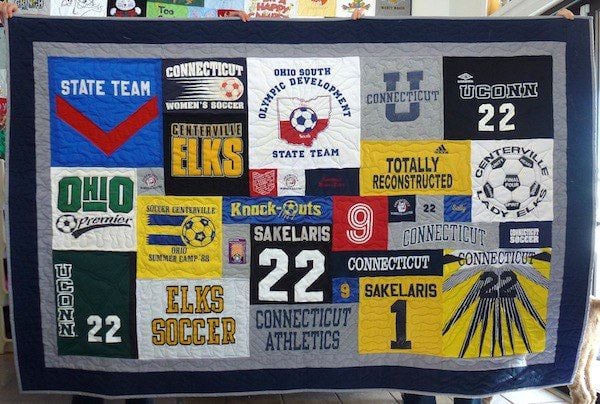 Compare the quilting on the two quilts. The old quilt on the left, you see about 80% of the quilt. The Too Cool T-shirt Quilt on the right, you see about 20% of the quilt.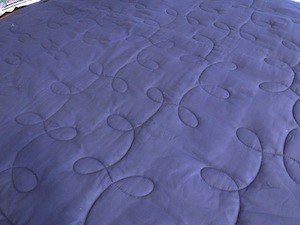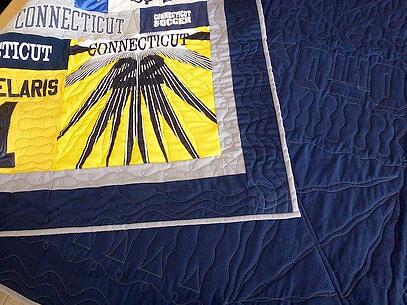 ---
To learn more about the different types, styles and qualities of T-shirts, download our T-shirt Quilt Buyer's Guide.
It's a great place to begin your journey to finding a quilt maker.
---