Editing the Content of Your T-shirts When Having a Quilt Made
July 10th, 2014
By Andrea Funk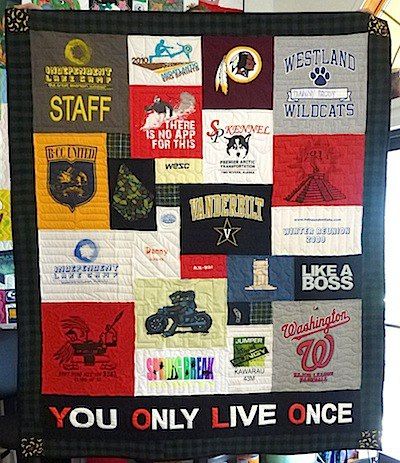 Editing the actual content of your T-shirts is something you can do when you have a T-shirt quilt made. Editing means that part of a graphic or words from a T-shirt design are removed. For example, both of your children attend the same event, but three years apart. The T-shirts each child received was the same except for the date. The younger child did not want her T-shirt but the older child was very involved in the event, but had lost her T-shirt. You can use the younger child's T-shirt in the older child's quilt and have the event's date removed.
What Exactly is Editing a T-shirt for a Quilt?
Editing means that we physically cut out part of the T-shirt logo design and replace it with the same color fabric.
Editing is also rearranging a T-shirt so it reads differently. For example, the quilt on the left has a block running along the bottom that says: You Only Live Once. When we received this T-shirts the four words were stacked on top of each other. We cut those four words out and rearranged them so they read from left to right not top to bottom.
Editing is also used when you want to combine a small part of one side of a T-shirts with its flip side. For example, your son played in a soccer tournament and the T-shirt he received had the tournament information on the front and a huge list of teams on the back. We can cut out just the part of that list that relates to your son's team. We can then sew the list onto the block from the front side of the T-shirt.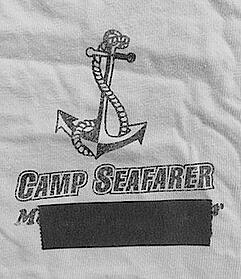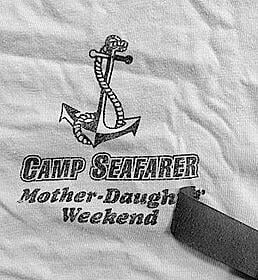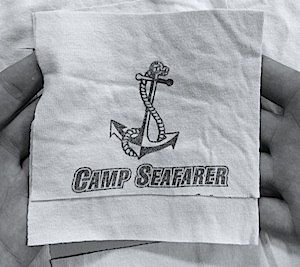 When to and When Not to Edit your T-shirt for a Quilt
We feel that editing should be kept to a minimum because you can see the edits when you look closely at your quilt. From a distance, you generally can't tell that the T-shirts have been edited. Don't just edit because you can. We would suggest only editing when the edit will enhance the story of the quilt. The more editing, the more broken up the quilt might look. But if there is something offensive to you, a name you want deleted or a T-shirt to be specific to you, then you might consider editing.
How to Tell Us What You Want Edited for Your Quilt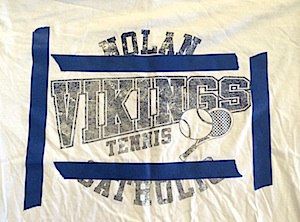 You need to tell us that you want a particular T-shirt edited by attaching a note to the front of shirt.
If there is a small part that you don't want used, use your masking tape to cover up the part you want removed. If there is only a small area that you want us to use, box that area with masking tape. Try to be a clear as possible in your directions.
If you want, draw us a picture. The more information we have, the better our chances of doing exactly what you want.
Additional Cost of Editing a T-shirt for a Quilt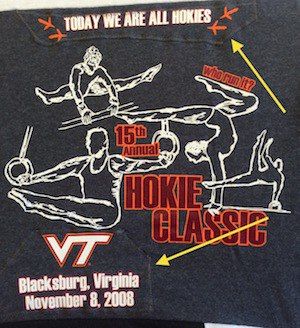 As you might imagine, editing a T-shirt takes time. This includes the time to cut out the edit, and attach material behind the hole we created with the edit and then sew around the hole.
Built into the price of our quilts are 5 edits or "sew downs". There is an additional charge for each one after that. Click here for pricing information.
Click here to watch a video about how to mark your T-shirts with cutting directions.
Editing your T-shirts may be appropriate, but do them only when it is very important and not just because you can. Take into consideration the additional cost of each edit as well as the way it might look on your finished quilt.
We are more than happy to answer any questions you might have about editing T-shirts for your quilt. Please don't hesitate to call or e-mail us.
---
Looking to learn more about having a T-shirt quilt made?
Download our T-shirt Quilt Buyers Guide to learn everything you can about T-shirts
before having a T-shirt quilt made with your T-shirts.

---
Andrea Funk is the inventor of T-shirt quilts made with multiple blocks sizes. The modern method of making T-shirt quilts. In 1992 she founded Too Cool T-shirt Quilts. Her life has been immersed in T-shirt quilts ever since.