Should T-shirt Quilt Makers be Compared on Cost Alone?
How Much Do T-shirt Quilts Cost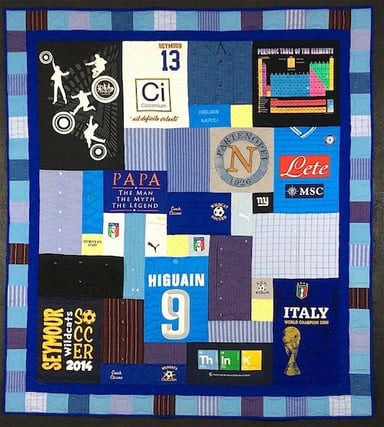 Some people look at our quilt prices and say, "Are you kidding me? That's too expensive."
Yes, our quilts are expensive. And yes, they are out of the price range of some people. But for what you get, they are not unreasonable.
Let's breakdown the "that's too expensive".
Too expensive compared to what?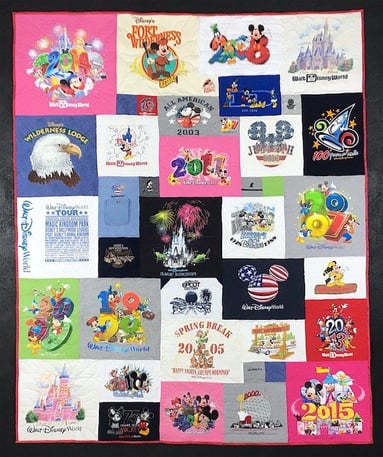 There are a lot of options when it comes to having a T-shirt quilt made. Your grandmother or mother or sister or aunt can make you one for free. Compared to free, yes, our quilts costs a lot. So, let's take the family member out of the equation and compare apples to apples and not apples to oranges, because you can't compare apples to oranges.
Not all T-shirt quilts are created equal.
Here are a number of features that our quilts have, that you should be comparing to other quilts you consider. If a quilt you are looking at does not have this feature, it's an orange. And that quilt and it's pricing cannot be compare to our quilts and our pricing.
All the blocks are cut to fit the image on the T-shirt. If all the blocks are the same size – that's an orange. Read more about different quilt styles here.


The blocks are puzzled together. There are no columns or rows. If there are columns and/or rows, that's an orange.


The quilt is actually a quilt and not a blanket. A quilt has three layers held together with quilting. Whereas a blanket has two unconnected layers and is an orange. Read more about that here.


Quilting – a Too Cool T-shirt quilt is long-arm machine quilted. Each block is individually quilted in a unique pattern. You can't compare an overall quilted pattern or a tied quilt – those are oranges. Read more about our awesome quilting here.


What type of binding is used on the quilt? Our quilts are bound using a separate piece of material for a fully bound binding. If a quilt is constructed with the birthing or pillow case method or has the backing fabric wrapped around to the front of the quilt, they are not full bindings and are oranges. Here is a full explanation of the different binding styles.


Backing material – if the material is not 100% cotton, it's an orange. Quality is important and if the materials are not quality, by default, the quilt will be a lower quality and will most likely cost less. Read more about backing materials here.


Batting – 100% cotton or an 80% cotton/20% needled punch batting are industry standard and what is used in our quilts. 100% polyester batting is an orange.
Do You always choose the least expensive product?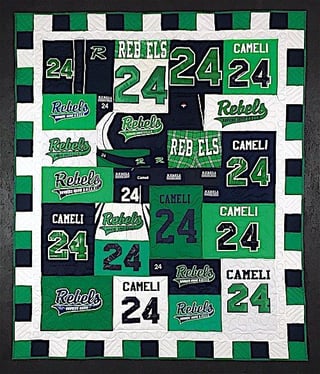 There are times when the least expensive product makes sense to purchase. For example, when the item is exactly the same as the more expensive item. But there are times when cheap is bad, and you get what you pay for.
T-shirt quilts are like anything else – there are many different styles, options and quality levels.
There are also many reasons for having a quilt made. Your reason for having someone make you a quilt need to line-up with the type and quality of quilt you purchase. If you want an heirloom quality quilt, it will cost more. If your budget or situation dictates that you purchase a less expensive quilt, you will need to lower your expectations.
Anyone can make a T-shirt quilt, but very few can do it well.
---
Learn more about T-shirt quilts by downloading our free T-shirt Quilt Guying Guide. The guide dives deeper into the differences in style, type and quality differences between T-shirt quilts. Learn all you can about T-shirt quilts so that you can have the quilt of your dreams.
---