A Quick Explanation of Quilting T-shirt Quilts Long-arm machine quilting the way most quilt makers finish the T-shirt quilts they make. There are a two basic style a quilter can choose from. These are: An over-all quilting pattern over the entire quilt. This is done with either with a computerized machine that runs by itself or by a quilter tracing a repetitive design by hand. A unique pattern for each block. This can be drawn by an artist standing at the front of a quilting machine - see the photo on the right. Or this can be quilted by a computerized long-arm quilting machine - the quilter just presses the go button.
It has recently come to our attention that someone has been calling our puzzle style T-shirt quilt "Chaos T-shirt Quilt". This really rankles our feathers here at Too Cool T-shirt Quilts. Why does this bother us so much? Because it is untrue! There is absolutely nothing 'chaotic' about the layout of a Too Cool T-shirt quilt; it is all math and precision. Laying out a puzzle style T-shirt quilt takes more math skills and creativity than any traditional style T-shirt quilt.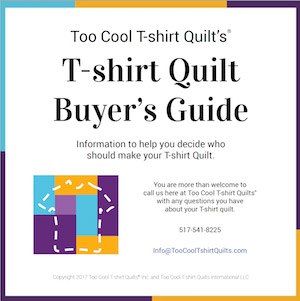 T-Shirt Quilt Buying Guide
If you are in the process of finding someone to make your T-shirt quilt, you may not have all the information you need to make an informed decision. Our T-shirt Quilt Buying Guide has the information you need to fill in any knowledge gaps.
The Construction of a T-shirt Quilt
Have you ever wondered what happens with the leftover part of your T-shirts that were not put into your quilt? After we cut out the block or blocks with the graphics on your T-shirt, we usually are left with over half the T-shirt. You multiply that by over 30,000 T-shirts a year and you are left with a lot of scrap! We are always looking for news way to use the leftovers. We use the scraps for: