Care for T-shirt Quilts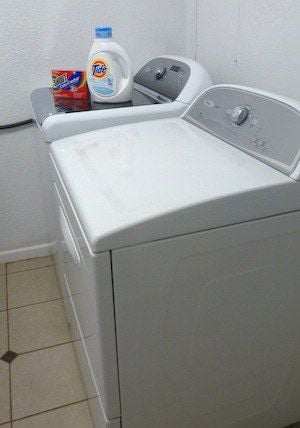 The following information relates to quilts made by Too Cool T-shirt Quilts® but may be applied to other quilts, T-shirts or other laundry issues.
Washing
Generally, wash your quilt in a washing machine in cold water. If the quilt is large... queen size or larger... we recommend washing it in a front loading machine or at a laundry mat in a large front loading machine.
We have found the quilts to be durable. We have one that was washed just about every weekend for the past 5 years and it is still in awesome condition!
Color Fastness
We set the color of the backing material by soaking it in white vinegar for about 24 hours. It is then washed in Tide. In this wash we put three or four Shout Color Catchers that absorb and trap loose dyes. If there is any hint of color bleeding, we start the process again. If after two tries there is still loose dye, we discard the fabric.
If your quilt has a dark color or red backing or red or dark T-shirts that you don't trust to be 100% color fast, we recommend you wash it with the Shout Color Catchers. If you notice after the first wash that the dye is bleeding (the Color Catchers and the white T-shirts are the color of your backing) don't panic! Wash it right away again with more Color Catchers. Don't let it dry. Keep it in the washing machine. If the bleeding is bad, it may take two or three additional washes. But by keeping it wet and using the Color Catchers, you should be able to get the excess dye out.
We actually tried this on a quilt. We did not set a red backing and when we washed the quilt we had bleeding everywhere. The whole quilt was pink! But after 4 washes with the Color Catchers, the white T-shirts were back to white.
This principle can also be applied to the red socks in the white laundry load syndrome! No more pink underwear!
Drying
Dry in a dryer like you would dry your clothes. You can also line dry it, but it may be a little crunchy as all line dried clothes tend to be.

Holes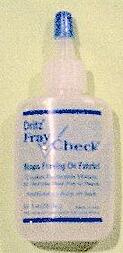 T-shirts tend to get holes in them. It is just their nature. If you start noticing holes in the quilt top, you need to stop their spread as soon as possible. To do this, just apply a drop of Fray Check on the hole. Fray Check is a clear fabric glue that stops fabric from Fraying. Fray Check can be purchased at any fabric store such as JoAnns.
Fray Check is awesome stuff. It is also great for keeping buttons on T-shirts. Just put one drop of Fray Check on each button and they will not fall off!
Threads
Although we try very hard to make sure that we have clipped all the threads from the quilt, you may notice when your quilt is new that we missed clipping a thread. Don't worry, just clip the thread close to the top and the problem is solved.
Note: These are not paid endorsements of products. We use these products every day on our customers quilts as well as our own personal projects. They truly are worth all the fuss!