Wow,wow,wow,WOW! The quilts arrived about 10 minutes ago. I couldn't wait to see them. All of them are fabulous and I've only just begun to take in all the detail. The theater quilt is amazing. (right) It's so cheery and bright. I love the rainbow thread for the quilting and adore the edging material (actually love the edging for all 3 quilts). The designs on the back are as interesting as the front and I can't believe you do all that freehand. Even if you are following the picture on the front side, I think it would be difficult to do. It is going to be very hard to hold on to these until Christmas. I haven't even told my youngest about these quilts because once she sees them, I'm afraid she might spill the beans! I can't wait to show mu husband when he gets home tonight. H.G. Pennyslavina
We Love Our Quilt!!!Thank you so much for creating an amazing quilt for our daughter. It is incredible! Rarely does a company and it's product surpass my expectations... and you have done that, and then some! Thanks so much for this wonderful quilt. S.B.Colorado
I absolutely LOVE IT !!!! I know G will too. You and your crew did such a wonderful job. I can't thank you enough. My mom loves it. My brother and my friend saw it too. I gave my friend a card, her son is going to be a senior. I am going to bring it to work tomorrow and show everyone. My mom laid it out on her floor and stood on the furniture and took pictures. Thanks so much! T.B. Ohio
Oh it is AMAZING!!!! I love it so much. I graduated from college almost 5 years ago, so to see all of those memories that have been stuck in a drawer be given a new life is wonderful. I will cherish this beautiful piece of art and history forever!!! I just love the images from the shirts that traced with stitching to appear on the back – they make it so fun! I am amazed that you did such a beautiful quilt in so little time – I can't even tell you how excited I was to see that box appear! I can't tell you enough how pleased I am with my quilt – you have a special talent! J. B. Florida.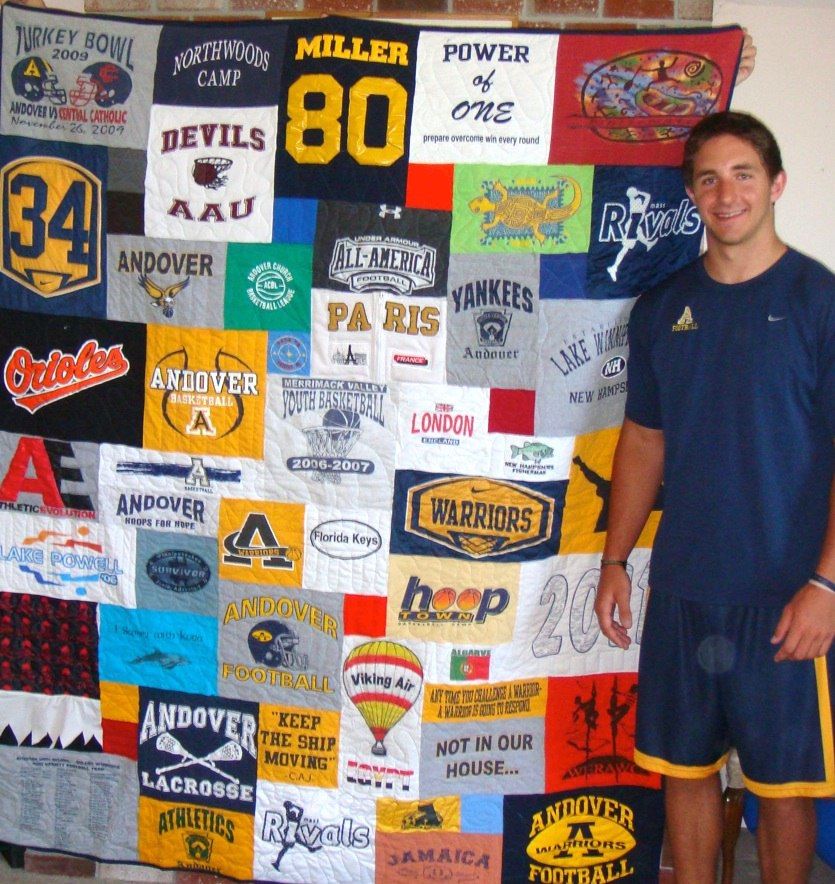 Words cannot express how excited I was to receive your package today! The quilt is spectacular!! The way you arranged and cut the t-shirts on the front of the quilt is unique and quite eye-catching. The color distribution and the use of appliques is so interesting AND meaningful to us and will be for R. What you did on the back of the quilt is GENIUS!!! He will be blown away when he views the back of the quilt! I will re-pack the quilt in the great box you shipped it in and present it to him at his graduation party (it will be hard to wait that long to give it to him). Be assured that we will have plenty of your flyers/cards to distribute at the party. We will also take photos and send a few to you. You made the daunting task of accumulating all of the t-shirts necessary for the quilt easier and walked me through the entire process. You are so professional and your quilting is top-notch. This quilt is truly a work of art! K.B. Pennsylvania
I finally got to Vegas over the weekend, and gave C the quilt yesterday. She loved it! I loved it! Everyone loved it! You rock! D. J. Nevada
My children LOVED their quilts!!!! Thank you so much for making our Christmas so special! C.H. Georgia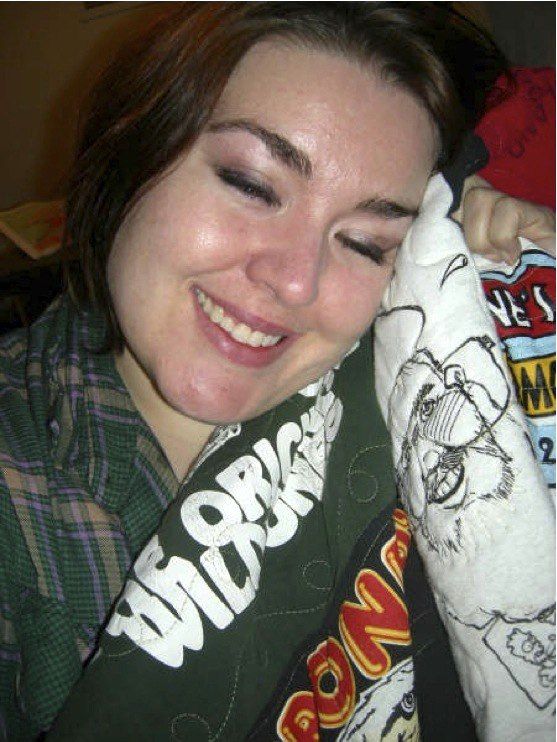 Just received the quilt Tuesday. What a nice surprise, I just returned home from ankle surgery. I broke my ankle on Saturday trying to stop my dog from falling thru the ice. No running for a while. Anyway, what a beautiful job you did. Thank you so much. I'll be sure to get you some more customers in my running club. L. F.
The quilt arrived Friday--I had to wait until my son was not around to look at it--it was worth the wait! The quilt is absolutely amazing and worth every dollar I spent and every hour you spent! I had to show someone so I took it to my friend's home. Her son grew up with mine and he and his mom were flabbergasted--they'd never seen anything like it. We spent an hour examining it and exclaiming over every detail. I think her son was as thrilled as J will be when he sees it--he kept exclaiming "I remember this! Look at this one--remember when we went there!" etc. It is truly an incredible work of art. Thank you so much--I can't believe you were able to finish it so quickly when so much attention to detail was lavished upon it! PM
The quilts came. I am so astonished by how wonderful they are. I just knew they would be great but they are more than I expected. They are SO extraordinarily beautiful. What a gift you have! What a gift these quilts are! Thank you more than I can say. I am forever in your debt. Wow. THANK YOU!!!!! XOXOXO Susan
UPS just delivered the quilt...you were right....the picture doesn't do it justice....IT IS ABSOLUTELY GORGEOUS!!! I LOVE EVERY INCH OF IT and love the backing the stitching..... its just PERFECT ....and more than worth the $$$$!!! I KNOW A. WILL LOVE IT!!!