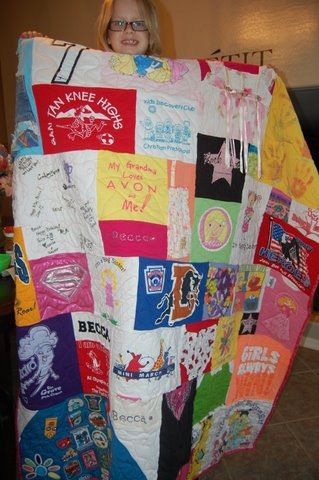 Thank you so much for the beautiful and very unique quilt! The photos you sent were good, but it is a million times better in person. We love it and are so excited to show it to friends and family. Amy
I received the quilt yesterday and about cried. It is so wonderful!! I have sent the picture to all my friends at work and will probably take it in so people can see how great it is. Thanks again for providing me with such a wonderful keepsake! J.H.
Just a quick note to let you know I received the quilt on Friday…. I couldn't believe how fast that came back! It is absolutely GORGEOUS and I know L will love it. You're right - it'll be hard to keep it a secret until Christmas! In fact, she was over on Saturday and I very nearly spilled the beans then! C.K.
The quilt arrived today and it is FABULOUS! Thank you so much! You do great work and I will pass your info around to my friends. Thanks again, B.G.
Wow! The quilt we received today is wonderful. Thanks very much. I am certain that T will love it. Thanks again for your hard work and the quick turnaround time. J.D
What a nice surprise at my doorstep this afternoon! I absolutely love it! It is beautiful and just in time for the first game tomorrow! Thanks again for making this fabulous quilt and for doing it so quickly! I plan on taking it to work and showing it to my friends and coworkers. Then later I'll show it to friends and family in Ohio. I'll share your brochures too! Take care! Patty
I am so excited this quilt is awesome!!!!!! It was better than I expected. I know she will Love it as much as I do. Thanks for doing such a wonderful job.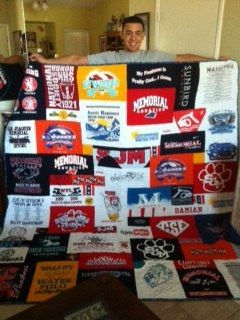 I am amazed and overjoyed at how the quilt came out. Thank you so much! I will treasure it always! The quilt is absolutely awesome!!! My husband (and neighbors and friends) just loved it. It's obvious that you put a lot of good effort into making it. The designs on the back are incredible...lol...we loved the kangaroo!! With sincere thanks D. S.
Just wanted to let you know how much we enjoyed the quilt. A was having fun showing us which pieces went together. The back was great, and we hope you had as much fun doing it as we did admiring it! Again, I wanted to let you know how happy we were with the results! B.
My quilt is FANTASTIC!! I could not have asked for anything better! Much to my surprise, I received it in the mail today...I never expected it so soon!! The red patterned border you chose...and the navy back, which makes the stitching really stand out... it's all PERFECT! The shirts look great the way you laid them out and I can't get over the quilting on the back...all the designs...WOW! You are amazing! Thank you very much...not only for the finished product (which is phenomenal) but also for your effort and care throughout the whole process.
I really wanted a t-shirt quilt, because it seemed silly to have all these T-shirts in storage under the bed. Even so, the "fiscally responsible" part of me was very skeptical about spending over $500 on a quilt. I can honestly say this is some of the best money I have ever spent. You really can't put a price on memories, and it is great to get those memories out from under the bed, and all in one place. D. H. Maryland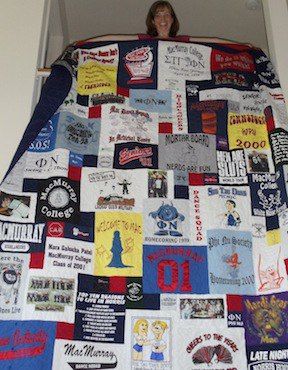 The quilt came while we were out of town for vacation, and it took us a day or two to pick it up from our neighbor - but we did finally get it. And the quilt is really FANTASTIC! The detail in the unique quilting for all the different T-shirts like the gator head and the lizards and the bear, etc., is a great touch and it makes it as neat to look at from the backing side as the top side. You did a wonderful job, it looks and feels great, and we'll enjoy using it and showing it to our friends. Thanks again, the quilt really is TOO COOL!!! D. W. Washington DC
Thank you so much for the quilt. It is more amazing than I could have imagined. It was great to be able to see all the artifacts from my young adulthood together. Thanks again for such beautiful work. J. B. Georgia
The quilt turned out way TOO COOL! M will absolutely love his "Life" quilt. I have raved about the quilt and the way it is put together to my friends and family. To us, it is so much more fun than the traditional square quilt. S. K. Missouri
I greatly appreciate the quilt you made for me. It is extraordinary because it shows a lot of different shirts I wore and where I used to go to school and what I used to do. I also appreciate how hard you worked on it because it probably took a long time. It makes me happy whenever I look at it. It's also nice, warm and cozy too. E. H. (age 9) Pennsylvania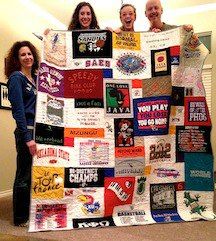 Thank you very much for the beautiful quilt you created. It has a lot of personality and is more than I imagined. I really like the special and unique designs you incorporated into it. I have shown it to everyone I know and they all have admired it as well. A. T. Maryland
Oh my gosh... it is beautiful! I cried and was speechless. I can't wait to give it to him. I don't know if I can hold off till September, but I am going to try. Thanks again. C. B. Michigan
I got M's quilts yesterday and I have to tell you that I literally danced around my kitchen when I opened them up and all he could say was " those are the most amazing quilts I've ever seen!!" We just looked at them in stunned amazement at how absolutely incredible they came out! I just could not possibly express to you how thrilled I am at the job you did on them. I thank you for the terrific job you did! I will recommend you to EVERYONE I know! Thanks a million! S. B. Arkansas
Oh... it's just beautiful!! I was absolutely amazed to be receiving it so soon. Had it in mind for a Father's Day gift... then I thought perhaps Valentine's... and at the moment I'm having a hard time waiting for him to come home from work because I want to give it to him NOW. :-) He's going to be so thrilled. I just absolutely LOVE it - the colors you added are perfect. I couldn't be more pleased. Thank you so very much. I am going to take the quilt to work tomorrow and show it around - I'll be handing out all your flyers. I opened it at the post office & the postmaster has already taken one of them. Thanks again. - M. N. California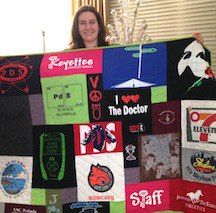 The quilt has just arrived. I can't begin to tell you how much we love it. Thank-you so much. Not only is it better than I could have imagined but it was such a pleasure doing business with you. You made everything so easy. C. B. North Carolina
I got my quilt today.... and I LOVE IT!!! It is absolutely perfect. I can't believe how fast it came. You really put an awesome product out, and I will recommend you to everyone I know!! THANK YOU SOO MUCH!!!! B. D. North Carolina
We love the quilt!!! My daughter chose you from the Internet because she was so impressed with the fact that you actually make a quilt, not just a checkerboard of the same size blocks.... and you lived up the our best expectations. The quilt is lovely, well made and very impressive in the quilting patterns on the back side. I know she will enjoy having such a nice way to remember all those high school T-shirts. - M. C. South Carolina
A friend of mine had a quilt done for her daughter at a much cheaper rate....When she told me the girl that did hers only charged her $250 for a QUEEN SIZE....I was like WOW...that's a lot cheaper than mine....but after seeing it.........TRUST ME THERE IS NO COMPARISON... to the high end workmanship and detail that you put into A's compared to hers (in fact, I think she got ripped off :-) =-O !!!!....I can't wait for her to see mine!!! A "friend of her sister in law" said she could do it ...she didn't even quilt all the squares....and I don't know much about sewing/quilting...but for some reason, hers weighs a TON....A's is so light and manageable!! I HAVE NO REGRETS!!! Its like the old saying.... "if you pay for a QUALITY product.......you get a QUALITY product " :-) Thanks again!!! K. D. North Carolina
I shared my quilts with my co-workers at school. Everyone just fell in love with them. Hope you get some more business from this. R. C. Arkansas
Just another THANK YOU for doing such a wonderful job on J's quilt. It is awesome & I know he will love it. I can't believe how quickly you put it together. I will recommend you to everyone. E. C. Pennsylvania
Got it and it is perfect... brought me to tears!!!! I love all the little touches and the care you put into it. Thank you so very much!! As always I will brag about you to anyone who will listen! P. R. Virginia
The quilt is beyond awesome! I brought it to the office today and everyone just loved it! - L. M. Georgia
Thank you for the quilt! I was so surprised when I opened my mailbox yesterday and found the box with the quilt. It is even better than l had imagined; your work is beautiful. I have already recommended you to some of my friends. - R. S. Ohio
My mom just called to tell me the quilt arrived at my house & it looks AMAZING! Thank you soooo much... she described it, & it sounds great. I can't believe how quickly you got it finished. - E. C. South Carolina
This quilt is amazing! The quality is so good, and the design on the back is as beautiful as the front! I just can't believe how wonderful it is. I can see how this would last for years and years. The binding, stitching, patterns, etc.. all fantastic! - G. S. Washington State
Thanks for the beautiful job!!! - A. L. Missouri
P's quilt is so special and filled with all his wonderful memories!!!! He will love it so much. Thank you for doing such a beautiful job:) - R. M. Pennsylvania