What can you use in a T-shirt quilt?
This is one of the most frequent questions we are asked about T-shirt quilts. Since it's called a T-shirt quilt, many people think that you can only use T-shirts in such a quilt. A T-shirt quilt is much more than just T-shirts. A T-shirt quilt can be made with any washable fabric. Here are some of the items you may consider putting in your quilt. Jersey Material
 Jersey material is a type of fabric that is used to make football and other types of jerseys. Jersey material is typically nylon and it is full of holes. All the little holes help to make the material lighter weight and help keep the athlete cool. It's all these little holes that concern people when they think about using it in a T-shirt quilt. If this fabric is backed by another piece of material there are no issue. An inexperienced T-shirt quilt maker may not know to back the Jersey material. That becomes a problem because the batting can be seen through the holes and it will eventually work its way out of the holes. If you have a skilled T-shirt quilt maker, using Jersey material in your quilt is not an issue.
What can you use in a T-shirt quilt?
Customer Question "We are putting together T-shirts for a quilt. We travel extensively. My husband buys a patch in each country, at each lodge or each place we visit. These are like the patches you sew onto a vest or jacket. Can these be added to a quilt?"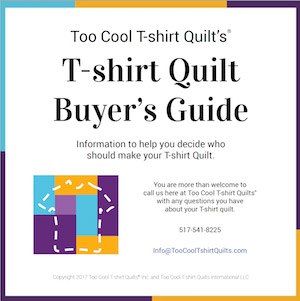 T-Shirt Quilt Buying Guide
If you are in the process of finding someone to make your T-shirt quilt, you may not have all the information you need to make an informed decision. Our T-shirt Quilt Buying Guide has the information you need to fill in any knowledge gaps.
Graduation T-shirt Quilts | What can you use in a T-shirt quilt?
If you are a parent, you probably have or had a refrigerator door decorated with your child's artwork. It begins with scribbles, then advances to stick figures and finally ends when your child decides enough is enough and stops bringing the drawings home from school. My adult daughter still draws, but I generally don't get to see them until she has a show. I am one of those parents whose child did grow up to be an artist.