The Best T-shirt Quilts of 2015
Here are some of our favorite T-shirt quilt from 2015 and why we like them. They are in no particular order.
Which one do you like best?
Train Quilt
This quilt was made for an 8 year old boy for Hanukkah. This boy is a train nut! He lives in New York City and loves to take the subway and all things train.

His mother had us make the quilt for his bed. The border was chosen to represent the train tracks. The pieced part of the border is made from the 5 colors of the subway lines they take most frequently.
Size: 72 x 84
Border: 2" solid + 4" pieced + 2" solid
A Runner's Red, White
& Blue Quilt
This quilt was made for an American athlete who runs and competes in triathlons. Included in the quilt were race bib numbers and singlets.

The red, white and blue patriotic border sets the tone for the entire quilt.
Size: 80 x 92
Border: 4" pieced + 2" solid

Harley-Davidson T-shirt Quilt
This is one of 5 Harley-Davidson T-shirt quilts we made for one customer. We also made him 10 pillows at the same time.
When you have 1000's of Harley-Davidson T-shirts, putting a few 100 towards quilts and pillows still will leave you with a lot of T-shirts!
We are always working on Harley-Davidson T-shirt quilts. Whether they are all black or colorful as this one is, they are all favorites.
Size: 60 x 72
Border: 4" solid
Want a quilt like these? Here's how!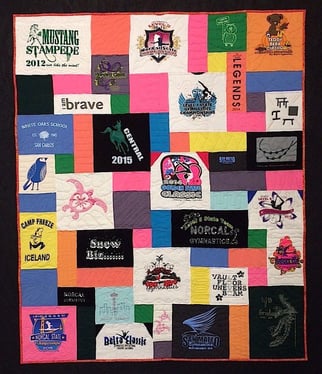 Gymnastic Quilt
This was a graduation T-shirt for a gymnast. The quilt tells the story of her life... what she does, what she likes and where she has been.
The quilt was not very colorful and a lot smaller than she was wanting to have made. To make the quilt larger and add color, we added blank blocks of colored T-shirt material to the quilt. The colorful blocks were taken from her shirts.
Size: 60 x 76
Border: None

Ironman T-shirt Quilt
It takes courage to even train for an Ironman event. And to actually participate in one... well that's beyond conception for most of us.
As you may imagine, each and every t-shirt, jersey, singlet and towel you receive are very special. And this quilt celebrates this.
In the center is a microfiber towel that was given out to athletes finishing the full Ironman distance in Chattanooga, TN.
Size: 92 x 100
Border: None

Twilight T-shirt Quilt
The original Twilight movie featured a T-shirt quilt given to Bella by her mother. Well this Twilight T-shirt quilt puts the one in the movie to shame!
We made this quilt for a man to give to his wife for a Christmas gift. But he was only able to gather up seven black T-shirts. That was hardly enough to make a pillow. But he wanted a quilt.
To make the quilt larger, we filled out the area with purple and black blocks. We used purple because that is his wife's favorite color.
Size 56 x 56

North Dakota Fighting Sioux
The University of North Dakota, like other schools and sports teams with Indian team names and mascots, have been embroiled in finding a new name. The new name announced in November of 2015 is the "Fighting Hawks"
This quilt was made earlier this year before the new name was settled on.
We like this quilt because of the juxtaposition of the pink with the green and black. The pink gives the quilt more depth.
Size: 92 x 100
Border: 4" solid + 2" solid

Memorial Quilt
Every year we make T-shirt memorial quilts for people who die way too young.
This quilt celebrates the life of a young man who recently passed away.
The border on this quilt was made from the young man's blue jeans.
Blue jeans and T-shirts just go together.
Size: 92 x 100
Border: 4" wide pieced
Travel Quilt
This small quilt is one of a set of two quilts made from T-shirts a couple collected while traveling. They had way too many for the queen size quilt they wanted made for their motorhome. So we made this quilt with the excess T-shirts.
Maybe it's the guy offering a beer or the travel theme that makes this quilt appealing. What ever it is, this quilt is a nice example of a small T-shirt quilt.
Size: 48 x 60
Border: None

Rowing/Crew Quilt
I am not sure why, but we make a lot of T-shirt quilts for rowers. This quilt showcases a variety of rowing events from many different locations.
This is a typical looking quilt made for an athlete.
Size: 92 x 100
Border: 4" solid navy

Swim Coach's Gift Quilt
B3 Aquatics is a swim team with three coaches. This spring the swimmers commissioned us to make each coach a quilt. This quilt was for the head coach.
In the center of this quilt is a swimsuit with the team logo.
We like this quilt because it's colorful and fun. The lime green T-shirt and blocks give the quilt a punch of color.
Size: 60 x 72
Border: 4" solid + 2" solid

Tennis Diva Quilt
This quilt was made for a young woman who plays tennis. She wanted a happy quilt that reflected her personality. And this quilt succeeded. The colors of this quilt just make it so cheerful and fun.
Size: 56 x 68
Border: 2" solid + 4" pieced + 2" solid
Now that you have seen all these awesome quilt, can you pick a favorite? It's hard, because they are all awesome in their own special way.
What could we do with your T-shirts? If you are ready to have a quilt made, here's are the steps you need to take...