Tell Us a Micro Story T-shirt Quilt Contest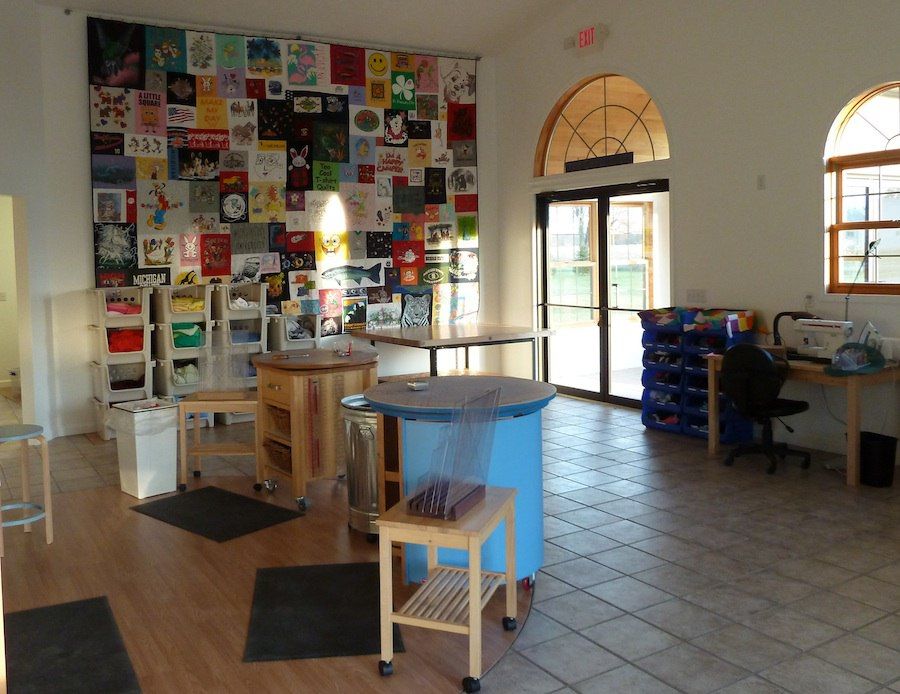 Full explainer video below.
It started with a big blank wall...
Back in 2011 we moved into our current shop here in Charlotte, Michigan. We found ourselves with lots of extra space, big blank walls and high ceilings.
I don't know if you know, but sewing machines are loud, and long-arm quilting machines are even louder! We have this one wall in our shop that is huge. And when we moved in, it was bare. This meant that the loud sounds from our sewing machines were amplified.
We made a very large T-shirt quilt for this wall. It turned out to be 14' x 10'. It was perfect to deaden the sounds of our machines. We created this quilt from garage sale T-shirts.
Fast forward 8 years and we are tired of looking at it! When we made it we didn't put much thought into what shirts we included. We just threw in every T-shirt we could get our hands on.
We didn't think that all the animals eyes would always be looking at us. We definitely didn't realize one of our employees is terrified of Sponge Bob. It ended up that his square (pants) was huge and prominent right by her workspace.
New Quilt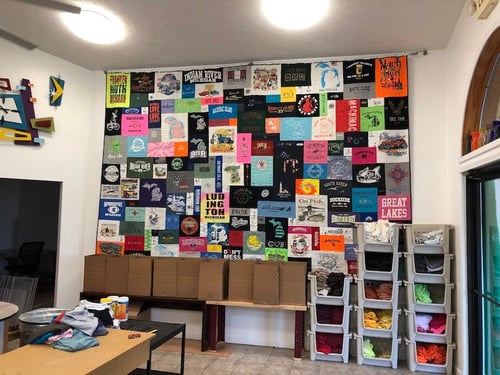 So, we made a new one. This time we thought of colors and choose a theme we all agreed on. The new quilt is great.
However, we were left with a huge 14' x 10' quilt with no wall to hang it on. So, we did something dramatic! We cut this one huge quilt into 6 small quilts. We washed and bound each "quiltlet." Now they are ready to be given away!
Do you want one of these six quiltlets? Here's how you can win one of them.
Explainer Video
The Contest
We're having a "Micro" storytelling competition on Facebook.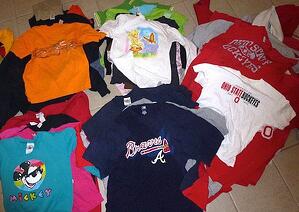 One of the things we love about our T-shirt quilts is that every T-shirt has a story behind it.
There's a problem with the T-shirts in these quiltlets… the T-shirts weren't ours. We purchased them from garage sales. We don't know their stories. Any stories they had are with their former owners. We want you to give them new stories.
We know that you don't have the T-shirt's stories any more than we do. But we want you to make up stories about the T-shirts. Yes, we are talking about fiction!
How does it work?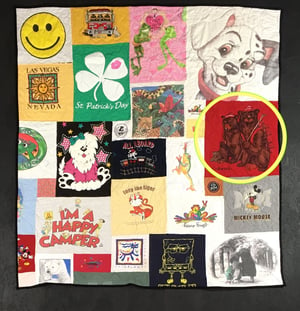 Each Tuesday we'll post a photo of that week's quiltlet on Facebook with a particular T-shirt block circled. Then we will ask a question about that T-shirt for you to answer in your fun short fictional story.
Your story can be submitted in the comments anytime between when we post the picture until Friday morning. Friday morning at 9 AM eastern time, the story with the most reactions will win that week's quiltlet.
You are welcome to send anyone you want to our Facebook page to like your story, or better yet, share the post so your friends and family can all like your comment. We will be up front with you, our goal is to expose more people to the wonders of Too Cool T-shirt Quilts!
The Stories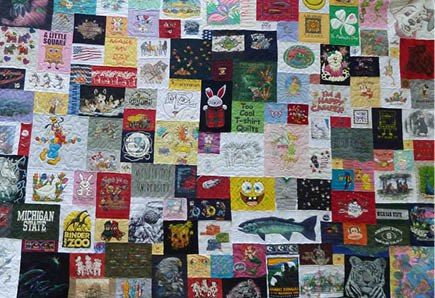 We want short micro stories. 3 to 4 sentences maximum. Tell a story to answer the question about the T-shirt block we have circled in the photo. For example, we might ask, "Where did you last wear that T-shirt?" Now there's a story!
We'd love happy, fun and interesting stories to read.
Ultimately, visitors to our Facebook page will be voting on the stories they like the most. You have 6 opportunities over the span of 6 weeks to tell us a great story.
Tell us your most imaginative story. We want to be entertained!