T-shirt Quilts for Runners - It's More Than Just T-shirts
Styles & Types of T-shirt Quilts | What can you use in a T-shirt quilt?
In 1992 the first T-shirt quilt I made was for my sister who is runner. Since that first quilt, I have discovered that you can use much more than just T-shirts in a quilt. Here are a number of other items that can be used in your quilt. As long as it's machine washable, we can use it.
Here are some items you can consider:
Microtech Fabric or Tech Fabrics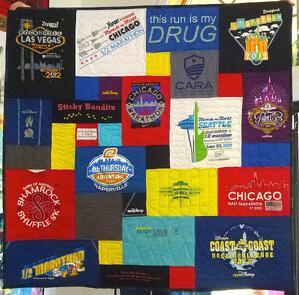 Tech fabrics are perfect for wicking sweat away from your body while you excercise. They are very soft and feels nice to touch. Tech fabric is challenging to work with because it is lightweight and stretches more than traditional T-shirt material. To be able to sew a block of Tech material into a quilt without distorting or misshaping the block takes a very accomplished seamstress.
Although Tech fabrics are lightweight and soft, they are neither wimpy nor delicate. In fact, Tech material is very tough and will last as well as, or better than traditional T-shirt materials. Unlike traditional cotton material, Tech fabrics will not fade overtime.
You have to study a quilt carefully to figure out if a block is traditional T-shirt material or microtech material. The difference is the texture.

If you are told by a quilter that you can't include your Tech fabric T-shirts, you need to find a different quilter for your T-shirts. Read more about tech fabrics here.
Race Bibs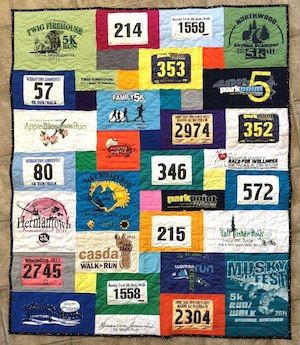 If you have ever searched the Internet to figure out what to do with race bib numbers, you have probably run across many different amusing and ridiculous uses. From wrapping gifts to papering your walls, the ideas are out there.
Consider using your race bib numbers in your quilt or pillow. That's right, with the actual Tyvec race number. Tyvec is machine washable. They get softer in every wash. So yes, you can use the actual race number! Read more here.
Here are three ways to consider how to use race numbers in a quilt or pillow:
Have a quilt made with just the race bib numbers. The bibs are not sewn directly to one another; rather they are sewn to and "framed" on pieces of T-shirt material.

Use your race numbers and your race T-shirts mixed together. The bib numbers can be backed with materials that match your T-shirts, or just one color family – such as blue. Putting the race numbers on bright colored material will liven up your quilt.


Mount the race number on its race T-shirt. So if you ran the Boston Marathon in 2015, that race bib would be sewn directly onto that particular T-shirt.
---
To learn more about having a quilt made with your athletic gear, consider downloading our Athletic Quilt Guide.
---
Warming Blankets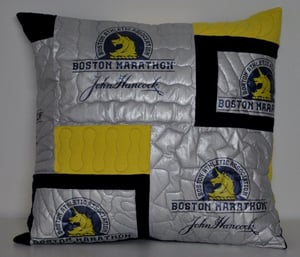 Too Cool T-shirt Quilts has used warming blankets in quilts and pillows. Consider incorporating one in your quilt. Warming blankets (aka: HeatSheets) are given to runners and other athletes at the end of a long event. These blankets can keep you from becoming hypothermic by harnessing your own body's heat and reflecting it back at you. Many races, such as the Detroit Free Press Marathon, have the race logo emblazoned onto the blankets handed out to the runners. You may even have one yourself.
Runner's Outfits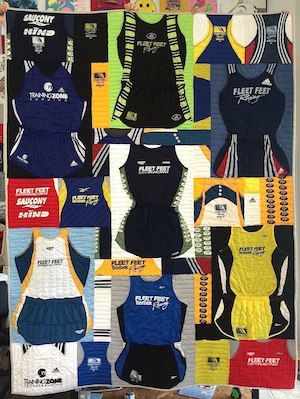 High-level runners many times are given outfits to race in with their corporate sponsors logos. Getting to this level of running is a big achievement and the outfits represent that realization. It's difficult to want to let go of those sets.
One solution is to put them into a quilt. You can make an entire quilt from them, or just use one in your quilt. Keeping the singlet and shorts together helps preserve the entirety of the experience.
Other Things to Use In Your Quilt
Don't let your imagination keep you from putting something important in your quilt. If it's machine washable, we can use it. Here are some other items you may consider:
Sweatshirts

Fleece jackets

Nylon jackets

Shoelaces

Socks

Headbands

Logo bags/gear bags
---
To learn more about having a quilt made with your athletic gear, consider downloading our Athletic Quilt Guide.
---