All T-shirt Lovers Need a T-shirt Quilt
Why every T-shirt Aficionado needs a T-shirt Quilt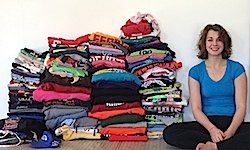 Are you a T-shirt Aficionado? When you search the word "aficionado," this is the definition that comes up:
a·fi·ci·o·na·do
əˌfiSHəˈnädō,əˌfisyəˈnädō
A person who is very knowledgeable and enthusiastic about an activity, subject, or pastime.

I can admit it, "My Name is Andrea and I am a T-shirt aficionado." Not quite you? Here are some other words that might better describe your relationship and devotions to T-shirts:
Addict, Adherent, Admirer, Advocate, Aesthete, Appreciator, Believer, Bon Vivant, Connoisseur, Devotee, Disciple, Enthusiast, Expert, Fan, Fanatic, Fiend, Freak, Junkie, Lover, Maven, Nut, Savant, Specialist or Zealot

Why do you need a T-shirt Quilt?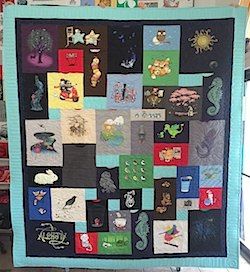 Here are some great reasons to consider why you should have your T-shirts transformed into a quilt.
You get to "wear" all your T-shirts at once
With a T-shirt quilt, all your favorite T-shirts are together in one place. When you have your quilt out, all your T-shirts are right there. You can put 50 or more T-shirts in a quilt. No way you can wear that many at once and have all of the graphics showing!
More drawer space means room to buy more
When your T-shirts are made into a quilt, you will free up valuable dresser drawer space for new T-shirts. What fun is it to collect T-shirts if you don't have room for any more of them?
You get to sleep with your favorite T-shirts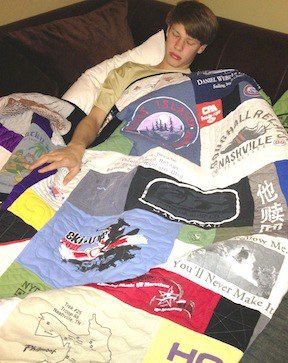 Your T-shirt quilt will have your favorite T-shirts on it. When you sleep under your quilt, you are sleeping with those T-shirts. It's difficult, although not impossible, to sleep under a stack of T-shirts. A quilt will make this much easier.
Your quilt will be as cool as your T-shirts
If you find the right T-shirt quilt maker, your quilt will be as awesome as your T-shirts. But any old T-shirt quilt maker won't do. Read more about how to find a quilt maker that will transform your T-shirts into a work of art.
A quilt will showcase all your T-shirts
A collection of anything is not interesting if you can't see the variations between the items. A true collector will display his or her collection so that the collection as a whole, and the pieces individually, can be admired and appreciated. A T-shirt quilt is an excellent way to display your collection.
Keep your collection from being used as rags
To a layperson, your highly prized T-shirt collection might just look like a stack of old ratty T-shirts. And not knowing, someone in your life might think that it would be ok to use your T-shirts to wash his or her car. Don't laugh, it's happened. And you would be crying if it happened to you.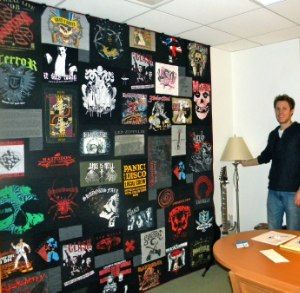 Preserve your T-shirts without the pit stains
Depending on your gender and your chemical make up, pit stains can happen. If your T-shirts are pitted out, having them made into a T-shirt quilt will eliminate those pits. The logo is cut off the T-shirt and the pit stains are left behind.
Having your cake and eating it too!
Having a T-shirt quilt made is like having your cake and eating it too. Of course you can't keep the cake and eat it. You can do one or the other. But with a T-shirt quilt, you don't have to make that choice. You can get rid of your T-shirts to free up drawer space and keep them in the form of a quilt.
---
If you are considering having a quilt made from your T-shirt collection, make sure you find an awesome T-shirt quilt maker.
We have written a Buyer's Guide that will help you navigate through the ins and outs of having a T-shirt quilt made.
Your T-shirt quilt should be as awesome as you and your T-shirts.
---