Quilts Made Using One Color of T-shirts
Styles & Types of T-shirt Quilts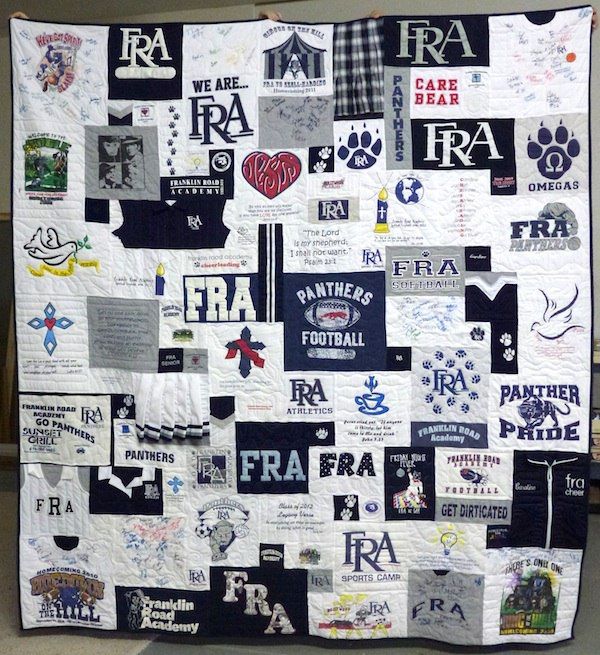 A monochromatic T-shirt quilt, as the name implies, are made from one color of T-shirts augmented with white, gray and/or black T-shirts.
Your T-shirts might be like this. Typically these types of quilts are made from high school or college T-shirts or a quilt from a single sports team.
Planning
There is only one consideration when planning a quilt that is monochromatic. That is if you have one or two stray T-shirt that are not in the color scheme. You need to decide if that shirt is so important that you should break the color scheme you have.
For example, your school colors are red and white. All the T-shirts you are putting into the quilt are red, white, gray and black. Do you want to put one lime green shirt into this quilt?
You need to think carefully about this because that one lime green shirt will stick out! Your eye will be drawn to that one block over all the other blocks in the quilt. If the shirt is that important, perhaps that is okay. There is no right or wrong answer, but you need to be able to live with the results.
One solution to having a few off color T-shirts is to have those made into a pillow. Read more about having a pillow made here.
Your Choice of Quilt Maker
Designing a quilt with just one color of shirt mixed with white, black and gray is difficult. The quilter must balance the color shirts throughout the quilt. This will take patience and experience. This is not a quilt for a beginning quilt maker!
Click here to learn more about finding the right quilt maker for you.
Below are more photos of Monochromatic T-shirt Quilts.
---
To learn more about having a quilt made with your T-shirts, consider downloading our free T-shirt Quilt Buyers Guide.
---