Photos of Harley-Davidson T-shirt Quilts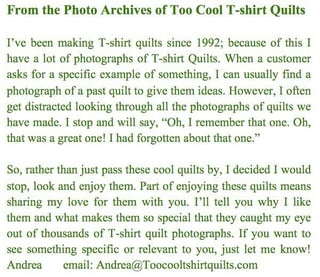 These Harley Davidson T-shirt quilts were made for a guy named Ed. He told us that he had even more Harley T-shirts than we were actually going to use in his quilts. These were just his favorites.
If you are an avid Harley rider then you probably understand this guy's love of Harley-Davidson T-shirts. Ed told us that he and his wife would take vacations on his Harley all over the country. Some of stops they made were made at various Harley-Davidson dealers along the way. And if they found an awesome T-shirt at the shop, they left with it. So these quilts in many ways are travel quilts!
Ed had way too many favorites for just one quilt, so he and I started by dividing the T-shirts up into three groupings.
Harley Davidson T-shirt quilt Group 1 - All Black T-shirts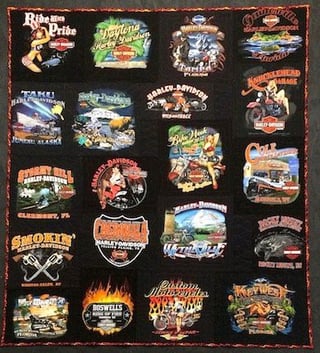 One group was all black T-shirts for an all black quilt. The first thing you might perceive about this quilt is that it seems like the T-shirts are lined up in rows and columns. But they actually are not. You don't see the actual T-shirt blocks since they are all black. But when you look closely, you can see that they are different size and shapes of blocks.
But they do feel like they are stacked. We were only working with 20 T-shirts here – each with just one very large graphic. So we were limited in what we could do with them. This is an example that shows why we like have small and large blocks – it let's us mix up the blocks for a more dynamic feeling quilt.
A photo of the back of this quilt is at the bottom.
Full size Harley T-shirt quilt Group 2 - Colorful T-shirts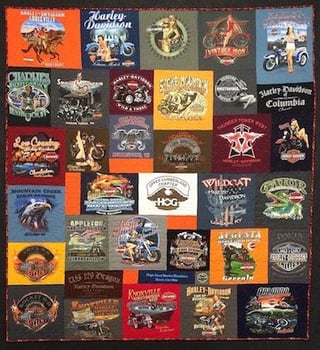 The second quilt we made is a full size quilt – 84 x 92. This quilt only had 5 black T-shirts. The rest were colorful. Although most of the blocks were large, there were a few smaller ones that we puzzled into the mix. If you contrast this with the all black quilt, it is very different feeling. This is because of the size and the colorful T-shirts used in the quilt.
Harley T-shirt quilt Group 3 - The Leftovers
The last quilt we made has a 4" solid border. It is the same size as the all black quilt, but it looks totally different. Here you see many different block sizes and shapes. This also gives you an idea of how large the blocks are in the first quilt. This grouping was the T-shirts that were not in the all black group or the colorful group. It was kinds of the leftovers. The photo of this quilt is below.
The last photo shows the back of this quilt. The back is black and the quilting thread was orange. From the back, you can see the quilting we did. This includes a number of motorcycles, eagles and other images that were traced from the images on the front of the quilt. The quilting on Harley quilts is something special, we take even more time tracing the intricate details of the Harley logo and the bikes because they turn out so cool.
Very Cool
These quilts are very cool! It is interesting what you can do with one large grouping. By dividing the T-shirts into an all black grouping, a colorful grouping and putting everything else into the last quilt, we were able to make three unique quilts. We could have just divided the T-shirts into three groupings without consideration of color, and we would have made three quilts that were each very similar to the other.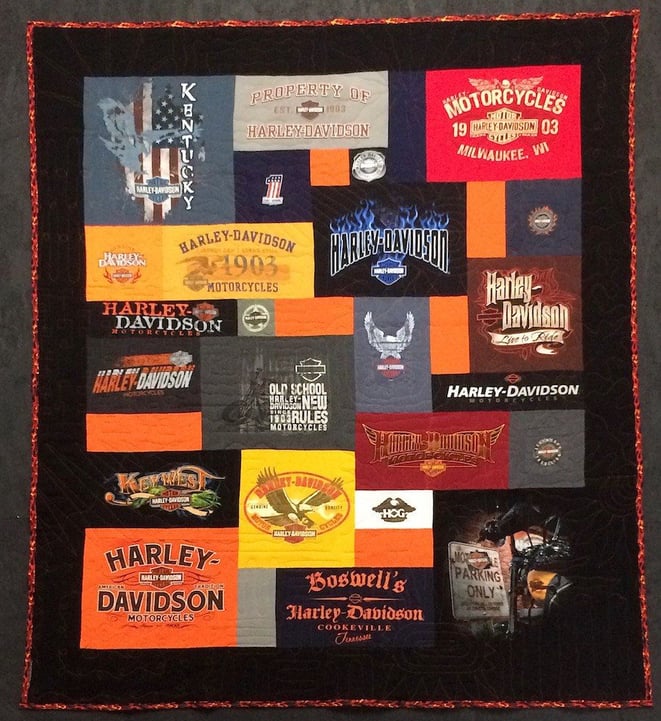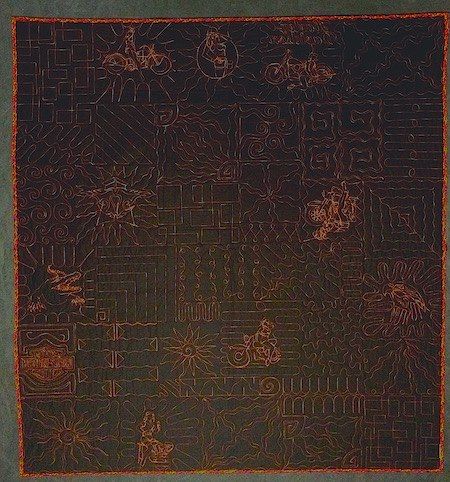 If you are considering having your Harley-Davidson T-shirts made into a T-shirt quilt, consider downloading our Harley-Davidson T-shirt Buyer's Guide. It has a lot of great information specific to having a quilt made from Harley T-shrits.