Photos of Awesome T-shirt Quilts
Each week we make between 15 and 20 T-shirt quilts. We have so much fun looking at these quilts when they are finished. I thought I would share some of the great quilts with you. Enjoy the photos!
We also have a short video of a customer seeing her quilt for the first time. Her quilt is at the bottom of the blog. ***Spoiler alert - she loves it!
Graduation T-shirt Quilt
We love the way the border on this quilt reflects the colors in the main body of the quilt. This student was involved with theater and that is highlighted in the quilt.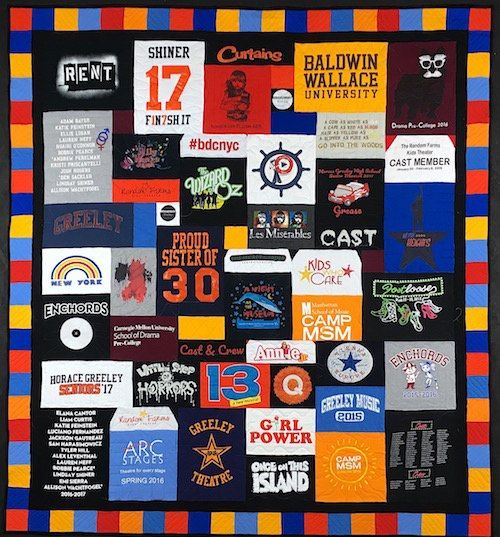 Scuba T-shirt Quilt
I love the T-shirt block of the scuba diver in top upper right hand corner. This was a huge T-shirt with a wrap around design. If you have a traditional style T-shirt quilt made, this T-shirt would have been cropped off. But here, this block sets the mood for the entire quilt.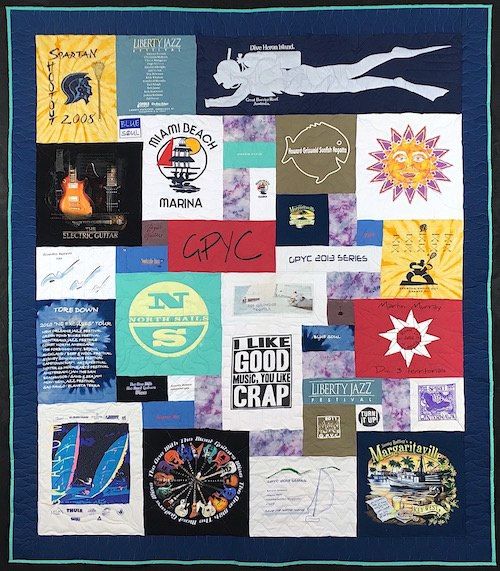 ---
Discover more about having a quilt made with your T-shirts or other clothing items.
Our T-shirt Quilt Buyers Guide can help you know what you want your quilt to look like and what to look for in a quilt maker.
---
Impact Marketing T-shirt Quilt
I made this quilt to take to a marketing conference I will be attending that is being put on by Impact Branding & Marketing. As you may notice, I only had a few unique T-shirt. So to make the quilt more interesting and larger, I cut the duplicate T-shirts different sizes. We also added a border to increase the size of the quilt. The other thing that makes this quilt awesome is the monochromatic color pallet. Most of the T-shirts were blue or black. We added in the white blocks and border to give the quilt a "pop."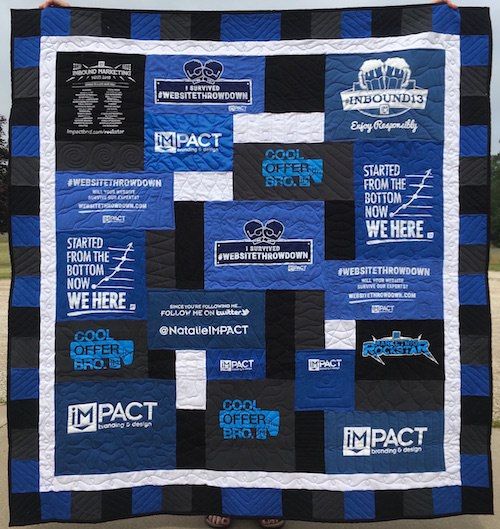 Kappa Alpha Theta Sorority T-shirt Quilt
We love making sorority T-shirt quilts because of the color. Most sororities love colorful T-shirts. The block in the top center is a long and skinny block. The design was up an arm, over the back and down the other side of the T-shirt. It's great to be able to include the entire block in the quilt without having to crop any of it off.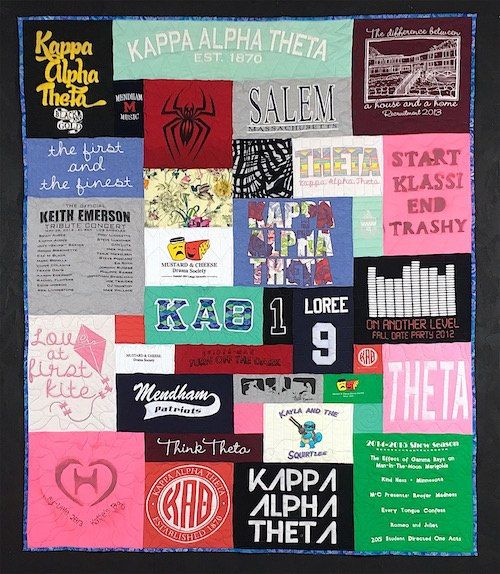 Another Graduation T-shirt Quilt
We make a lot of graduation T-shirt quilts in the spring and early summer. And they are all so different! You can learn a lot about someone by looking at the activities done in high school.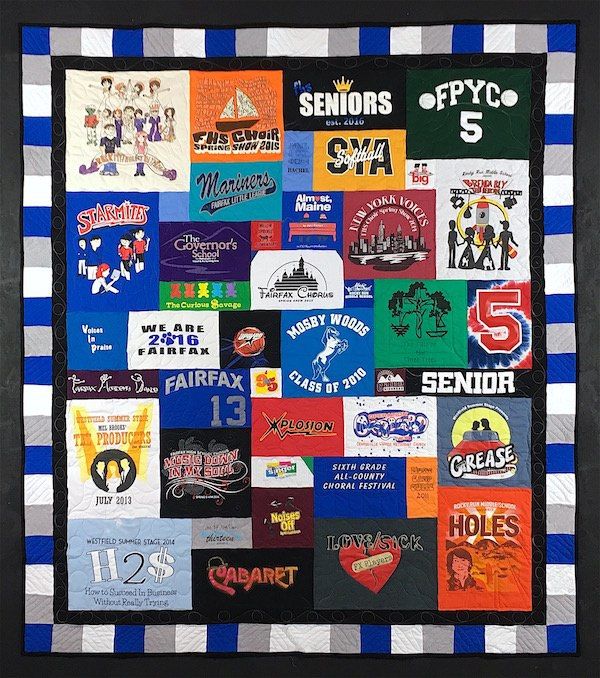 Memorial Quilts
When someone dies, they leave behind broken hearts and sometime, a lot of clothing. When this man died, he left behind a wife, children and grandchildren. A memorial quilt is a way to celebrate a life well lived and gives everyone something to hang onto.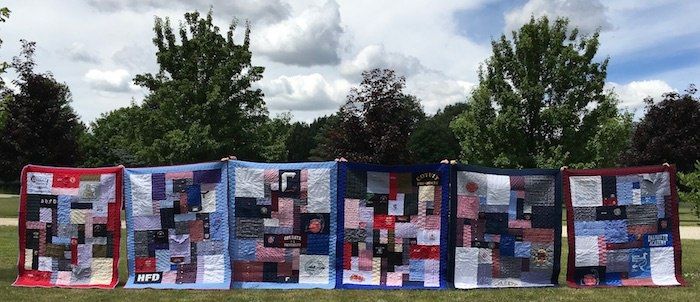 Duke University T-shirt Quilt
This quilt was made to celebrate everything Duke. It will be a big hit tailgating this fall. We make a lot of quilts that are specific to one college or university. Do you have enough T-shirts for a quilt made from your school?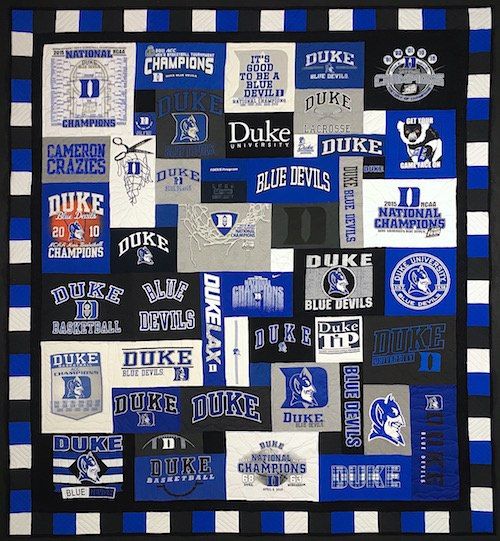 Jazz Lover Quilt
We made this quilt for a woman who loves Jazz music, her grandson and Michigan. Here is a video of Mary seeing her quilt for the first time. Below the video is a photo of her quilt.