Cheerleading T-shirt & Uniform Quilts
Styles & Types of T-shirt Quilts
Whether beginning cheerleading at age five or fifteen, by the time you retire, you will have acquired a number of T-shirts, jackets, and uniforms. They are too important and have too many memories to just give away. What do you do with them when you are no longer a cheerleader?
Here are some of the obvious answers…
Throw or give them away
Sell them, on EBay or at a garage sale
Put them in a box in the basement or attic for another day
OR – Have a Quilt Made From Your Cheerleading Paraphernalia!
What Can Be Used in a Cheerleading Quilt?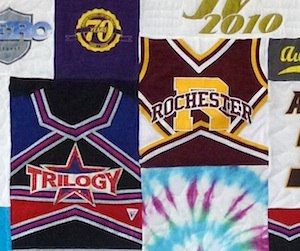 You can use just about everything! The items you choose to use should be machine washable. That way your quilt can also be washed. Items that are not washable can be used, but they need to be made removable so you can wash your quilt without them.
T-shirts – they can be of any type of fabric, including "technical" type fabrics.


Sweatshirts – these can also be made from traditional sweatshirt material or any other type of heavy fabric. Sweatshirts can also be used if they are zip-up or pullover style.


Jackets & Warm-Up Pants – either nylon or polyester. Jackets can be zip, snap or button-up style.


Uniform tops – These might be the most important piece of your collection and they can be used. Typically uniform tops are thick because they are comprised of many layers of fabric. Because of this, a top will be a thick spot on the quilt, but not so much that it's overly stiff.


Skirts – These can be used in one of two ways depending on the style of the skirt. First, we can just use a block of fabric from the skirt. For example, if there is a strip or some other type of embellishment, we can make a block from that spot. The other way we can use the skirts is to mount it loose. This is best done with pleated skirts.


Hair Bows – bows can add a nice 3-D feel to the quilt. But they can't be washed. As a result, bows need to be made so they can be removable. A simple snap attachment works great.
Why The Quilt Style Matters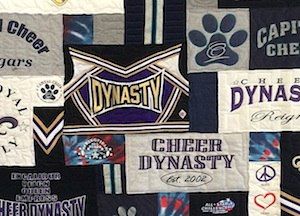 There are many different styles of T-shirt quilts being made. Read more about that here. Choose a quilt with different sizes and shapes of blocks so you can use very small to very large items in your quilt. For example, it you have a jacket with a very small logo on the front and a very large design on the back, it would look silly to have both designs cut with the same size. The small logo should get a small block and a large logo should be a large block. This concept can apply to all your items. Some are big and some are small and a one-size block method will not do your items well.
Planning a Cheerleading Quilt
Choose outfits, T-shirts or other items you want for your quilt. Here is a link to the How Many T-shirts page on the website.


Read the directions for preparing your T-shirts and other cheerleading items for a quilt. This will include directions for marking any parts you don't want used.


Print out and complete an order form. This will give us directions and information to contact you.


Box up your items to ship them to your quilter. Read more about finding a box and shipping here.


We will let you know when your box arrives at our shop. When it arrives, we will read your directions and cut your items and then work with you on the quilt size and backing and binding colors.
To learn more about having a quilt made from your T-shirts and clothing, download our Athletic T-shirt Quilt Guide. It has directions for using a large variety of athletic clothing.