5 Skills a Great T-shirt Quilt Maker Must Have
October 18th, 2021
By Andrea Funk

Skills to Look for in a T-shirt Quilt Maker
Sewing
Artistry
Quilting
Time Management
Organization
Cleanliness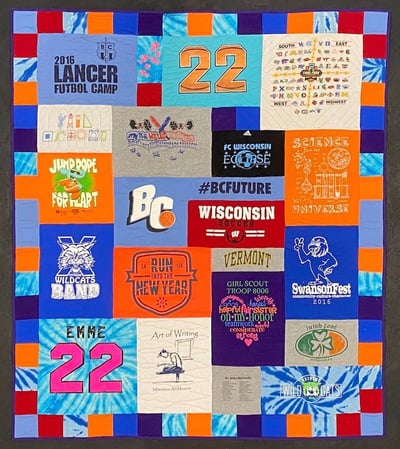 Below are 5 skills you want your quilt maker to have. In this article we will explain what each skill is and explain how you can easily tell if a quilter has these skills.
Remember, a quilt maker having these skills does not guarantee an awesome quilt. But without these sills, the chances of getting a great T-shirt quilt from them go way down!
Sewing
This is number one on the list because a T-shirt quilt is sewn!
Yes, you need to hire someone who is an experienced sewer. But this person needs to also be an accurate sewer. You can hire a person who has been sewing for 50 years, but if they are a sloppy sewer, the experience counts for nothing.
Don't take someone's word that they can sew well. Rather, look at their work with a critical eye.
Look for seams that are coming apart. This is a sign that they are not starting and stopping correctly. Or that they totally missed staying on the fabric.


Look at the intersection of four corners. Do they come together perfectly? If not, this is a sign of sloppy work that could have been easily fixed.


Look for tucks and ruffling in the seams.


Look for curved seams.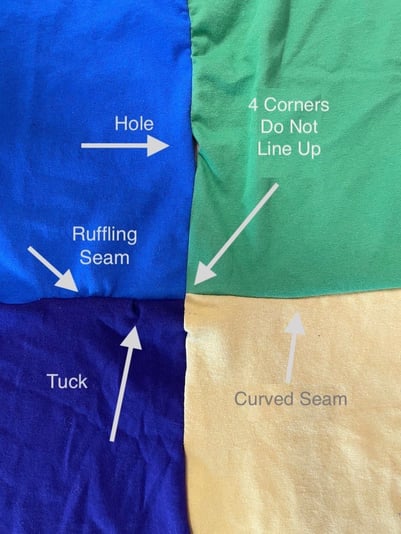 .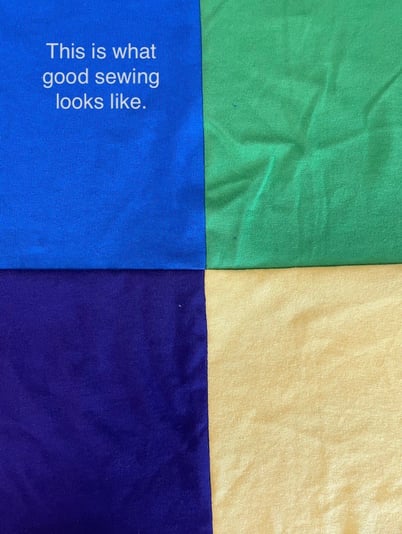 Artistry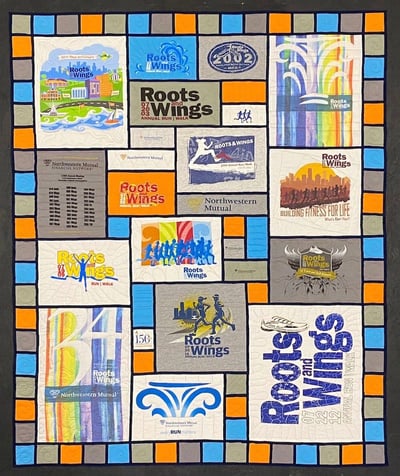 A T-shirt quilt should be a work of art. Not a paint by numbers. Look at photos of a lot of different quilts. Know what you like, and then make sure your quilter can make a quilt like you want.
Look at the following features in a quilt maker's quilts to see if they have a good eye. You will need to look at a number of their quilts to see if these features and consistent from quilt to quilt.
Use of Color
Do the colors added to the quilt look good with the T-shirts? You will want to look at the backing color, the binding color, the border color, or any other added color in the quilt. Do these added colors look good?


Over All Placement of the T-shirts
Are the colors of the T-shirts spread out evenly through out the quilt? One of the things you can look for is clumps of colors on the quilt. Or look for clumps of light and dark areas. Most of the time, colored T-shirts blocks and light and dark blocks should be spread out evenly through out the quilt.


Specific Placement of the T-shirts
Did you know that graphics on your T-shirts can set your eyes in motion? If a character is looking to the right, your eyes will look that way to see what they are looking. I know this sounds weird, but it your human response of empathy. You are putting yourself in someone else's shoes.

What does this have to do with T-shirt quilts? My goal as a quilt maker is to keep you looking at your quilt for a long as possible. If I put Mickey Mouse looking right on the right hand side of the quilt, this will draw your eyes off the quilt. And there might be something over there that catches your attention. This means I failed to keep you interacting with your quilt.

Although this might seem like a small thing, the consequences of not understanding this concept can be effect your quilt. It might make your quilt not quite right. You might not know specifically what's wrong, but you will know that something is wrong.

Look at this quilt here. The yellow arrows show the way your eyes will track based on the motion in the graphics. Just moving a few blocks around could have made this quilt so much better.

Quilting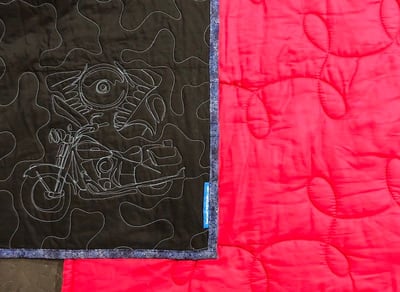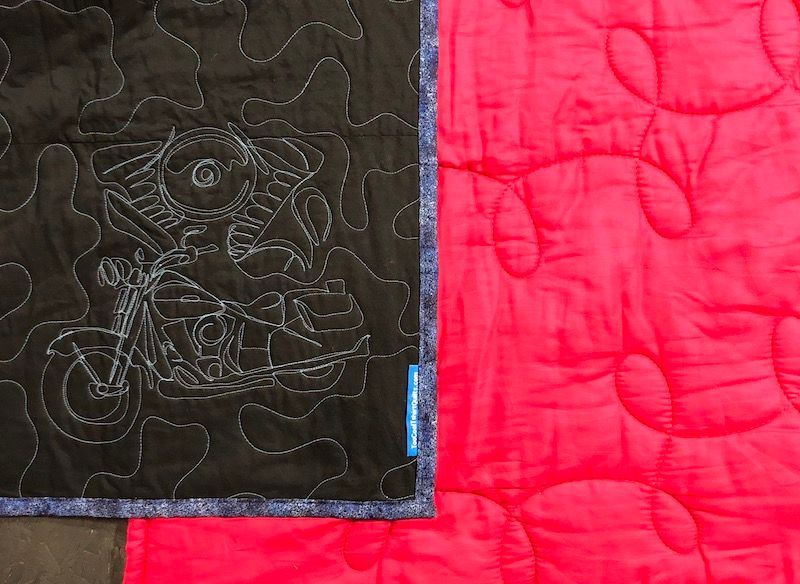 Quilting is a skill that your T-shirt quilt maker should have.
There are 4 typical quilting methods used for T-shirt quilts. Read more about these methods here. Remember, if there is no quilting, you are looking at a blanket. And a blanket and a quilt are not the same thing! The best quilting is long-arm quilting.
One type of long-arm quilting is done by a computer. The quilt maker just presses a button and walks away. Quilting with this computerized method does not take any skill or artistry. And it will show in your quilt.
In the photograph here, the black quilt on the left is quilted with a skilled long-arm quilter. This is a Too Cool T-shirt Quilt quilt. Compare it to the pink quilt on the right. This was quilted by a Campus Quilts. You can see that they do an overall pattern of loops. There is a huge difference between the two.
Here at Too Cool T-shirt Quilts, all our quilts are quilted by artists. The long-arm quilting machines are operated by hand. We draw on the quilts with the stitching. A quilt that is quilted by an artist is interesting and the quilting is unique to your quilt. In the video here, Milie is long-arm quilting.
Time Management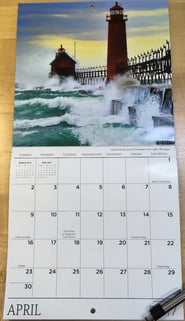 How long will you have to wait until your quilt is returned? I have heard stories of waiting for over 5 years for a quilt!! Others have had to ask for their T-shirts to be returned. This does not have to happen.
Some quilters have a lot of quilts in their queue... more work than they can complete in 6 months! Other quilters work full time and quilt in their spare time. These and other situations will influence how long you will have to wait for your quilt.
Ask how long it will take to make your quilt. 6 to 8 weeks is industry standard. If it will take your quilt maker longer than 8 weeks, ask why.
In the spring for graduation time and for Christmas, wait times might be longer.
Organization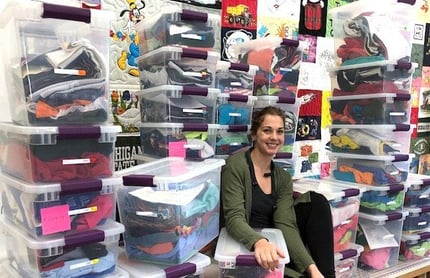 This is huge! You don't want someone else's T-shirt to end up in your quilt! To me, as a quilt maker, even the thought of this is a nightmare.
Since I began making T-shirt quilts in the early 1990's, I have implemented a number of procedures that keep me from being able to mix up T-shirts between quilts. These processes also make sure that your directions are attached to your quilt from start to finish.
Does your quilter have a system to keep your quilt separated from other quilts? How is your quilt stored when it is not being worked on? Ask. You don't want someone else's T-shirt to end up in your quilt! Ask!
Cleanliness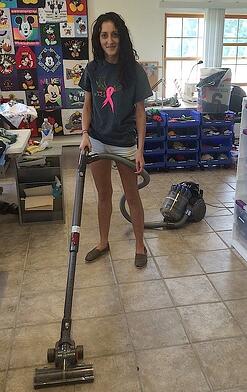 A T-shirt quilt shop is a linty place! We have to vacuum every day. But there are other areas of cleanliness that you need to consider: smoking, pets and mold.
If you drop off your T-shirts, take a whiff before you let go of your T-shirts. Are you OK with the smell? If you are mailing your T-shirts to the quilter, you can ask if the quilt is made in a smoke free location. You don't want your quilt to stink when you get it back.
Conclusion
Finding the right quilt maker for your T-shirt quilt project is important! Take the time to ask questions and feel comfortable with the person or company you leave your T-shirts with.
Below is a checklist of questions to ask a T-shirt quilt maker. You can print this off.
Here's more about finding a T-shirt quilt maker.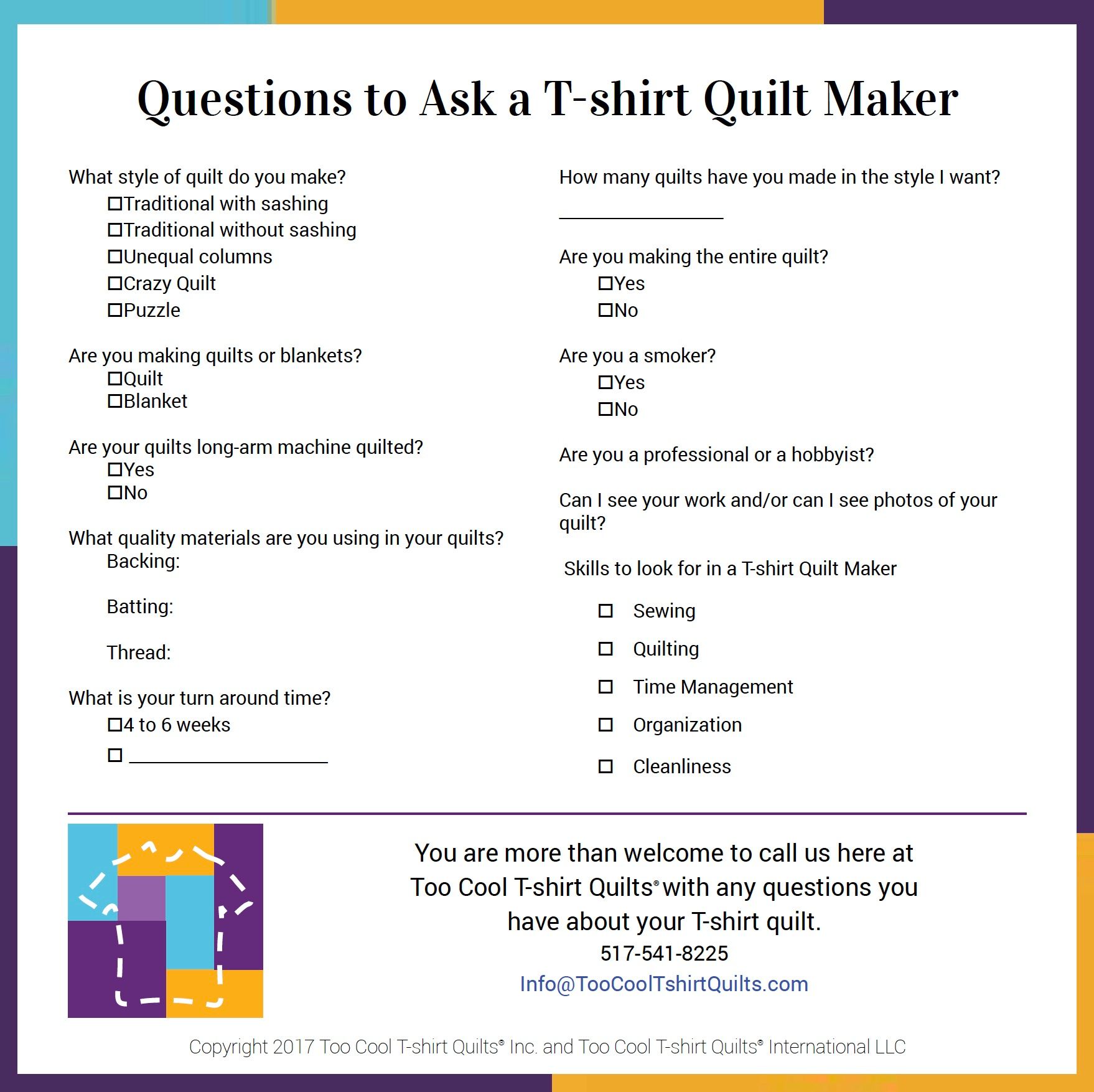 Andrea Funk is the inventor of T-shirt quilts made with multiple blocks sizes. The modern method of making T-shirt quilts. In 1992 she founded Too Cool T-shirt Quilts. Her life has been immersed in T-shirt quilts ever since.