10 Place to Find More T-shirts for a Quilt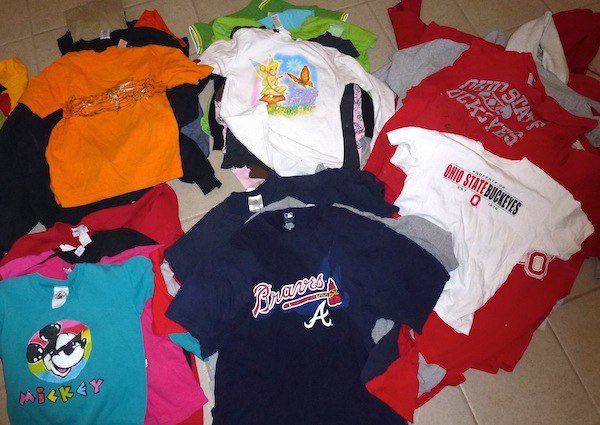 Since I began making T-shirts quilts in 1992, I have found that most people have more than enough T-shirts to make a quilt the size they want. But there are situations when you might need more T-shirts than you have.
Here are just a few situations in which you might need additional T-shirts:
When you are planning a T-shirt quilt for someone other than yourself.


If you are collecting T-shirts for a theme quilt. For example, a college or university themed quilt.


You might have all your T-shirts for your quilt, but you can't find one special T-shirt.
If you are looking for additional T-shirts for your quilt, here are 10 places to look for them.
1. Garage Sales
Garage or yard sales are a great place to find local and regional T-shirts. For example, last year I shopped the Route 127 garage sales through northern Ohio. By the end of the day, I had enough to make an Ohio State T-shirt quilt.
2. Resale Shops
Resale shops are also great places to find local and regional T-shirts. Whenever we are traveling and want to pick up a T-shirt from that area, we head to the Goodwill store. When we traveled to Florida, we were able to find all the Florida Gator T-shirts we could ever want.
3. Ask Friends
If you are looking for a specific T-shirt you can't find, ask someone else who attended the same event as you and enquire if they would be willing to give you their T-shirt.
4. Lost and Found
If you are making a T-shirt quilt for a child graduating from high school, the school's lost and found room is a great place to find a missing T-shirt. School lost and found are also a great place to find items for a school theme quilt.
---
To learn more about having a quilt made from your T-shirts, download our free T-shirt Quilt Buyer's Guide.
It's a great place to learn about the different styles and quality of T-shirt quilts.
---
5. Family Members
Turning to your family is another way to find T-shirts for a gift quilt or to fill in a gap in your own T-shirts. Parents often will rob the second child's T-shirts for the first child's quilt. They hope that by the time the second child graduates from high school that another of that same T-shirt will appear or that the stolen T-shirt holds no meaning to the younger child.
6. Discount Stores
You can purchase T-shirts from a discount store for less than you might at college bookstore or at a gift shop. But be cautious – many times these T-shirts are lower quality in both the material and type of printing. I have found that sometimes the logos are an ironed-on type transfer. These will peel off after even just one washing. If a logo feels like it's above the surface of the T-shirt, this is a sign that it was ironed-on. Look for T-shirts that were printed. They will feel like the print is in the fibers of the T-shirt.
7. EBay
A few years ago, I made an M&M quilt. It's an awesome, awesome quilt. Whether they are an M&M fan or not, everyone who sees it, loves it. One question I always get is, where did I get all the M&M T-shirts. The answer is, I purchased them from eBay. I bought one T-shirt about every two weeks for nearly a year. It was so much fun getting a new M&M T-shirt all the time. I wore some for a little while, others went straight into the quilt pile.
8. Online T-shirt Shops
There are so many T-shirt shops on the Internet that you have nearly unlimited choices. I have found the best way to use these shops is by doing a Google Image search with your key words and the word "T-shirt". For example: Harley T-shirt. Some T-shirt shops will even let you upload a design or photograph to have printed on a shirt.
9. Ask Your Social Media Network
People love to help other people and using social networks lets you reach out to your friends and perhaps friends of friends. Ask, "Does anyone have an "xyz" T-shirt you would be willing to give or sell it to me?" Ask and you may receive.
10. Under the Bed
If you have teenagers who are on the messy side of the street, you might find T-shirts under the bed, in their car, or at a friend's house. They might have left T-shirts in a bag or backpack. They might even have one at the bottom of their locker.
Sometimes you might have to think outside the dresser drawer to find all the T-shirts you need to complete your quilt.


How to make a quilt larger without additional T-shirt
But if you can't find enough T-shirts to make your quilt the size you want, there are three ways we can make your quilt larger without additional shirts.
Add a Border
A border goes around the outside of an inner field of T-shirts. A border can be anywhere from 2" to 12" wide. A 2" border can add 4 total inches to the length and width of a quilt. And a 12" border can add 24 inches to the length and width of a quilt. Read more about borders and style of borders here.The two quilts in the photos above each have a border.
Add Blank Blocks
We can make a quilt larger by mixing in blank blocks of T-shirt material into the field of T-shirts. Not only can blank blocks make a quilt larger, they can be used as a design too to make a dull quilt more colorful. Read more about blank blocks here. The quilt here with the American Flag has blank blocks.
Cut the T-shirts big
We can cut your T-shirts with extra margin around the design. This will make all the blocks larger and thereby make the entire quilt larger. Below is an example of the same shirt cut to three different sizes – From a lot of extra margin, to a little extra, to a standard margin. Read more about cutting T-shirts large here.
All of the above
You can combine some or all of the methods of increasing the size of a quilt to get a quilt to the size you would like. We can help you figure this out.