Police Officer Memorial Quilt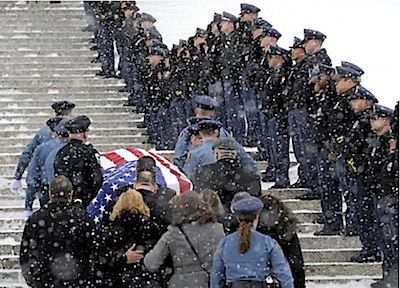 Whenever a Police Office loses his or her life on the job, we all are saddened. When they are local, the loss hits your community even more. When a loss of an officer in the line of duty happened in the St. Paul, Minnesota Police Department, Nancy of Too Cool T-shirt Quilt's Twin City location made this T-shirt quilt as a fundraiser so officers from the St. Paul Police Department could attend the National Law Enforcement Officers Memorial in honor of one of their fallen officers.
Each May, during National Police Week, new names are added to the National Law Enforcement Officers Memorial Walls. In 2014, the names of 321 officers who died in the line of duty and names of those officers whose line-of-duty sacrifices have only recently come to light, will be added to the Memorial Wall.
The unveiling day ceremony is an event held each spring to commemorate the service and sacrifice of all of the men and women who have given their lives for the safety and protection of others.
One name added to the Memorial Wall in 2014 will be Josh Lynaugh. Lynaugh was a 5-year veteran of the City of St. Paul Minnesota Police Department. On Feb 8, 2013 this dedicated police officer suffered a heart attack during an on-duty foot chase. He passed away Feb. 16, 2013 due to complications from the heart attack.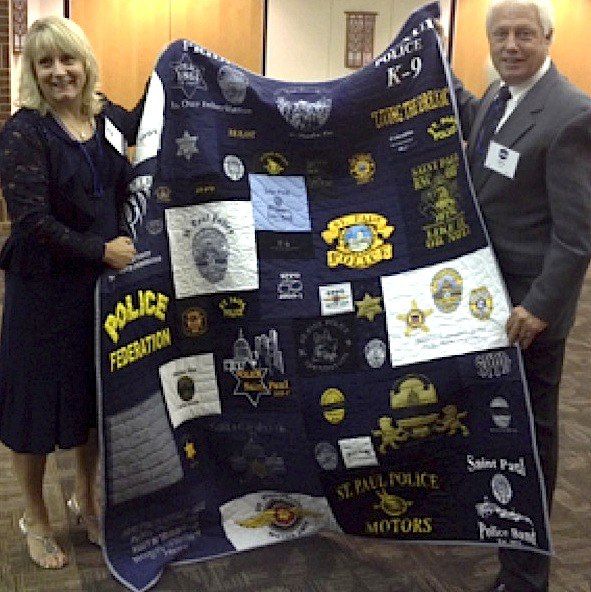 This past year the Saint Paul Police department raised enough money through fund raising events to send department personal to the Memorial Wall event to honor their fallen co-worker. To help in the fundraising effort, Too Cool T-shirt Quilts –Twin Cities donated 2 police quilts and a pillow to help raise funds at their live and silent auctions.
What was so special and unique about this quilt was all the different departments pulled together and donated their own T-shirts to be used in the quilt. There were T-shirts from every unit, including the K-9 unit, Homicide, Police Band and the Motor Unit. In this quilt, there are T-shirts with badges printed on them that say EOW and a date. EOW stands for End of Watch. A memorial to fallen St. Paul police officers, these particular T-shirts have the date and badge number of the fallen police officer.
The photo here is the third of the St Paul Police T-shirt quilt that Too Cool T-shirt Quilts – Twin Cities has made. Nancy felt honored and touched to have been ask to make these quilts.
"As I worked on these special T-shirt quilts, I would find tears in my eyes thinking about the sacrifices each police officer make for us all each and every day," Nancy said. "I am glad I had the opportunity to make a difference by making these T-shirt quilts."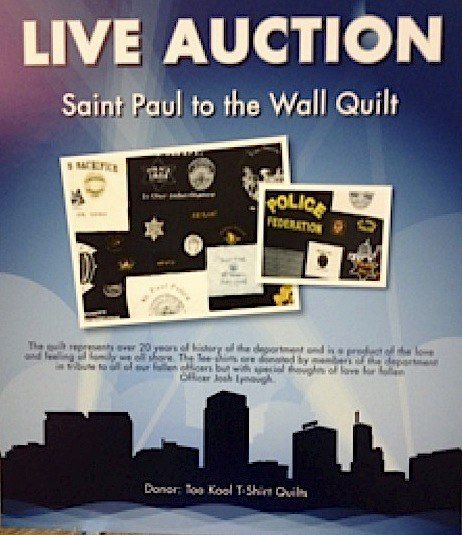 To learn more about using T-shirt quilts as fundraisers, read Using T-shirts Quilt for Fundraisers here.